2018-2019 Player Profile: De'Ron Davis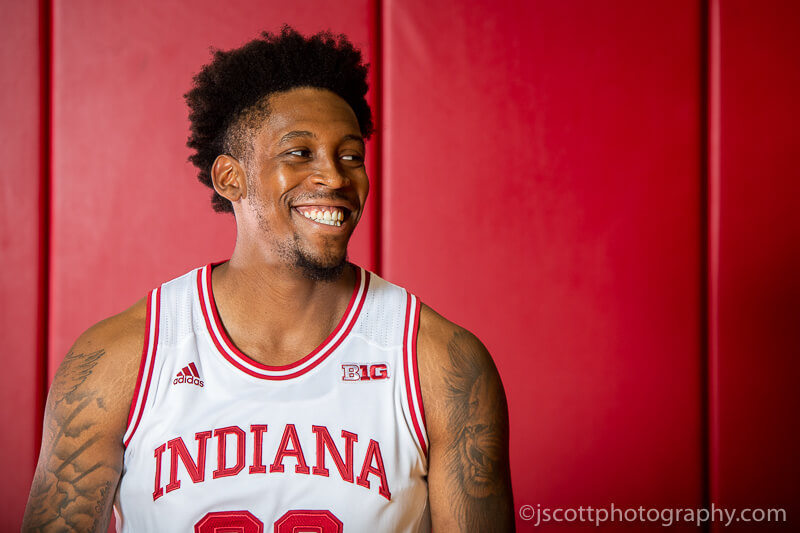 With the start of college basketball season on the horizon, we've transitioned from our look at other Big Ten programs to our player-by-player previews of the 2018-19 Indiana roster. Today, our profiles continue with a look at De'Ron Davis. (Previously: Jerome Hunter, Robert Phinisee, Damezi Anderson, Jake Forrester, Romeo Langford, Race Thompson, Justin Smith, Clifton Moore, Al Durham Jr., Devonte Green)
The current of evolution tends to sweep away those removed from it, even if by no fault of their own. De'Ron Davis, whose sophomore season ended in January with an abrupt snap of his right Achilles' tendon, will fight against its pull this upcoming season as he figures out just what will be asked of him from a team altogether different from the one to which he was central last season.
Returning to the fold won't be so simple as merely stepping into the same role Davis left in January. With Juwan Morgan coming off an All-Big Ten season and Romeo Langford in tow, the possessions once reserved for his bruising post-ups and dives to the rim will largely be routed through more capable offensive vessels. On another team or in another season, Davis might be an offensive focal point, as he was for the first half of last season, but as Indiana enters the season with new personnel and expectations, he must recalibrate his role within that framework.
When healthy, Davis was Indiana's second-best player last season. He scored rather efficiently, flashed adequate floor vision for a big man, and rarely turned the ball over. At times, he was undeniable in the post, banging his way to easy buckets against overmatched defenders. He proved capable as a rim protector. But he also played fewer than 20 minutes per game, shot just 50 percent from the free throw line, and fouled to a point of unplayability. The sudden ending to his season prevented any stabilization or improvement from occurring, and the nature of the injury may only exacerbate preexisting athletic limitations.
Indiana, meanwhile, moved on without him, finding capable replacements in Justin Smith and Freddie McSwain as Morgan emerged as a dependable first option. Langford will share that duty this season while Smith will warrant significant playing time in his own right. With Evan Fitzner offering precious floor spacing and positional versatility in the frontcourt, major minutes for Davis are hardly guaranteed. Still, he can be of some use to Indiana as an efficient scorer and strong interior presence.
"I feel like my role's not going to change at all, really," Davis said. "Continue to do what I'm doing – be dominant in the post. I feel like I'm a great passer, so I think I can draw the double team and kick it out. Romeo is a great shooter and offensive player, so he's going to open the floor up a lot for me."
Davis may be right, but the context in which he plays that role could change. If Davis is best as a go-to scorer in the post, then sharing the floor with Morgan and Langford – both of whom will regularly operate with the ball in their hands – mitigates the value of all parties involved. Davis, who neither spaces the floor nor acts as a lob threat in the pick-and-roll, is of scant use off the ball. Pairing him with defensive-minded bench units would ensure plenty of touches for the big man without him constantly having to accommodate other scorers.
As such, he may be best utilized not in a starting lineup filled with ball-dominant teammates, but off the bench as an anchor for second units. Fitzner is a more natural fit with IU's best players, and Davis could soak up more possessions without two stars also vying for touches. Indiana would be well served to slow the game down without Morgan and Langford on the floor – thereby reducing the number of possessions game without its best players on the court – and Davis' style suits that pace. A slower game is more conducive to the sort of deliberate offense Indiana likes to run through its center, who can score at a high enough rate to keep second units afloat. Even the sturdiest post defenders struggled to match Davis' physicality; backup centers would be no match for his bullying:
He shot nearly 69 percent at the rim last season, due in large part to the variety of finishes he has available to him. In addition to sheer power, he's developed some craft and finesse around the basket, including quick jumphooks and up-and-unders that catch defenders off guard:
Though grounded by a relative lack of explosiveness, he sets solid screens and improved as a pick-and-roll finisher last season. Davis often played on a constricted floor due to IU's lack of shooting, but slot capable marksmen like Langford or Fitzner around him, and he becomes a capable passer:
Bottom Line: In a limited sample size, Davis produced dominant numbers last season and showed clear signs of improvement on his freshman season. He could have been due for some natural regression to the mean, but with no assurance of returning to peak physical condition, may see his numbers further dwindle simply for lack of opportunity. The degree to which that occurs, and how Davis responds to it, will be a defining point of Indiana's season.
Quotable: "I feel pretty good. I've just started experiencing a little discomfort, but other than that, the process has been smooth. Really, I'm just planning on being back by the first game. I don't know how healthy I'll be just yet. The timetable is still kind of weird-looking. But I'm just trying to contribute anything and everything I can." – Davis at media day on his health going into the season.
Filed to: 2018-2019 season preview, Deron Davis