2018-2019 Player Profile: Robert Phinisee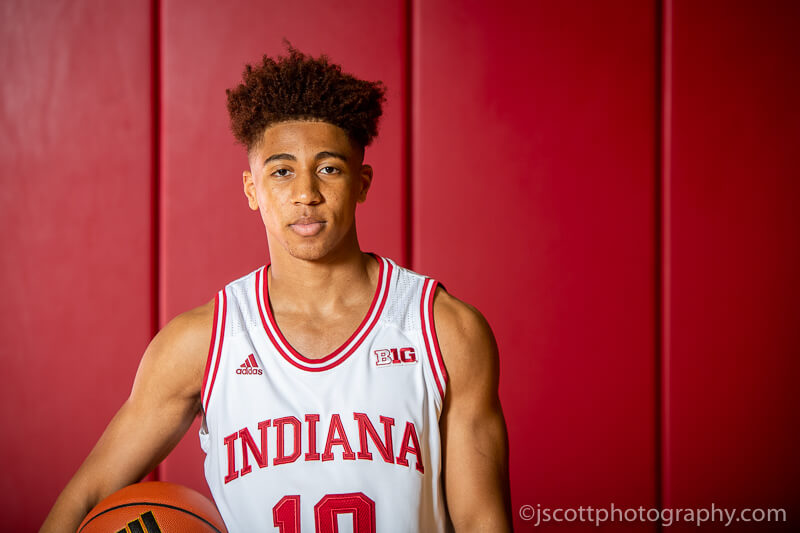 With the start of college basketball season on the horizon, we've transitioned from our look at other Big Ten programs to our player-by-player previews of the 2018-19 Indiana roster. Today, our profiles continue with a look at Robert Phinisee. (Previously: Jerome Hunter)
The IU-Purdue rivalry ranks among the most heated in college basketball. From the "Boiler Down" shirts typically worn in Bloomington to the "IU sucks!" chant every game in West Lafayette, it's clear the two teams and fan bases don't like each other.
Robert Phinisee's arrival at IU can only make the rivalry more intriguing. The Lafayette native chose the Hoosiers over Purdue, among others. He's the first scholarship player at IU from Lafayette in 70 years.
"I don't hate Purdue; I am a hometown kid," Phinisee told WISH-TV in January. "I just feel like IU is the best fit for me," Phinisee said. "It isn't a 'I hate Purdue' now because I chose Indiana. I still have love for my hometown."
The 6-foot-1, 182-pound guard enjoyed a successful career at McCutcheon High School. He finished his career with 2,023 points and was a finalist for Indiana's Mr. Basketball award as a senior while averaging 29.4 points and 5.8 assists per game.
Since arriving at IU, Phinisee has reportedly had a smooth transition into the program. At IU media day last month, Juwan Morgan said Phinisee has impressed him the most of any freshman.
"Just from his ability to read the game, especially adjusting to the pace of the game," Morgan said. "He just pretty much got it as soon as he came in, and I think he'll get like more of the reads and terminology as we go on to say with all of them. But I think he's come the most far so far."
While Phinisee will certainly be an important player for Archie Miller down the road, he may end up playing a key role on the team this year. He's battling for minutes in practice with Devonte Green and Al Durham Jr., and Miller has been impressed with the freshman.
"Robert, being a young guy, has come into practice and been very impressive — physically, to be able to hang in there," Miller said at Big Ten Media Day. "Obviously, he's learning the ropes in our system, so he's got to keep getting better."
Even while competing for playing time, Green has been and can continue to be a useful resource for Phinisee to learn from. The junior said he's tried to give pointers to Phinisee, along with the other freshmen, and that Phinisee has a lot of potential.
Miller is hoping one pointer Green teaches Phinisee relates to the pick-and-roll. Green has had success with that during his IU career, and Phinisee said playing off ball screens is a key component of his game. Morgan said both players are learning from each other.
"They give each other fits, and I think it's a good thing, especially to have that in practice, where you have two great point guards going against each other," Morgan said at Big Ten media day. "And I think they build off each other because (Green) is more of a street ball, try to get by you, crossover type of thing, and Rob is more fundamentally sound. And I think they've both taken things from the other to add to their game."
On and off the court, Phinisee is close with classmate Romeo Langford. The two are roommates and have some classes together. Particularly early in the season, Phinisee's minutes could line up with when Langford is on the court to ease him into the college game.
Bottom Line: Competing against two guards with a year in Miller's system under their belts, Phinisee is likely to start the season coming off the bench and rotating with Green and Durham at point guard. But Phinisee should have every opportunity to increase his minutes and potentially capture the starting point guard role at some point during the year. His chemistry with Langford will only help him see more playing time, and that could turn into a dangerous connection for the Hoosiers. He figures to be an important piece for the Hoosiers over the next few years.
Quotable: "Rob is going to be a guy I really think that's going to grow. I think Rob's biggest asset here early as I've seen him is right where we expect. He's got a high IQ. He's really intelligent. He's competitive. He's 185 pounds as a freshman, which gives him an added advantage in strength defensively. I think off the ball defensively watching him here early he's got a chance to help our team." – Miller on Phinisee at IU media day.
Filed to: 2018-2019 season preview, Robert Phinisee