2018-2019 Player Profile: Jerome Hunter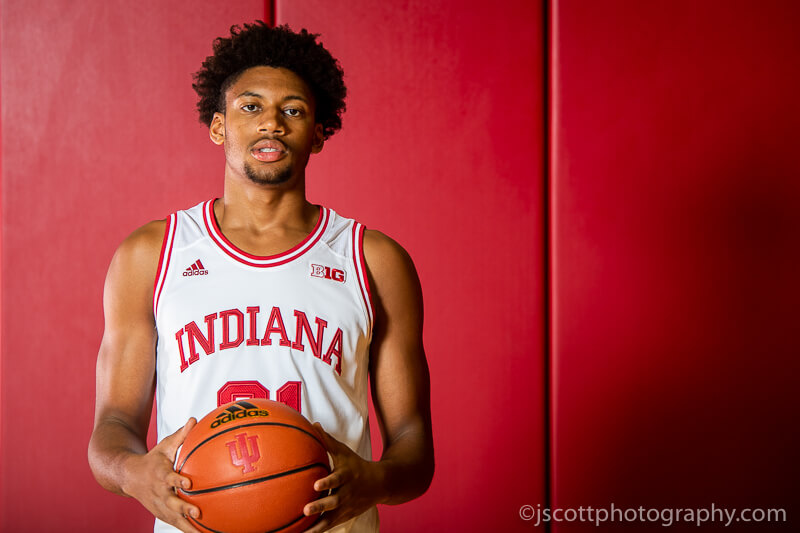 With the start of college basketball season on the horizon, we've transitioned from our look at other Big Ten programs to our player-by-player previews of the 2018-19 Indiana roster. Today, our profiles begin with a look at Jerome Hunter.
The first recruiting dominoes for Archie Miller and the IU coaching staff in the class of 2018 fell in July of 2017.
On the Monday following the first July evaluation period, the Hoosiers landed a pair of 4-star forwards in Jerome Hunter and Damezi Anderson.
It was the first example of Miller's "inside-out" recruiting approach bearing fruit in Bloomington.
Hunter's decision was particularly notable because he chose the Hoosiers over two Big Ten powers in Michigan and Ohio State. And until Romeo Langford committed to IU in the spring of 2018, it appeared Hunter would be the highest ranked commitment in the program's heralded 2018 class.
As the 2018-2019 season grows closer, Hunter is flying a bit under the radar as a potential impact player in season two of the Miller era.
The Hoosiers have a potential logjam of talent in the frontcourt with Juwan Morgan, De'Ron Davis, Clifton Moore, Zach McRoberts and Justin Smith all returning along with newcomers like Hunter, Jake Forrester, Damezi Anderson, Evan Fitzner and Race Thompson battling for minutes.
At 6-foot-7 and 215 pounds, Hunter's versatility and ability to play and guard multiple positions could help separate him from his peers when it comes time to divvy out minutes.
"He's going to develop from that combo forward to more of a wing perimeter-oriented guy, which that's a tough change in terms of ball handling and guarding smaller players," Miller said last month at IU's media day. "So he's going to go through a bunch of that, but he has as much upside and talent as any guy that we've got."
In his prep career at Pickerington North (Ohio), Hunter was the biggest player on the floor and often played around the basket and in the paint out of necessity. But as Miller mentioned, his long term potential may be on the wing or even as a big two-guard.
Hunter's coach with the Ohio NOVA AAU program, Andreas James, made mention of his versatility as a defender in our "freshman focus" piece over the summer.
"I think IU fans may be surprised at how versatile he is on the defensive side of the ball," James said. "I think he will be able to guard a variety of positions. I think he's going to take a lot of pride in his ability to defend."
Indiana's depth in the frontcourt this season may end up being a positive for Hunter and his long term development. With stalwarts like Morgan and Smith both returning and expected to play major roles, Hunter should be able to ease in the rotation as a freshman.
And being able to work everyday against more experienced talent in practice is likely to accelerate his improvement, according to James.
"I could immediately see him just taking another jump in improvement just being in an environment where he wasn't the best player," James explained. "He catches on quick and he's eager to learn."
Bottom Line: While Morgan, Langford and Smith are getting the preseason headlines for the Hoosiers, Hunter will carve out a role in Bloomington as a freshman. A top 50 player nationally in the class of 2018, he's an above average shooter from the perimeter and possesses the length and athleticism to disrupt on the defensive end. Like most newcomers, he still needs to get stronger, but he has All-Big Ten potential and will be a pivotal piece as Miller attempts to build a national contender in Bloomington.
Quotable: "Jerome loves the game of basketball, more than any guy that I've probably been around in a long time. He can't get enough of the gym, which is a great sign as a young player. It's a great sign." – Miller on Hunter at IU's media day.
Filed to: 2018-2019 season preview, Jerome Hunter