2018-2019 Player Profile: Al Durham Jr.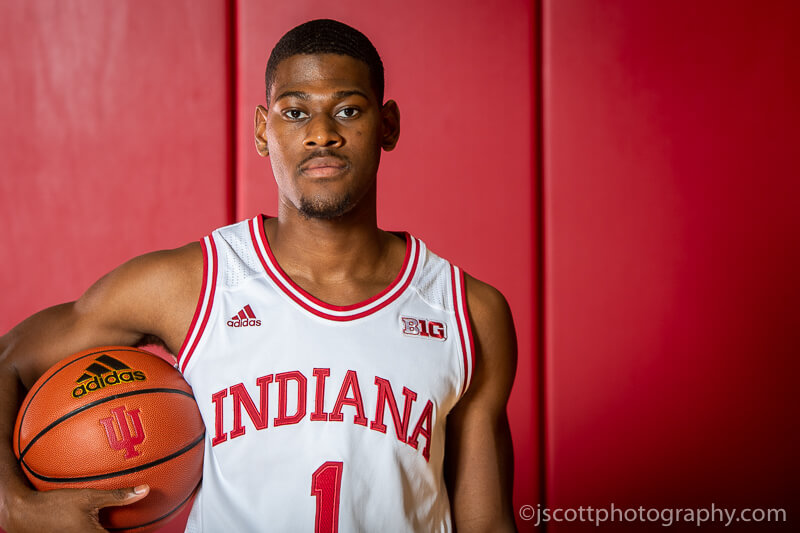 With the start of college basketball season on the horizon, we've transitioned from our look at other Big Ten programs to our player-by-player previews of the 2018-19 Indiana roster. Today, our profiles continue with a look at Al Durham Jr. (Previously: Jerome Hunter, Robert Phinisee, Damezi Anderson, Jake Forrester, Romeo Langford, Race Thompson, Justin Smith, Clifton Moore)
Were it not for the arrival of Romeo Langford, Al Durham might have found himself in the starting lineup going into the 2018-19 season.
As a freshman, Durham cracked Archie Miller's rotation fairly early, and eventually played the sixth-most minutes of any player on the team. He often proved more reliable in the backcourt than senior Josh Newkirk and sophomore Devonte Green, and started key games against Duke, Michigan, Louisville, and Notre Dame.
Still, Durham will be partly overshadowed in 2019 by the sheer depth of talent in IU's backcourt. Devonte Green is a more dynamic passer and better shooter – off the catch and off the dribble – while Romeo Langford is better at just about everything than most anyone else on the roster. Robert Phinisee will factor in somewhere.
Having so much backcourt depth ensures minimal dropoff when the starters leave the court, but it also cuts down on the minutes available to all parties. Durham's contributions will be valuable, but with only so many minutes to go around, IU faces the question of how to keep him on the court.
Much of the answer will rest on his improvements from the outside. Durham made just 14 of his 49 3-point attempts last season. On a poor shooting team, that mark didn't stand out as starkly as it might have in many other circumstances. Still, Durham shoots with a smooth, repeatable motion that should improve with time and development:
At times, Durham was the only Hoosier that could reliably get to the basket off the dribble, slashing into the paint to set up teammates or finishing over taller defenders. Despite relatively inefficient scoring overall, Durham led IU guards in free throw rate and field goal percentage at the rim. He can use either hand around the basket and has canny passing feel in transition and out of the pick-and-roll.
Durham doesn't rely on extraordinary power or quickness – though he has some of the latter – but rather shiftiness and deception. He makes the most of every dribble, pushing the ball out in front of him to cover more ground than most ball-handlers can with a single bounce. He'll start his forward motion before putting the ball on the ground, gaining a subtle but important edge over his defender. Or change directions on a dime, leaving his defender following an imaginary trail:
He bulked up to 180 pounds this summer, added 5.5 inches to his max vertical, and was named Indiana's co-offseason champion. At 6-foot-4, his wingspan allows Durham to defend two or three positions on the perimeter, a trait that will be useful should IU ever resort to a more versatile, switchable defensive scheme.
Archie Miller will likely feature three-guard lineups as a way of finding his guards enough time on the court. Indiana used that look frequently a season ago, and with even more talent in the backcourt, it should be able to turn to it with regularity. Durham's versatility should keep him firmly in the mix. He can comfortably slot next to Green or Phinisee as more of a combo guard, or slide to the point in jumbo units that feature Langford and either Zach McRoberts or Justin Smith on the wing. For brief stretches, Durham may even play the nominal three in super-small lineups.
If he improves his perimeter shooting, Archie Miller will have no trouble fitting him into lineups of all sizes and styles. Durham's game is already malleable. With more refinement, it could become even more seamless.
Bottom Line: Durham will battle for minutes in a crowded and talented IU backcourt, but with a well-rounded skill set and supreme physical tools, he figures to factor prominently into the rotation. He had a productive summer, per reports coming out of the program, and still has room to grow. Already a sound playmaker and defender, the development of Durham's jumpshot will be key to his value and improvement in 2019. He'll likely start the season coming off the bench backing up Green and Langford, but he has a chance to force Archie Miller's hand if he proves indispensable early.
Quotable: "Most of the summer we were just trying to make sure I was consistent with my 3-point shot, for sure. Just getting bigger, getting up to weight, just expanding my overall game so I'm just not one-dimensional." – Al Durham Jr. at IU's media day
Filed to: 2018-2019 season preview, Aljami Durham