2018-2019 Player Profile: Justin Smith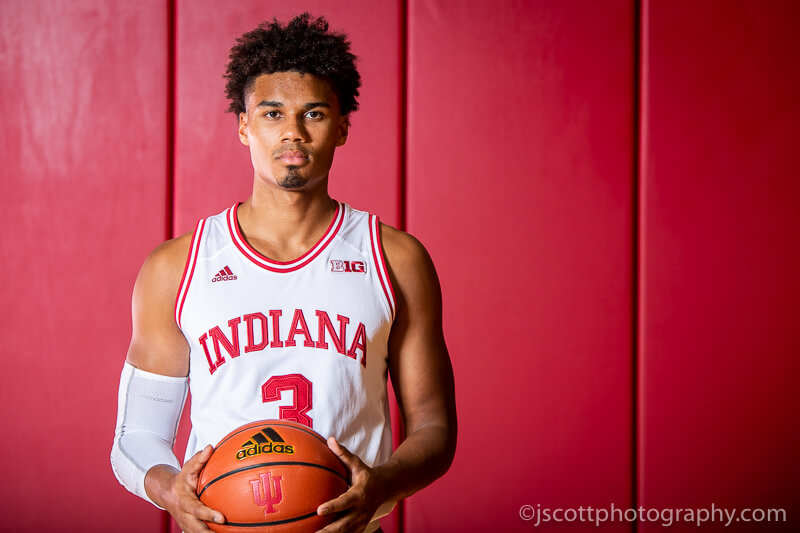 With the start of college basketball season on the horizon, we've transitioned from our look at other Big Ten programs to our player-by-player previews of the 2018-19 Indiana roster. Today, our profiles continue with a look at Justin Smith. (Previously: Jerome Hunter, Robert Phinisee, Damezi Anderson, Jake Forrester, Romeo Langford, Race Thompson)
Justin Smith hung in the air, his head suspended 10 feet and seven inches off the ground, arms stretched skyward as he reached for something no Indiana basketball player ever had: a 43-inch max vertical leap.
The previously-held record, held by Victor Oladipo, stood at 42 inches, a mark Smith would clear with ease. With the help of a running start, he leapt 48 inches off the ground, shattering historical precedent and his own expectations. "When it happened, I really had no idea I could do that," Smith said.
He came down and was mobbed by his teammates and strength coach, Clif Marshall, who has helped sculpt Smith into a 6-foot-7, 228-pound pogo stick who assaults rims and defends opponents of all sizes. Those qualities make Smith essential to Indiana's 2019 season and fascinating to project beyond it. He came to Indiana a specimen – 220 pounds and capable of holding his own against any college athlete.
"Sometimes the secret to success in the weight-room is the players the coaching staff recruits," Marshall says. "Great genetics will make any strength coach look good."
Still, Marshall took those physical qualities and refined them, turning raw athleticism into a powerful weapon. Rather than basic weight training, Marshall puts his players through more dynamic regimens, including medicine-ball throws, plyometric workouts, and explosive squats that measure power on special machines in IU's weight room.
"Now he must translate his vertical jump test to basketball games or it's a meaningless test," Marshall said.
So far, Smith's physical abilities have manifested on the court, where he averaged 6.5 points and 3.2 rebounds as a freshman. He doesn't just get high off the ground, he does it quickly, which allows him to deter shots in the paint and finish at the rim, where he shot nearly 59 percent as a freshman. He can fill gaps wherever Indiana needs him to, whether on the perimeter against a wing scorer or on the block against bigger players. He showed rare defensive intelligence and instincts for a freshman, appearing in the right spots to stop a drive, contest a shot, or take away a passing lane when a situation demanded:
Even if Zach McRoberts remains Archie Miller's preferred option on scoring wings, Smith could emerge as Indiana's most dynamic and important defender. His versatility increases Miller's lineup flexibility, as he can trust Smith to handle any defensive assignment handed to him. Last season, Smith played mostly at power forward and emerged as a crucial piece of small, fast lineups featuring Juwan Morgan at center – a look to which Miller should return to this season. He'll likely spend more time on the wing this year, defending more perimeter-oriented players and clearing more room in the frontcourt for Indiana's bundle of forwards.
Looming over his season and his development is Smith's draft stock, which, at the moment, is fairly low. He wasn't a blue-chip recruit, nor did he have a breakout NCAA tournament performance to propel him into his sophomore year. But given his size, athleticism, length, and feel, he fits the archetype of a modern NBA combo forward and could find his way into first-round discussions by season's end.
That possibility will still hinge in part on whether he becomes enough of a shooting threat to give Indiana the floor spacing it needs to run an efficient offense. The Hoosiers mostly stashed Smith at the elbow or in the short corner last year, where he could comfortably step into layups or dunks:
Those opportunities will still be available in most lineups with which he plays, but the more he plays on the wing, the more imperative it becomes that he manage to knock down 3-pointers at a passable rate. He only attempted 10 such shots all of last season (making just three), and assuming a significant jump in volume or efficiency might be reaching. But Smith exhibited adequate form that, with slightly more refinement and touch, could make him a threat out of the pick-and-pop:
He worked tirelessly on his jumper this summer, getting up game shots nearly every day, and feels more comfortable with Indiana's system on both ends of the floor entering his second season.
"Having a year under your belt really makes a difference," he said.
Still, Smith has yet to push the upper bound of what he can be. A reliable jumpshot will unlock new worlds of possibility, and adding utility with the ball in his hands would make him far more dynamic. Despite his athletic capabilities, he would benefit from more experience guarding on the wing and protecting the rim, areas in which he could be pressed into duty more often in 2019.
Bottom Line: Indiana will ask more of him in nearly every capacity this season. If he doesn't start right away, he'll play major minutes in some form or another. His versatility is a unique weapon, but also a cause for increased responsibility. Playing in a larger role and against more familiar opponents, consistent production will be the expectation.
Quotable: "Being able to play hard the entire time – all game, every game… Is really going to make a difference for me." – Smith at IU's media day.
Inside the Hall's Seth Tow contributed reporting for this piece.
Filed to: 2018-2019 season preview, Justin Smith