That's A Wrap: Team offense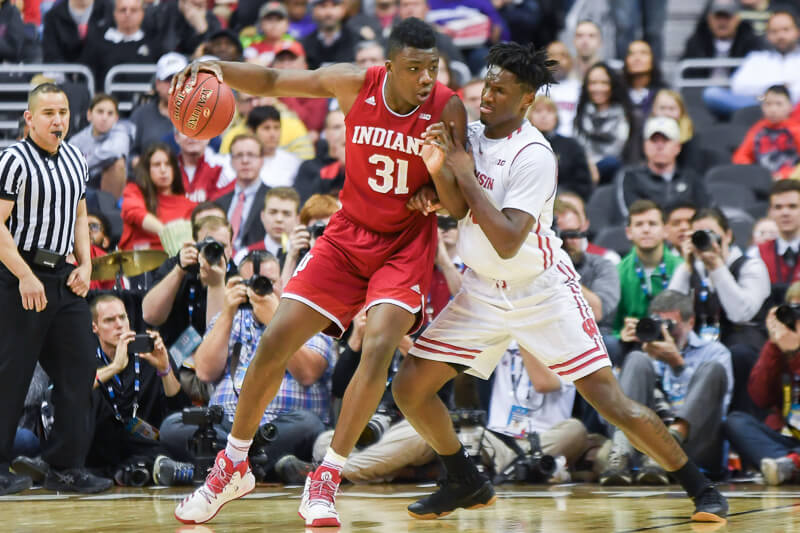 Welcome to "That's A Wrap," our recap of the 2016-2017 Indiana Hoosiers. Up next: Team offense. (Previously: Devonte Green, De'Ron Davis, Grant Gelon, Curtis Jones, Juwan Morgan, Thomas Bryant, OG Anunoby, Freddie McSwain, Josh Newkirk, Tim Priller, James Blackmon Jr., Robert Johnson, Collin Hartman, Zach McRoberts)
Final stats (34 games): 79.7 ppg, 47.9 FG%, 55.2 eFG%, 38.0 3PFG%, 21.4 TO%, 34.1% FTR.
After an elite offensive season in 2015-16 that propelled the program to an outright Big Ten regular season title, Indiana took a significant step back offensively in 2016-17.
Some regression was expected with the graduation of Yogi Ferrell, Nick Zeisloft and Max Bielfeldt along with the loss of Troy Williams to the NBA draft. But in our first look at the Hoosiers against real competition, a 103-99 overtime triumph over Kansas in Hawaii, this group showed that it had the firepower to score with anyone in the country.
It was that win – and a subsequent victory over eventual national champion North Carolina – that raised expectations for what Indiana could become by season's end.
Those wins, however, were the two best moments Indiana would collect all season.
When the dust settled on the season, Indiana ended up a road loser to Georgia Tech in the NIT and Tom Crean lost his job a few days later. And Indiana's offensive flaws, many of which had been covered up in previous seasons by superior talent, were a major reason a once promising campaign went off the rails.
It's not that Indiana wasn't a talented or capable group offensively – they were – but the Hoosiers never developed consistency in several key offensive metrics.
The discussion, as it often did under Crean, begins with turnovers. The Hoosiers were 322nd nationally in turnover percentage on the season. The only team from a major conference to rank lower was Oregon State, which finished the season 5-27.
As well as Indiana shot the ball at times, the turnovers often negated that success. It was an issue that was discussed by the players and coaching staff all season, but was often dismissed as a problem that would get fixed or improved upon as the season progressed. In IU's final game of the season, the Hoosiers posted a 22.9 turnover percentage in a 12-point loss in the NIT.
So why were the turnovers such an issue with this team?
First, Indiana tried to play fast, but never figured out how to play under control. Playing with tempo to create an advantage is one thing. But haphazardly attempting to force the issue is another. And that's what Indiana did far too often. An early season example was IU's 39-point win over Liberty. In a 77-possession game against a sub-200 KenPom opponent, Indiana committed 26 turnovers for a turnover percentage of 33.9.
Second, the roster lacked a logical successor to Ferrell. There was always going to be some sort of dropoff following his departure, but Josh Newkirk was put into a difficult situation coming off of microfracture surgery. In hindsight, the coaching staff should have recruited more point guard depth behind Ferrell.
And finally, Indiana didn't make many adjustments to address the turnover issue. Even when it was obvious that a slower pace may have helped create more of an advantage for a player like De'Ron Davis, Indiana remained committed to pushing the ball even when it wasn't effective.
Beyond the turnovers, the rest of Indiana's offensive profile had its fair share of positives and negatives.
On the plus side of things, the Hoosiers ranked in the top 15 nationally in offensive rebounding and in the top 50 in both 3-point and 2-point field goal percentage. At 1.08 points per possession in league play, Indiana finished with the fourth best offensive efficiency in the conference.
An inability to get to the foul line – Indiana ranked 217th nationally in free throw rate, defined as free throws attempted divided by field goals attempted – was a major issue. And Indiana also had 11.1 percent of its 2-point field goal attempts blocked, which ranked 309th in the country. On a team with several NBA prospects and a fair amount of athleticism, the Hoosiers were punked in the paint far too often.
Bottom Line: Indiana was often a very good offensive team in 2016-17, but an inability to fix its turnover problem was season defining. Indiana beat a top five team in Kansas because of its offense and also beat the national champion in North Carolina in late November in part because of a strong offensive showing. But those performances were the exception and not the rule. The Hoosiers regressed in almost every notable offensive category from the 2015-16 conference championship season. When 3s weren't falling or a team shut down the Hoosiers on the offensive glass, they had little else to rely on.
Quotable: "We work on footwork all the time. We're hopping a little bit. And I think we're just in a rush. I think we're playing a little too fast at times. And we're trying to make the move too fast. Freddie's charge in the corner was — they cut off the baseline. We attacked across the top. We're just going a little too fast. But I'll focus on that tomorrow. I'm going to make sure — I've already had my — my oldest daughter, who has become — she makes all of you look mild right now with her critiques. So already saw that message from her. And she's not even here. She's at the Michigan-Indiana game. I get it from all levels. But to me everything's correctible, and their attitudes are great and we'll get those things fixed as we go." – Crean when asked about turnovers following the win over Liberty in November.
Filed to: