2016-2017 Player Profile: Priller, Jager, McRoberts and Taylor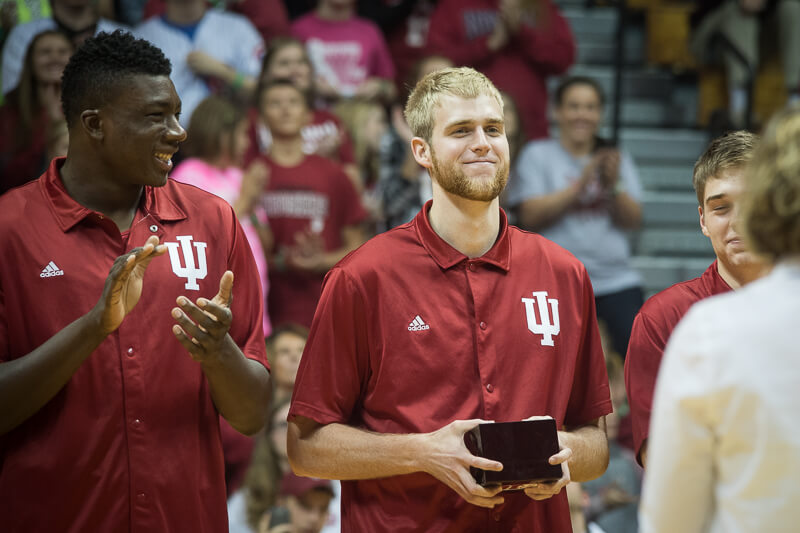 With the start of college basketball season on the horizon, we took a long look at the conference at large as well as Indiana's roster over the past month and a half. Today, we wrap up our look at Indiana's roster with Tim Priller, Johnny Jager, Zach McRoberts and Quentin Taylor.
The end of Indiana's bench may not have a major impact this season for the Hoosiers, but if past seasons are an indication, one of the names we're about to discuss will have a moment that stands out.
Last season, two end of bench guys made an impact for a team that won the Big Ten. Senior walk-on Ryan Burton, a Bedford native, stepped in a few times in key spots to provide valuable minutes. In a closer than expected win at Rutgers in late December, Burton came off the bench to splash two 3s. He wasn't the only one who gave IU key minutes. Freshman walk-on Harrison Niego was a fringe rotation guy down the stretch as Indiana's backcourt depth was thin and performed more than capably.
This season, the most likely end of bench guy to make an impact appears to be McRoberts, a former Indiana All-Star who played his freshman season at Vermont in 2014-2015.
The younger brother of NBA forward Josh McRoberts, who starred at Duke, the younger McRoberts could be in line for a bigger than expected role with the injury to Collin Hartman. At Vermont, McRoberts was a rotation guy for a team that won 20 games. He shot 54.3 percent on his 2s in conference game and posted an offensive rating of 125.7, which was second best in the America East Conference.
McRoberts has worked on his perimeter shot and his strength this offseason and his performances in two public scrimmages were encouraging.
Priller enters his third season in Bloomington as a scholarship player, but is unlikely to earn meaningful minutes. That's partly based on who is ahead of him in the rotation and also the fact that Priller simply isn't a Big Ten level player. While he does have size and can shoot it at a decent clip, the strength and athleticism aren't there for Priller to be viewed as a viable option for minutes.
Taylor, a sophomore and Jager, a sophomore who transferred from Wabash College, will provide backcourt depth. Jager is a former Bloomington South standout and averaged 15 points in 32 minutes per game last season at Wabash.
Bottom Line: McRoberts is by far the most interesting member of this group in terms of potential impact on this season's team. At 6-foot-6, he's got some versatility and could be in line for an opportunity to play while Hartman is sidelined. He was recruited at the Division I level and was an effective player in his lone season at Vermont. Priller will remain a fan favorite, but there haven't been any preseason developments to suggest he'll be ready for more than end of game mop-up duty.
Quotable: "Zach has ability. He knows how to play. I'm glad we have him. He's got to get stronger and improve his shot, but he'll do that. He knows how to work." – Crean on McRoberts in June.
Previously: Devonte Green, Grant Gelon, Curtis Jones, De'Ron Davis, Juwan Morgan, OG Anunoby, Thomas Bryant, Josh Newkirk, Freddie McSwain, Robert Johnson, James Blackmon Jr., Collin Hartman
Filed to: 2016-2017 season preview, Johnny Jager, Quentin Taylor, Tim Priller, Zach McRoberts