2016-2017 Player Profile: James Blackmon Jr.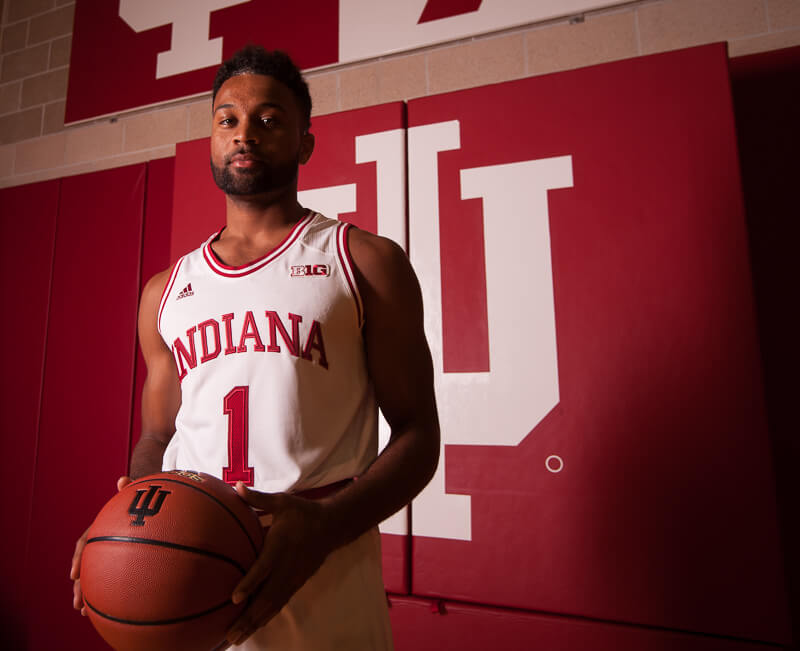 With the start of college basketball season on the horizon, we're taking a long look at the conference at large as well as Indiana's roster this month. Today, we continue our look at Indiana's roster with James Blackmon Jr.
James Blackmon Jr. enters his junior campaign with a clean bill of health and a chip on his shoulder.
"When you hear stuff like that, you want to show your best and I feel like I will do that this season," Blackmon Jr. said at Big Ten media day about his response to the criticism he received for his defense in 2015-2016.
That criticism was valid. Before a late December season-ending knee injury cut Blackmon Jr.'s sophomore campaign short, he struggled with positioning and awareness, this perhaps its most glaring example:
Indiana's overall defense was rough in the non-conference and Blackmon Jr. was one but one piece of its larger puzzle. And his exit from the lineup wasn't the sole factor for Indiana's turnaround on the defensive end of the court once the Hoosiers hit the thick of their Big Ten season. Still, Blackmon Jr. has something to prove. But he definitely seems aware of this and is up for the challenge.
Where Blackmon Jr. doesn't need to show marked improvement? His shooting.
In the 13 games he played in last season, he made 50 percent of his 2s (36-of-72), 46.3 percent of his 3-pointers (37-of-80) and 85.2 percent of his free throws (23-of-27). Those high efficiency numbers on his 2s and 3s were good for an effective field goal percentage of 60.2, nearly 10 percent better than his freshman campaign (51.2). Blackmon Jr. came to Bloomington as a prolific scorer and he's made good on that in his one and a half seasons of play.
But with Yogi Ferrell gone and Indiana entering 2016-2017 looking for a playmaker by committee backcourt, Blackmon Jr. is going to be relied upon to evolve his offense game. He'll need to make plays for others and himself, play on and off the ball and be a threat to score in transition both at the basket and beyond the 3-point line. And perhaps most importantly, when the shot clock is winding down and Indiana hasn't found an advantage over the defense, can Blackmon Jr. create his own shot and bail the Hoosiers out?
Bottom Line: The keys for Blackmon Jr.'s junior campaign: make good on improving his defense and staying healthy. The offense should be there. After testing the NBA draft waters earlier this year, it's possible this will be his last season in Bloomington—no matter what the draft boards say about his potential to get selected or not.
Quotable: "Making the game simple, him getting better at moving without the ball, him being ready to shoot. Not everybody coming out and trying to show how much better they are at the things that they've worked at because they are. I mean, we have added some real skill. I have no doubt. But now we've got to transfer it to live, right, and the best way to do that is to make it as simple as possible." – Tom Crean on Sept. 30.
Previously: Devonte Green, Grant Gelon, Curtis Jones, De'Ron Davis, Juwan Morgan, OG Anunoby, Thomas Bryant, Josh Newkirk, Freddie McSwain, Robert Johnson
Filed to: 2016-2017 season preview, James Blackmon Jr.