2016-2017 Player Profile: Robert Johnson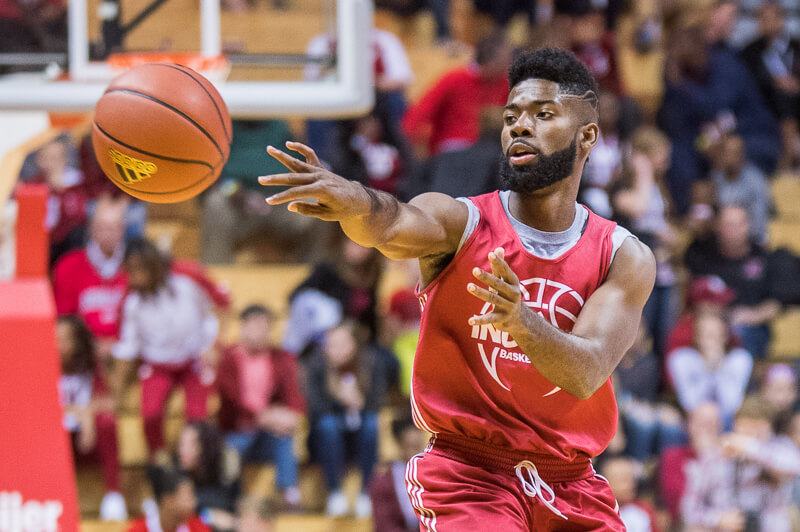 With the start of college basketball season on the horizon, we're taking a long look at the conference at large as well as Indiana's roster this month. Today, we continue our look at Indiana's roster with Robert Johnson.
If Indiana is going to overcome the significant loss of Yogi Ferrell in its backcourt, junior guard Robert Johnson will be a major reason why.
As the Hoosiers are discussed and written about nationally in the preseason, the three names that come up most often are Thomas Bryant, OG Anunoby and James Blackmon Jr.
In a way, Johnson is the forgotten man. He's not on any preseason award lists, but he's an essential piece on the roster because of his ability, experience and leadership.
Last season as a sophomore, the Richmond (Va.) native started 22 of the 30 games he appeared in, but missed five of the team's final seven games. Johnson injured his ankle in a 77-73 win over Purdue on Feb. 20 and then re-injured himself in Indiana's NCAA tournament win over Kentucky. He subsequently missed IU's Sweet Sixteen loss to North Carolina as a result.
While it's not fair to argue that Johnson would have changed the outcome against the Tar Heels, his absence was a clear blow to a Hoosier backcourt rotation that lacked depth.
Johnson's sophomore season was one of major growth as he improved in several key metrics. His 3-point shooting percentage improved from 38.8 percent as a freshman to 44.7 percent in his second season. His turnover rate dropped by 1.5 percentage points. His assist rate grew by five percent.
Following offseason surgery on his ankle, Johnson is back to 100 percent health.
As Indiana's best returning defender on the perimeter, he'll be tasked with guarding some of the country's elite guards. And with Ferrell's departure, he'll also be expected to handle the ball more often. With that responsibility, his decision making must continue to improve.
Along with newcomer Josh Newkirk and James Blackmon Jr., who are both returning from injuries as well, Johnson will be a part of Indiana's committee approach to the point guard position. Given how Indiana's offense is focused on moving the ball and spacing, having a defined point guard isn't essential.
What is essential, however, is having the right leadership in the backcourt and Johnson appears ready to step forward and fill at least part of what Ferrell vacated with his graduation. As someone who is viewed as a leader in the program, Johnson has a voice that will resonate in the locker room when he speaks.
When you pair the leadership piece with a work ethic that continues to drive improvement, it's not hard to see why Johnson is one of Indiana's most important players on the 2016-2017 roster.
Bottom Line: Johnson should return to Indiana's starting lineup, which is where he's been for most of his first two seasons in Bloomington. There will be an adjustment period for him playing without Ferrell, who justifiably had the ball in his hands a lot in Johnson's first two seasons. As a junior, Johnson should have the opportunity to create more for his teammates while also aggressively seeking out more shots within the flow of the offense.
Quotable: "What has to happen now is those guys have got to learn from what they missed. They've got to take those next steps of confidence that come from doing it time and time again. They've got to not only do it, they've got to bring leadership to the younger guys." – Tom Crean on Johnson and Blackmon Jr. as they return from missing time this offseason into leadership roles as upperclassmen.
Previously: Devonte Green, Grant Gelon, Curtis Jones, De'Ron Davis, Juwan Morgan, OG Anunoby, Thomas Bryant, Josh Newkirk, Freddie McSwain
Filed to: 2016-2017 season preview, Robert Johnson