2016-2017 Player Profile: Collin Hartman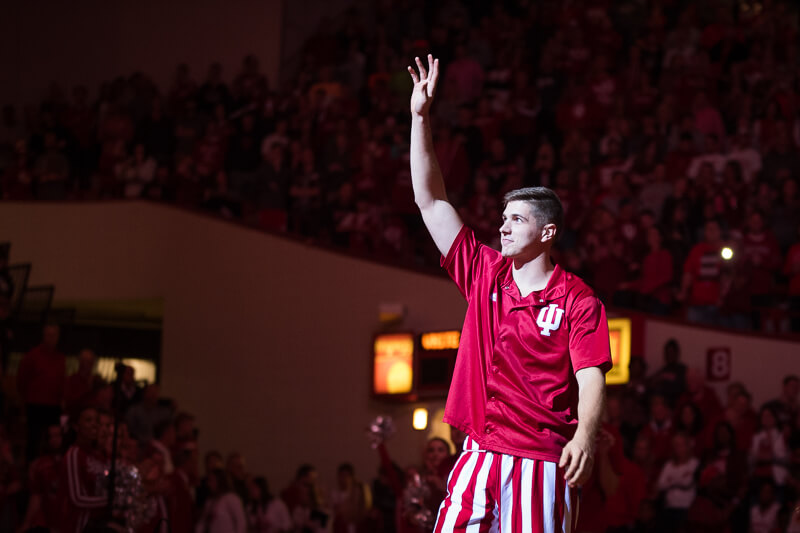 With the start of college basketball season on the horizon, we're taking a long look at the conference at large as well as Indiana's roster this month. Today, we continue our look at Indiana's roster with Collin Hartman.
This isn't the start to his senior season that Collin Hartman had in mind.
As his teammates prepare for the regular season, which begins two weeks from today, Hartman can only watch from the sidelines.
After playing an integral role on last season's Big Ten championship team, Hartman's availability for the 2016-2017 season is in serious doubt. On Tuesday, Sept. 20, Hartman suffered a non-contact left knee injury during an individual workout. He underwent surgery less than a week later, but the details of the injury still haven't been specified, nor has a timetable for a return.
So, is it possible that Hartman plays this year? It's something he isn't ruling out as of earlier this month.
"Obviously I would love to be back," Hartman said on Oct. 19. "Who knows when I'll be back. Early (season), late, middle, I don't know. I just have to stay focused and literally take it day-by-day. If I look too far ahead, I'll get disappointed with where I'm at."
Without injury details, it's impossible to predict whether Hartman will have a chance to play this year. If he's out for the year, it's a definite blow for the Hoosiers.
As Indiana's lone senior on the roster, he was expected to play an integral role as an on-floor leader.
"He's not a point guard but he does so many things for us with moving without the ball, moving the ball, making plays," Tom Crean said of Hartman last month. "We put together over the last couple weeks, which we'll starting introducing to the team today, concept tape, the defensive concept tapes, not just play tapes and not highlight tapes certainly but concept tapes. He's probably in 70 percent of the clips, and this was before the injury."
In terms of the actual production that Indiana will miss without Hartman, he was a guy who could space the floor with his shooting ability and also guard multiple positions.
The Hoosiers still have a solid amount of depth even without Hartman, but there's no doubt he would have been a key piece in what is expected to be one of the league's best frontcourts.
Bottom Line: Hartman has improved steadily throughout his Indiana career and has gone through several injuries, including a fractured wrist that he played through at the end of last season. His positive mindset and perseverance should guide him through this latest injury setback. Still, it's tough to see anyone go down with an injury, especially a senior who was expected to have a major role. The best case scenario for Hartman is a return for the latter part of the season and worst case, he'll miss the entire year as he continues to rehab from knee surgery.
Quotable: "I just love that kid. He's been through so much, and I know you're going to ask me about timelines. I don't have a timeline, okay, because I'm most concerned right now about his mindset. He just got back here, and that young guy was putting so much into getting ready to be our senior leader, and we're going to need it." – Tom Crean on Hartman on Sept. 30
Previously: Devonte Green, Grant Gelon, Curtis Jones, De'Ron Davis, Juwan Morgan, OG Anunoby, Thomas Bryant, Josh Newkirk, Freddie McSwain, Robert Johnson, James Blackmon Jr.
Filed to: 2016-2017 season preview, Collin Hartman