2015-2016 ITH Season Preview: Maryland Terrapins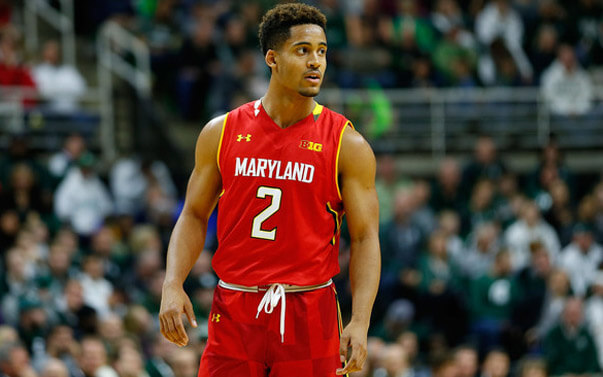 With the start of college basketball season on the horizon, we'll be taking a long look at the conference at large as well as Indiana's roster over the next month. Today, we finish our look at the Big Ten with the Maryland Terrapins.
After a surprising 28-7 season and a trip to the round of 32 in the NCAA tournament, Maryland enters the 2015-2016 season with a set of high expectations.
Cruise the college basketball preview magazines and you'll find the Terps no lower than No. 4. Sophomore guard Melo Trimble is being talked about as a potential All-American. The program also welcomes five-star big man Diamond Stone and returns several key pieces from a season ago.
It's been a complete reversal of fortune for Mark Turgeon, who was near the top of every coaching hot seat list a year ago. Winning and recruiting at a high level can turn things around quickly and Turgeon did enough of those things over the last 12 months to have his program positioned favorably for the foreseeable future.
The catalyst in the turnaround isn't singular, but when seeking to explain it, start with Trimble. Turgeon put his trust in him last season and was rewarded in a major way. Maryland was the country's second luckiest team last season according to KenPom.com's luck stat, but Trimble also deserves credit for his ability to run a team. As a freshman, he was ridiculously efficient at getting to the foul line as his free throw rate percentage (FTA/FGA) of 71 exemplifies. Trimble also hit over 40 percent of his 3s. The combination of being able to hit the jumper and also get into the lane with the purpose of drawing fouls is a scary combination for Big Ten defenders.
Trimble will be without Dez Wells alongside him in the backcourt, but the program has four other pieces who should all make an impact. Start with sophomores Jared Nickens and Dion Wiley, who both should see their roles increase in year two. Nickens is unique because he's 6-foot-7, which allows him to guard multiple positions. He's also close to a 40 percent 3-point shooter. Wiley struggled with his efficiency last season, but is another capable shooter.
The wildcard is Rasheed Suliamon, who transferred from Duke after being dismissed from the program last season. The former McDonald's All-American will have to blend in with an already talented roster, but it's his last chance to do so. Junior college transfer Jaylen Brantley will serve as Trimble's backup.
The frontcourt for Maryland should be equally impressive as Jake Layman figures to slide back to the three. At 6-foot-9, he's a very good inside/out threat who hit 37.8 percent of his 3s and also took 141 free throws, which was second on the team.
The addition of Stone, a 6-foot-11 Wisconsin native, gives the Terps a legitimate post presence with superb footwork. That was missing on last year's roster as guys like Michal Cekovsky and Damonte Dodd struggled with fouls and consistency. Joining Stone down low will be Georgia Tech transfer Robert Carter, who averaged 11.4 points and 8.4 rebounds during the 2013-2014 season with the Yellow Jackets.
Bottom Line: Is Maryland the best team in the Big Ten? On paper the Terps certainly are. However, don't expect this to be the walk in the park Wisconsin had last season in the league. Maryland has an incredibly difficult conference schedule and it'll be a different vibe for many of the players playing with expectations versus playing with none a season ago. The pieces are here for a Final Four run if the new additions mesh well and Stone is able to dominate the paint like many believe he will.
Quotable: "This is why I took the Maryland job — to have a team like this. I knew last year at this time that we were going to be good, but I didn't know that we'd win 28 games. I'm really excited about coaching this team and seeing what I can get out of them and pushing their buttons. That's why we do it. I don't know what our rotation is going to be, but that's what I get paid to do. I love that part of it. When I'm out there in between the lines, it's a lot of fun and there's nothing better. I'm excited about it. It's going to be a really fun year." – Turgeon to CBSSports.com in July.
Previously: Rutgers, Penn State, Northwestern, Nebraska, Minnesota, Iowa, Illinois, Ohio State, Michigan, Wisconsin, Purdue, Michigan State
(Photo credit: Leon Halip/Getty Images North America)
Filed to: 2015-2016 Big Ten preview, Maryland Terrapins