2015-2016 ITH Season Preview: Rutgers Scarlet Knights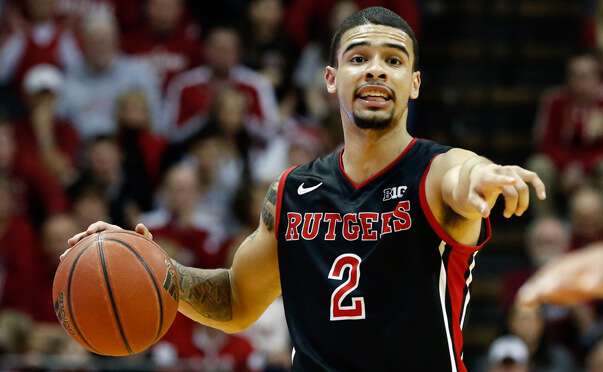 With the start of college basketball season on the horizon, we'll be taking a long look at the conference at large as well as Indiana's roster over the next month. Today, we begin our look at the Big Ten with the Rutgers Scarlet Knights.
It's been 10 years since the Rutgers basketball program had a winning season. Coach Eddie Jordan will try to change that in his third season with the Scarlet Knights.
Rutgers struggled mightily last season, finishing 10-22 overall and 2-14 in its first year in the Big Ten. The highlight of the season? An upset win over Wisconsin, which was without Frank Kaminsky.
But the Scarlet Knights also lost games against Saint Peter's, St. Francis (PA) and Northwestern at home. Rutgers finished last season with 15 consecutive losses.
Rutgers is losing its top two scorers, Myles Mack and Kadeem Jack, to graduation, along with fourth leading scorer Junior Etou who started every game last season and chose to transfer to Tulsa. Etou and Jack also led the team in rebounds. Newcomers Corey Sanders (247Composite top 100), Deshawn Freeman, Jonathan Laurent, Justin Goode and Kejuan Johnson will all be looked at to help rebuild the roster.
Returning to Piscataway are junior guard Bishop Daniels (pictured), who averaged 8.4 points per game last season and senior big man Greg Lewis, who averaged 4.5 rebounds last season. Sanders, a four-star point guard recruit, is expected to contribute heavily in his first year and log heavy backcourt minutes with Daniels and sophomore Mike Williams.
Rutgers finished near the bottom in every major offensive statistical categories in the Big Ten last year. It averaged 59.3 points per game, last in the league and 330th nationally. 3-point shooting was also a struggle as the Scarlet Knights hit just 29.5 percent last season. That mark was 13th in the Big Ten and also 330th in the country.
Freeman will be looked to as a scoring threat, as the transfer from Hutchinson Junior College averaged 19.2 points on 55 percent shooting last season and also grabbed 9.6 rebounds per game.
After a significant amount of turnover, Jordan is still very much in the building phase at his alma mater.
Bottom Line: Finishing anywhere other than last in the Big Ten should be considered a success this season for Rutgers. Replacing Mack, Jack and Etou will be very difficult, and the Big Ten overall will likely be stronger this season than last. Eddie Jordan has the tall task of building up a roster for success, but expecting too much this year would be a mistake. Rutgers is stuck in the basement and is hopeful that Sanders is the high flying guard to lead them out of it.
Quotable: "We're going to do some different things offensively. Defensively, we backed off a little bit with our pressure. We just wanted to be a really good half-court team. I felt we were for the most part last year. We just couldn't score. So we're hoping to open up the offense a little bit more this year. And start again with some full-court pressure stuff. But that's concept stuff. We'd like to do it, but let's see if our team is built to do that. I think we are." – Rutgers Coach Eddie Jordan to NJ.com in June.
(Photo credit: Aaron Doster-USA TODAY Sports)
Filed to: 2015-2016 Big Ten preview, Rutgers Scarlet Knights