2015-2016 ITH Season Preview: Northwestern Wildcats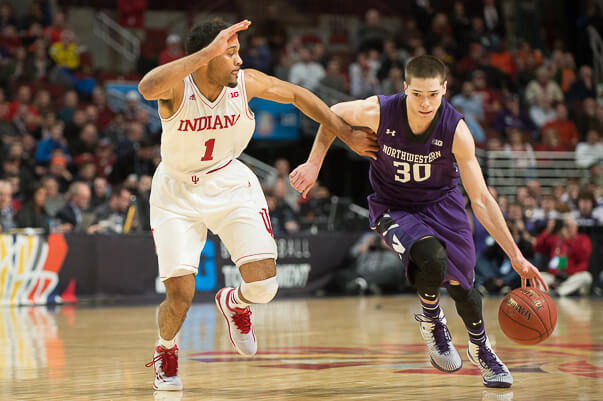 With the start of college basketball season on the horizon, we'll be taking a long look at the conference at large as well as Indiana's roster over the next month. Today, we continue our look at the Big Ten with the Northwestern Wildcats.
Vic Law arrived on campus last season as arguably Northwestern's best-ever recruit. Coupled with a new scoreboard in Welsh-Ryan Arena, a new era appeared to be emerging in Chris Collins' second year in Evanston.
Yet, the on-court narrative stayed the same for the Wildcats. No trip to the NCAA Tournament. A finish in the bottom half of the league (10th, 15-17) with only one more win than Collins' first season. Things got so bad in league play that the Wildcats dropped 10 straight in a little over a month's span after winning their Big Ten opener against Rutgers.
But credit Collins. He never lost his team. They finished Big Ten play 5-2, including a win over the Hoosiers in Evanston. Indiana got revenge in the first round of the Big Ten Tournament and ended Northwestern's season.
Heading into the 2015-2016 campaign, Northwestern has an interesting collection of talent that has a shot at eclipsing the .500 mark and maybe even making its first-ever trip to the Big Dance.
Guard Tre Demps and center Alex Olah return for their senior seasons and provide a veteran presence for a team that figures to give heavy minutes to underclassmen. Demps led the team in scoring (12.5 ppg) last season and was third in possessions used (23 percent). Olah provides a shot-blocking presence in the middle. His block percentage of 7.4 was fifth best in conference play. The Romania native was also a focal point on offense, using the team's most possessions (24.1 percent) and sporting the team's best free throw rate (45.7).
Olah uses the line to his advantage. After shooting just 58.3 percent as a freshman, he's improved and made a strong 74.8 percent of freebies a season ago.
Law had a respectable freshman campaign (7 ppg) and used the fourth most possessions on the team. But fellow freshman and New Castle native Bryant McIntosh ended up with the better season. In fact, McIntosh had a good enough year to earn a spot on the Big Ten's All-Freshman team.
He solidifies the point guard position for the Wildcats and was the team's third leading scorer (11.4 ppg) behind Demps and Olah. His assist rate of 32.6 was second only to Shannon Scott in the Big Ten and was 53rd best in the county. McIntosh was also the team's best 3-point shooter (36.4 percent) and finished third in the conference in free throw percentage (85.3).
One clear area of improvement for both Law and McIntosh as sophomores? Cut down on turnovers. Each had a turnover percentage of 20.5 last season.
Like Law and McIntosh, Scottie Lindsey was another freshman that started for the Wildcats last season and showed some promise on the wing. Juniors Sanjay Lumpkin and Nathan Taphorn figure to provide depth at the forward spots.
However, freshman Aaaron Falzon, a top-100 recruit from Massachusetts, appears primed to knock them down the depth chart at the power forward position. Virginia Tech transfer and 24-year-old Joey van Zegeren, who is 6-foot-10, also figures to be in the frontcourt rotation. Freshman combo guard Jordan Ash is likely to back up Demps and McIntosh in the backcourt.
Bottom Line: Due to the talent in the top half of the league, Northwestern has ample opportunity to rack up quality wins in Big Ten play to provide the committee evidence its finally worthy of a trip to the NCAA Tournament. If the trio of Law, McIntosh and Lindsey can make a nice leap in their sophomore seasons to go along with seniors Demps and Olah and the additions of Falzon and Zegeren, Northwestern has a shot at being a tough out in conference play. But it's a bit early to be bullish on the Wildcats making their first-ever tournament appearance.
Quotable: "Falzon brings us a dimension that we really haven't had, especially offensively … at 6-foot-8, his ability to stretch the floor. He's as good a shooter coming into college as there is in the country. Having a guy like that out there all the time makes the defense on high alert. It allows you to really open up things for other guys." – Collins on Falzon's abilities to the Chicago Tribune in July
Previously: Rutgers, Penn State
Filed to: 2015-2016 Big Ten preview, Northwestern Wildcats