2015-2016 ITH Season Preview: Penn State Nittany Lions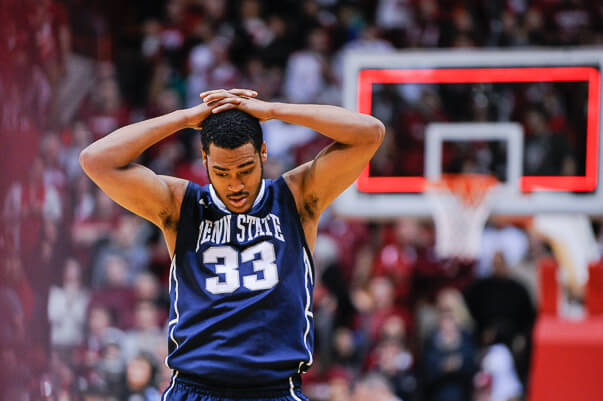 With the start of college basketball season on the horizon, we'll be taking a long look at the conference at large as well as Indiana's roster over the next month. Today, we continue our look at the Big Ten with the Penn State Nittany Lions.
Despite a scarce resume in terms of on the floor accomplishments, Pat Chambers enters his fifth season in State College with a contract extension that will keep him with the program through the 2018-2019 season.
The athletic department opted to extend Chambers last March after the Nittany Lions finished last season just 18-16, but won three of their final four games. The decision was probably wise in order to aid Chambers in recruiting and the new deal is already bearing fruit with his 2016 class. It also provides some stability for a program that has always struggled to find relevance nationally.
Penn State faces the difficult task of replacing D.J. Newbill, who finished as the fourth leading scorer in program history in just three seasons. But some optimism is warranted as the Nittany Lions return three experienced frontcourt players, a solid guard in Shep Garner and also welcome a recruiting class featuring two 247Composite four-star recruits.
Garner (pictured) started 33 games as a freshman and will be joined in the backcourt by Josh Reaves, who turned down offers from Georgetown, Maryland and Villanova. The 6-foot-4 Garner was a low efficiency player as a freshman (46.4 effective field goal percentage), but did score in double figures in six of Penn State's 18 Big Ten regular season games. Reaves will have plenty of opportunities to score as the Nittany Lions will collectively need to replace Newbill, who used the fourth most possessions of any Big Ten player.
Up front, 7-foot-1 Jordan Dickerson is back, as are Brandon Taylor and Donovan Jack. Dickerson was the second best shot blocker in the Big Ten last season, but is limited offensively. Taylor averaged 9.1 points and 5.3 rebounds as a junior, but shot poorly on both 2s (41.4 percent) and 3s (33.5 percent). Freshmen Mike Watkins and Deividas Zemgulis, a native of Lithuania, are also likely to see minutes.
Overall, Penn State appears to have more talent than it did a season ago, but the loss of Newbill looms large for a team that was already challenged offensively.
Bottom Line: It's difficult to measure progress at a program that has been a Big Ten doormat since it joined the league, but Penn State opted to go for stability with Chambers rather than starting over again. That's probably a wise move given that Penn State seems to be trending upward in recruiting. Now the task for Chambers is guiding the program to a postseason berth of some sort in a league where it's extremely difficult to move up the pecking order. The bottom of the Big Ten may be a bit softer this season, which means Penn State should be aiming to pick off teams like Minnesota and Nebraska and move out of the bottom three of the league standings. If that happens, consider it progress.
Quotable: "I support what Patrick is doing and I support his long-term leadership of this program. I love the heart with which his team represents the university, Nittany Nation and the community, both on the court with measurable success and improvements and off with a 100 percent graduation rate and active participation in countless community activities. With a core group of returning players and the highest-rated recruiting class in school history coming next fall, the future is certainly promising. I believe with the right support and resources, Patrick can take this program to a level of success which everyone can get behind." – Penn State AD Sandy Barbour last March on the extension for Chambers and the direction of the program.
Previously: Rutgers
Filed to: 2015-2016 Big Ten preview, Penn State Nittany Lions