2015-2016 ITH Season Preview: Purdue Boilermakers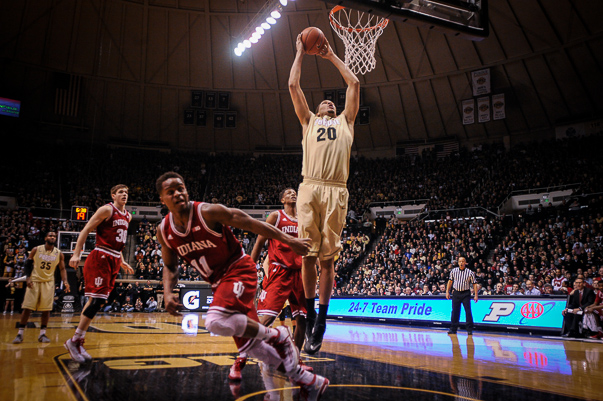 With the start of college basketball season on the horizon, we'll be taking a long look at the conference at large as well as Indiana's roster over the next month. Today, we continue our look at the Big Ten with the Purdue Boilermakers.
After two sub-.500 seasons, Matt Painter's 2014-2015 Boilermakers appeared bound for another ho-hum year after home losses to North Florida and Gardner-Webb in the non-conference schedule. But they re-found a defensive identity as the season went along and returned to the NCAA Tournament for the first time since the Robbie Hummel era.
In conference play, Purdue tied for third and sported the second best adjusted defensive efficiency behind Maryland. A more committed and focused A.J. Hammons anchored that defense. His block percentage (12.3) led the Big Ten and was 11th in the nation. But Purdue also got a strong performance on the perimeter, as Rapheal Davis' work there garnered him Big Ten Defensive Player of the Year honors.
As the team's top two scorers last season, Hammons and Davis return for their senior seasons to a Purdue squad primed to challenge for one of the top spots in the Big Ten and a run in the NCAA Tournament. Beyond his shot blocking and scoring ability, Hammons was also among the top 10 in defensive (7th) and offensive (fourth) rebounding in the conference. Up front, he's joined by sophomore Isaac Haas and freshman Caleb Swanigan, a one-time commit to Tom Izzo and the Spartans. A Fort Wanye native, 247 Composite ranks Swanigan as the 18th best player in the class. All three make Purdue's frontcourt one of the nation's best.
At 7-foot-2, Haas gives the Boilermakers another intimidating 7-footer to go along with Hammons. Haas used the most possessions on Purdue last year (30.3 percent) and sported a ridiculous free throw rate of 81.8. But he struggled from the line (54.7 percent) when he got there. And because of Hammons, he played just 14.6 minutes per game. If Haas converts at a higher rate from the line this year, he should bring more offensive value when he's on the court.
Sophomore Vince Edwards was the team's most efficient offensive player as a freshman (54.6 effective field goal percentage) and returns as the team's third best scorer (8.8 ppg). He and junior Basil Smotherman add to an already loaded frontcourt. Junior Kendell Stephens balances the offense's interior presence and hit on 38.4 percent of 3-pointers a season ago to lead the team. With Bryson Scott transferring to IPFW and Jon Octeus gone via graduation, graduate transfer Johnny Hill (Texas Arlington) has immediate eligibility to provide minutes at point guard along with sophomore P.J. Thompson. Sophomore Dakota Mathias along with three-star recruits Ryan Cline (Carmel) and Grant Weatherford (Arcadia) round out the backcourt.
Bottom Line: While Purdue hasn't hit every preseason Top 25, they stand a good chance of being a staple in the rankings this season thanks to a stout defense and tough matchups in the frontcourt. They'll get Butler in the Crossroads Classic for a good pre-conference test. Purdue and Indiana battle just once this season — a Feb. 20 matchup in Bloomington just before conference plays wraps. After the Boilermakers swept the Hoosiers last year — including a blowout win in West Lafayette and a four-point victory in Bloomington – Indiana will be looking for revenge. After the Indiana game, Purdue plays Maryland at home. Both games could have major implications in the top of the conference standings if all three teams play up to expectations.
Quotable: "Going into next year, it's not something where I say, 'This is what I'm going to do.' I learned that you wait and see what happens. If those guys play at a really high level that are going to fill those gaps in our rotation and come off the bench, then I need to do what I was trying to do before. But if they don't, I think less people will play." – Painter on whether he'll have a large or small rotation based on having more options next season
Previously: Rutgers, Penn State, Northwestern, Nebraska, Minnesota, Iowa, Illinois, Ohio State, Michigan, Wisconsin
Filed to: 2015-2016 Big Ten preview, Purdue Boilermakers