2014-2015 Player Profile: Yogi Ferrell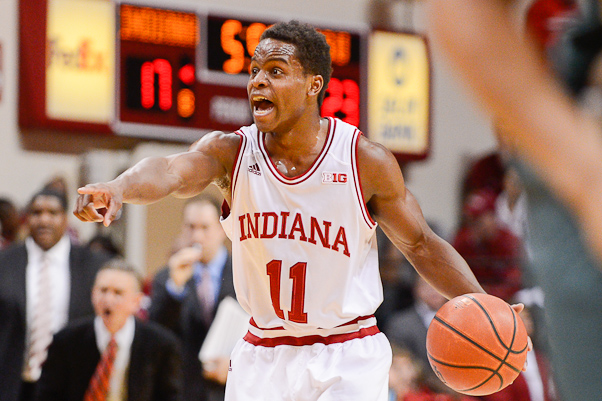 With the start of college basketball season on the horizon, we've taken a long look at the conference at large as well as Indiana's roster over the past month. Today, we conclude our look at Indiana's roster with Yogi Ferrell.
As the lone holdover with significant experience from Indiana's 2012-2013 Big Ten championship team, junior point guard Yogi Ferrell has experienced quite a bit in his first two seasons in Bloomington.
During his freshman campaign, Ferrell had to pick his spots on the floor and act primarily as a distributor for a team that was ranked No. 1 in the country for much of the regular season. And then as a sophomore, with four starters gone and a team that lacked shooters, he was forced to shoulder a heavy offensive load on a team that ultimately fizzled before March Madness ever got underway.
It was a drastic shift of fortunes for both Ferrell and Indiana from his freshman to sophomore seasons. As a junior, the Park Tudor product will again be thrust into a bit of change in his role.
"I need to be more of a facilitator," he said last week at Big Ten media day in Chicago. "We have a lot of shooters now, so that burden is kind of lifted off a little bit. This year what I want to focus on is not turning the ball over so much."
But beyond just the numbers, the program also needs a more mature junior campaign from its most experienced player.
His offseason got off to a disappointing start with an arrest last spring, but to his credit, Ferrell talked openly last week about growing up and limiting distractions in the months following that incident.
"I feel like I'm a lot more focused person on and off the court," he said. "I don't even have Twitter anymore, period. I deleted it. Pretty much just eliminating all of that noise, all of the outside world, the fans talking to me and stuff like that. I feel like I don't really need something like that anymore."
If Ferrell continues the steady improvement he's shown over his first two college seasons, the result could be scary for Big Ten opponents.
As a sophomore, he hit 40 percent of his 3-pointers, up nearly 10 percent from his freshman season. On IU's five-game tour of Montreal in early August, he hit almost 44 percent of his 3-pointers and had better than a 2-to-1 turnover ratio. He's earned respect around the Big Ten as well by his selection as a first team all-Big Ten player in the preseason.
"He's one of quickest guards in the country if you ask me," Nebraska guard Terran Petteway told Inside the Hall last week. "His first step is unbelievable. He gets to the basket and even with how small he is, he can get to the basket and take contact. And he's hitting the outside shot at a good percentage. I think that's what helps him is how quick he is and the way he can shoot the ball."
Bottom Line: One of the storylines that bears watching with this Indiana team is how Ferrell balances facilitating and looking for his own shot. Often times as a sophomore, he appeared to be out on an island on the perimeter and was forced to bail the Hoosiers out of broken down possessions. This season, he'll have the benefit of teammates like Robert Johnson, James Blackmon Jr. and Nick Zeisloft, who are all capable of knocking down shots. There will be a bit of a learning curve for Ferrell in learning how he must play for this team to be successful, but his value as a defender, shooter and distributor makes him one of the country's top guards.
Quotable: "I had a gentleman in this league tell me that his team they had polled their team on some different questions about the season, and he said, when it came down to the hardest matchup in the league, to a man, everybody said the hardest matchup for them to deal with was with Yogi." – Tom Crean in July on Ferrell.
Previous: James Blackmon Jr., Max Hoetzel, Robert Johnson, Tim Priller, Jeremiah April, Emmitt Holt, Troy Williams, Stanford Robinson, Devin Davis, Collin Hartman, Hanner Mosquera-Perea, Nick Zeisloft
Filed to: 2014-2015 season preview, Yogi Ferrell