2014-2015 Player Profile: Nick Zeisloft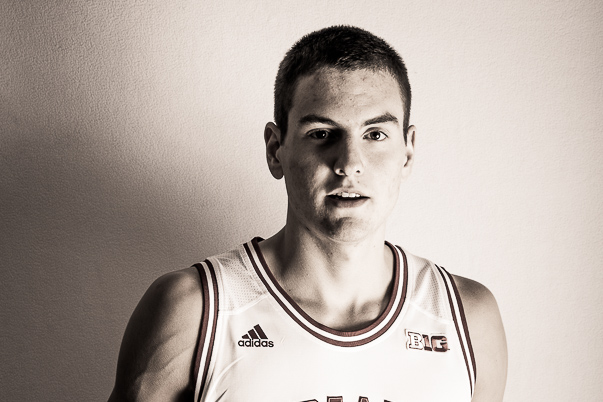 With the start of college basketball season on the horizon, we're taking a long look at the conference at large as well as Indiana's roster this month. Today, we continue our look at Indiana's roster with Nick Zeisloft.
When word broke in early July that Indiana was looking into adding Illinois State transfer Nick Zeisloft, the news was met with some skepticism.
With scholarships at a premium and a solid contingency of guards already on the roster, what was piquing the staff's interest in a 35.9 percent 3-point shooter with two years of eligibility remaining?
Tom Crean addressed that question shortly after it was announced that Zeisloft would be coming to Indiana with immediate eligibility.
"The addition of Nick allows us to spread and space the floor even more and play with more pace," Crean said. "More importantly, we are adding a young man that has been raised well and has been well coached throughout his career. He brings a physical and mental toughness that has allowed him to play at a strong level and brings leadership and maturity to our program."
Our first glimpse at Zeisloft came in August in Montreal where he averaged 8.8 points and hit 11 of his 20 attempts from behind the 3-point arc in 21.4 minutes per game. Zeisloft looked confident in his shot and it seemed as if he'd already earned the respect of his teammates despite being with the program for less than a month.
The start of practice and last week's Big Ten media day in Chicago have only confirmed that Crean believes Zeisloft will be an important part of this team.
In IU's practice on Monday, Oct. 13, the redshirt junior was right in the thick of things throughout the afternoon offering encouragement to his teammates and acting as one of the team's vocal leaders. And at Big Ten media day on Thursday, Oct. 16, Zeisloft was one of two Hoosiers to come to the Hyatt O'Hare as a representative of the program.
Statistically speaking, it's tough to project what's expected out of Zeisloft. Sports Illustrated and Dan Hanner project that he'll average just 5.2 points and use 15 percent of the possessions when he's on the floor, but given his production on the Canada tour, those numbers may be on the low side.
Given the other perimeter pieces on Indiana's roster, Zeisloft won't be a primary focus on the scouting report for opponents, so he should be able to find space and open shots. And when you consider that he turned it over on just 9.7 of his possessions last season at Illinois State, he could be a player that Crean turns to in late game situations when the Hoosiers need quality possessions.
Bottom Line: Zeisloft will definitely be a rotation player for the Hoosiers this year and it's not out of the question that he'll start his fair share of games. On a team that is going to be lacking in experience, his veteran presence should help the Hoosiers navigate sticky situations, particularly away from Assembly Hall. And his shooting stroke and ability to take care of the ball should make him an upgrade over two of the players he figures to replace in Austin Etherington and Evan Gordon.
Quotable: "We're very close. We love spending time with each other, and those are the teams that really off the court and on the court, when they connect like that, they really get to that next level. So that's one of my favorite things right now and there should be plenty more coming around. It's just the start right now. We've got a long process and we've got to take care of that process every day." — Zeisloft after a recent practice.
Previous: James Blackmon Jr., Max Hoetzel, Robert Johnson, Tim Priller, Jeremiah April, Emmitt Holt, Troy Williams, Stanford Robinson, Devin Davis, Collin Hartman, Hanner Mosquera-Perea
Filed to: 2014-2015 season preview, Nick Zeisloft