That's A Wrap: Offense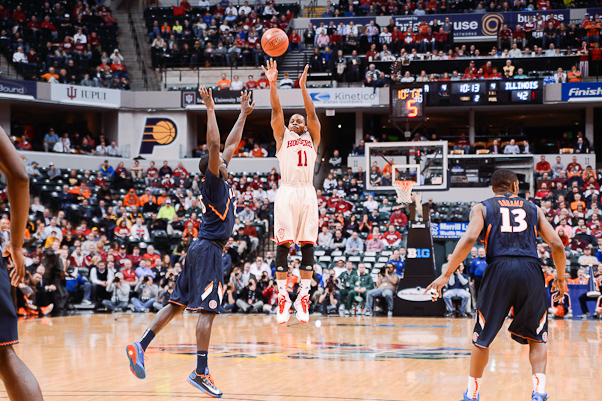 Welcome to "That's A Wrap," our recap of the 2013-2014 Indiana Hoosiers. Today: Indiana's offense.
Final stats (32 games): 72.3 ppg, 44.8 FG %, 49.8 eFG %, 34.3 3P FG%, 73.0 FT %, 45.3 % FTR.
After spending back-to-back season as one of the most efficient offensive teams in the country, Indiana's offense took a couple steps back in 2013-2014.
It was easy to see why. Gone were Cody Zeller's and Victor Oladipo's high-percentage looks. Gone too was the precision of Christian Watford and Jordan Hulls from distance. All four were also crucial members of Indiana's transition attack, and all four moved on. And instead of three upperclassmen in the starting lineup, this season's offense featured three freshman.
While Yogi Ferrell took steps forward and Noah Vonleh was overpowering at times, it simply wasn't enough to make up for the departed. After finishing third nationally in adjusted offensive efficiency in 2012-2013 and fourth in 2011-2012, Indiana fell to 127th this past season.
The turnovers were a big part of it. As has long been discussed, the Hoosiers' sloppy play and poor decision making had them forfeiting 21.8 percent of their possessions for the season (310th nationally) and 21.9 percent in conference play (12th). But Indiana also squandered points by getting their shots blocked at a high rate as well (12.4 percent: 331st nationally, 13.2 percent: 12th in conference).
Six seasons in, these two areas have been consistent low spots for Indiana's offense under Tom Crean in conference play:

The offense also suffered at times due to personnel issues. By season's end, the 3-point shooting wasn't as bad as one might think (36.6 percent, third in conference). But with point guard Ferrell (40.0 percent) and center Vonleh (48.5 percent) as the best marksmen, it created some offensive imbalance. Instead of flanking threats around Ferrell and Vonleh to keep defenses honest and spread between the rim and the point of attack, Indiana's best 3-point looks came from its primary ballhandler and center.
Evan Gordon (33.3 percent) and Will Sheehey (33.0 percent) were the only other Hoosiers to shoot over 30 percent from distance, but were streaky and therefore not always a reliable threat.
At its best, Indiana's offense featured a hard-to-stop Ferrell with Stanford Robinson having room to get into the lane and score as well. When Ferrell was hitting treys and also getting to the bucket, drawing defenders and either scoring himself or finding teammates, Indiana's offense stood a chance. This was also a strong offensive rebounding squad (33.0 offensive rebounding percentage, third in conference), which helped make up some for all the turnovers. It was middle of the road in getting to the line (38.6 FTA/FGA, fifth in conference) and in the top third for free throw percentage (73.6, fourth in conference), allowing for some extra points as well. (Strong offensive rebounding and a high free throw rate were staples of Indiana's offense during its back-to-back Sweet 16 runs.)
But when facing a packed paint or a 2-3 zone, the offense devolved into a weave of death around the perimeter, seconds ticking off the shot clock, contested or poor shots to follow — if a turnover didn't happen first. It could be one dimensional and predictable, as UM Hoops pointed out with a deep shot chart analysis of Indiana's top five scoring threats heading into the final Big Ten contest against the Wolverines.
Bottom Line: Due to a lack of shooters and a high turnover rate, Indiana's offense finished seventh from an efficiency standpoint in the Big Ten. The incoming recruiting class featuring the likes of James Blackmon Jr. and Rob Johnson figure to give the Hoosiers not only more shooting threats, but a more varied and dynamic scoring attack from the perimeter. Couple them with potential leaps from Robinson, Troy Williams, Devin Davis and Hanner Mosquera-Perea and Indiana's offense should feature more diversity next season.
Previously: Stanford Robinson, Troy Williams, Collin Hartman, Noah Vonleh, Devin Davis, Austin Etherington, Jeremy Hollowell, Hanner Mosquera-Perea, Yogi Ferrell, Peter Jurkin, Will Sheehey, Jeff Howard, Evan Gordon
Filed to: Noah Vonleh, Yogi Ferrell