That's A Wrap: Yogi Ferrell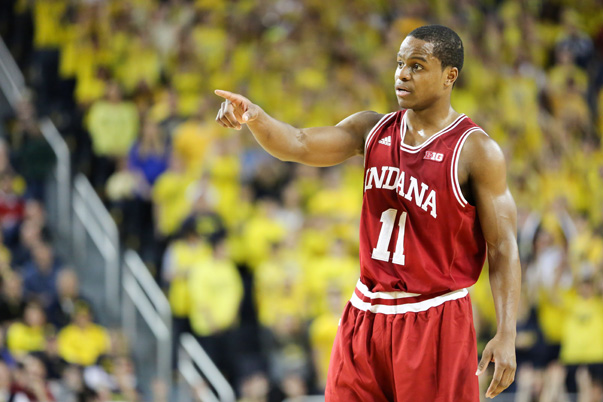 Welcome to "That's A Wrap," our player-by-player recap of the 2013-2014 Indiana Hoosiers. Today: Yogi Ferrell.
Ferrell (32 games): 17.3 points, 3.9 assists, 3 rebounds, 52.1% eFG, 82.4% FT in 33.8 minutes per game.
Few players in all of college basketball had more asked of them than Yogi Ferrell, who saw his role shift from a facilitator as a freshman to a lead scorer who was also tasked with running the team as a sophomore.
And as the numbers show, Ferrell handled the major shift in his role brilliantly.
In the preseason, one of the major story lines surrounding IU was Ferrell's perimeter shot, which was a weakness during his first season. It didn't take long to see the fruits of his offseason work as it took just nine games for Ferrell to make 23 shots from distance, matching his total of 3-pointers made as a freshman.
Despite taking difficult and contested 3-pointers all season as the focus of the opposition's scouting report, Ferrell managed to shoot 40 percent from behind the arc as a sophomore (on 220 attempts). That was a major factor in his improved effective field goal percentage of 52.1, up from 45.4 percent as a freshman. His percentage from 3-point range was up nearly 10 percent from his debut season.
The Park Tudor product finished third in conference games in scoring at 17.8 points per game, just behind Nebraska's Terran Petteway and Iowa's Devyn Marble.
Ferrell also improved as a ball handler and decision maker as a sophomore as his turnover percentage dropped by six percentage points despite having the ball in his hands even more. His turnover rate was still far too high (18 percent), but it was easily the lowest of IU's rotation regulars. He finished seventh in assists in Big Ten play with 3.8 per game.
Another sign of Ferrell's growth was his play in big games. IU finished just 4-6 against ranked opponents, but IU's point guard had a way of elevating his play against marquee conference opponents, particularly at home.
His 25 points on Jan. 14 led the Hoosiers to a win over Wisconsin, which came into Bloomington riding a 12-game winning streak over the Hoosiers. His 27 points, including seven 3-pointers, against Michigan on Feb. 2 single-handedly shot down the Wolverines. Ferrell also shut down Big Ten player of the year Nik Stauskas in that win, a feat few in the conference would accomplish.
If there was any knock on Ferrell's sophomore campaign, it may have been an inability to consistently guide teammates through adversity, which he brought up following IU's conference tournament loss to Illinois.
"Maybe we just don't know how to overcome adversity," he said. "Next year, we've got to hold guys more accountable, make some guys angry, get in some guys faces sometimes. I didn't do that enough this year not knowing how they'd respond to it.
"Next year is going to be a different story."
Bottom line: As one of the most improved players in the Big Ten, Ferrell was certainly deserving of the second team all-conference honor he received and there was a case to include him on the first team, but IU's poor finish in the standings prevented that from happening. With Will Sheehey moving on, this is clearly Ferrell's team now and his offseason improvement and ability to lead will be major factors in how much improvement the Hoosiers show next season.
Previously: Stanford Robinson, Troy Williams, Collin Hartman, Noah Vonleh, Devin Davis, Austin Etherington, Jeremy Hollowell, Hanner Mosquera-Perea
Filed to: Yogi Ferrell