That's A Wrap: Jeremy Hollowell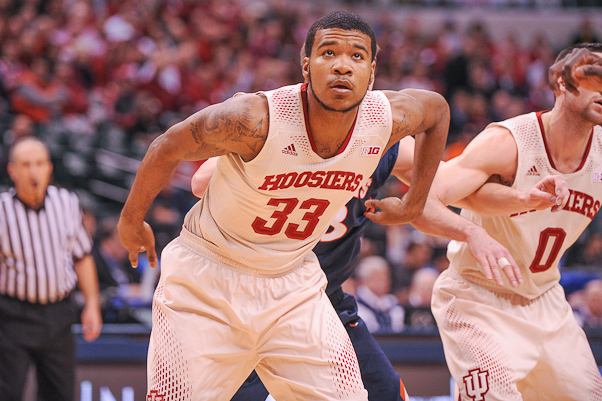 Welcome to "That's A Wrap," our player-by-player recap of the 2013-2014 Indiana Hoosiers. Today: Jeremy Hollowell.
Hollowell (29 games): 5.7 points, 3.5 rebounds, 1.0 assist, 35.1% FG, 21.9% 3FG, 77.9% FT in 18.3 minutes per game.
Last October in our player profile of Jeremy Hollowell, I presented the IU forward as a candidate for a major step forward as a sophomore.
At the time, Tom Crean had recently noted that Hollowell was the team's leading scorer through the first five practices but caveated the statement by saying the Lawrence Central product still had work to do efficiency wise.
Unfortunately, Hollowell's efficiency never came around and as a result, the preseason prognostication of Hollowell taking a step forward never materialized with any consistency.
Hollowell started in all but one of IU's non-conference games and averaged 8.6 points over that span, but his production never really suggested he was best suited in that role. His effective field goal percentage in non-conference games was just 40.8, which was second worst among rotation regulars.
To compound his on-court struggles, Hollowell was benched for three games (at Penn State, Wisconsin, Northwestern) for what Crean called "focus issues."
"He needs to get his focus where it needs to be, and that's the biggest thing there," Crean said following IU's win at Penn State. "He just needs to get his focus ready. He needs to build his focus."
After his three-game absence, Hollowell was never a major factor in IU's rotation as his minutes never jumped above 18 the rest of the way and he failed to score in double figures in a single conference game.
At the conclusion of the season, it was announced that Hollowell had requested a release and would seek a transfer to play out his final two years of eligibility elsewhere. It was an abrupt end to an IU career that once was believed to have great promise, but ultimately never panned out that way.
Bottom line: There's no denying the talent Hollowell possesses, but a change of scenery was probably in order as he fell out of favor from a playing time perspective as the season moved along. As IU's struggles mounted this season, he unfortunately became an easy target for criticism by fans and never really built confidence in what many felt could be a breakout season for the Indianapolis native. Hollowell has yet to announce where he'll finish his career.
Previously: Stanford Robinson, Troy Williams, Collin Hartman, Noah Vonleh, Devin Davis, Austin Etherington
Filed to: Jeremy Hollowell