That's A Wrap: Austin Etherington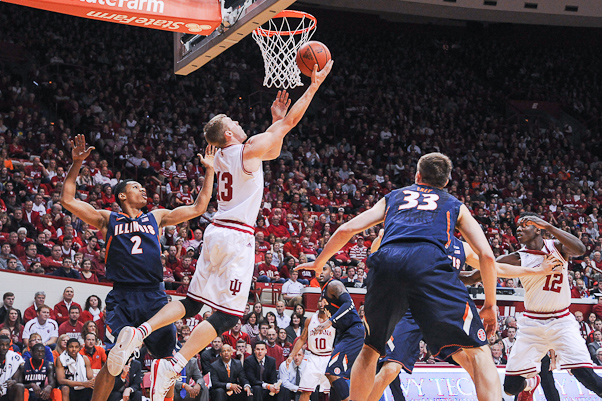 Welcome to "That's A Wrap," our player-by-player recap of the 2013-2014 Indiana Hoosiers. Today: Austin Etherington.
Etherington (30 games): 2.0 points, 1.6 rebounds, 0.5 assists, 32.6% FG, 23.8% 3FG, 78.1% FT in 10.6 minutes per game.
Entering the 2013-2014 season on a team that had lost more than three-quarters of its shooting in the offseason prior, redshirt sophomore Austin Etherington found himself in a peculiar situation. He was coming off an offseason of rehabilitation after breaking a kneecap on Dec. 8, 2012, in a game against Central Connecticut State, but he was expected to be an immediate contributor, as well.
"What we need Austin to do is make jump shots," Indiana coach Tom Crean said before the season began. "We need Austin to hold his ground defensively. We need Austin to get out and get out on that break and be a guy that can space the court."
And in early playing time opportunities this season, Etherington — who Crean, in fact, hoped to be a long-range contributor — rarely attempted shots from behind the arc. He attempted just three 3-pointers in the first eight games of the season. Against North Florida, on Dec. 8, Etherington made two 3-pointers — his first since more than a year earlier (against Sam Houston State).
But even toward the end of the non-conference season, Etherington's playing time diminished: He played only six minutes against Kennesaw State in the finale and just three in the Big Ten-opening loss at Illinois.
However, when sophomore Jeremy Hollowell was disciplined for "focus" issues, a three-game suspension, Etherington received an opportunity for playing time. And at Penn State on Jan. 11, Etherington made the most of it, draining a game-winning 3-pointer from the left baseline in the final two minutes of regulation against the Nittany Lions. It was perhaps the highlight of his season.
In the following four games, he would play more than 18 minutes each game. He would attempt just two 3-pointers and 10 shots in that span of 77 minutes of game time.
Though Crean took Etherington out of a main role at that point, the 6-foot-6, third-year forward remained a part of the rotation toward the end of the season. He would play a career-high 24 minutes against Iowa after scoring a season-high seven points against Ohio State. But he wouldn't play a game in double-digit minutes for the remainder of the season.
Bottom line: After the Hoosiers' final loss to Illinois, Etherington expressed his frustrations on the season. Just about a week and a half later, it was revealed Etherington had asked for his release from the program. And thus, after an up-and-down season that started in hope and ended with disappointment, Etherington's career as an Indiana Hoosier has come to an end.
Previously: Stanford Robinson, Troy Williams, Collin Hartman, Noah Vonleh, Devin Davis
Filed to: Austin Etherington