That's A Wrap: Noah Vonleh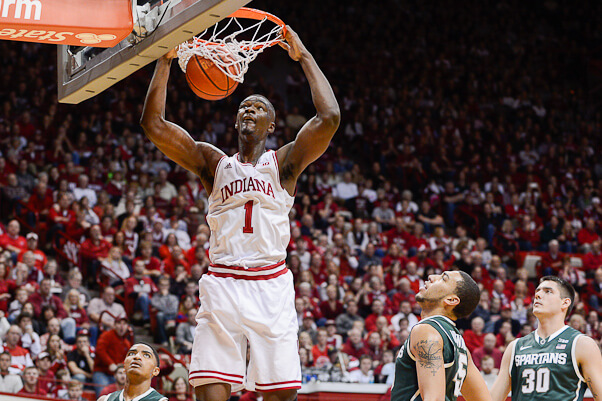 Welcome to "That's A Wrap," our player-by-player recap of the 2013-2014 Indiana Hoosiers. Today: Noah Vonleh.
Vonleh (30 games): 11.3 points, 9.0 rebounds, 1.4 blocks, 0.6 assists, 52.3% FG, 71.6% FT in 26.5 minutes per game.
Noah Vonleh arrived in Bloomington on May 29 weighing just over 220 pounds. By the time July arrived, he had put on over 20 pounds of muscle as the transformation of his body under the guidance of IU's strength and condition program took hold.
"I wasn't used to that at prep school, so that was a big adjustment," Vonleh told the media in his first comments after arriving on campus. "I put on a lot of weight and am getting stronger."
After just a few weeks at IU, assistant coach and recruiting coordinator Kenny Johnson said Vonleh would put a cot in Cook Hall if he could, an indication of the work ethic he possessed at just 18 years of age.
The 2013-2014 season tipped off with high hopes for Vonleh and rightfully so. He arrived in Bloomington as the highest rated recruit of the Tom Crean era and at 6-foot-10 with a ridiculous 7-foot-4 wingspan, the Massachusetts native appeared ready to contribute right away.
And that's exactly what he did.
Vonleh showed off a versatile skill set during his one and only season as a Hoosier. He hit 48.5 percent of his 3s and 53 percent of his 2s for an effective field goal percentage of 56. He led the conference in rebounding and his free throw rate (FTA/FGA) of 62 percent ranked third among Big Ten players.
His performance would earn him the league's freshman of the year award as well as an all-conference third team selection.
But Vonleh departs college leaving behind thoughts of what could have been for some. With only Yogi Ferrell to rely on consistently for offense, the Hoosiers missed the NCAA tournament and Vonleh's play at times lacked aggressiveness. In games against NCAA tournament teams, he averaged 2.2 points and 2.1 rebounds lower than his season averages.
His season didn't finish strong, either, as a foot injury forced him to miss games against Ohio State and Nebraska. In his last game as a Hoosier, he struggled against Illinois in the Big Ten tournament. After that contest, Vonleh opted not to address his collegiate future, but word leaked quickly after that his mind was made up and that he would head to the NBA.
It's hard to argue the logic in Vonleh's decision to opt for the NBA. After just one season in college, he's considered a consensus lottery pick and the opportunity to set himself and his family up financially for life is hard to pass up. It's the right decision.
Bottom Line: Vonleh leaves Bloomington as likely the third lottery pick from IU in the past two seasons, a fact that the IU staff will surely use on the recruiting trail moving forward. As for Vonleh's future, his fit in the NBA is likely at the four spot, but plenty of development still remains before he'll be a consistent contributor at that level. Still, his potential is limitless and his career moving forward will be fun to watch as his best basketball certainly lies ahead.
Previously: Stanford Robinson, Troy Williams, Collin Hartman
Filed to: Noah Vonleh