Recruiting notebook: Vonleh highest ranked RSCI recruit in Crean era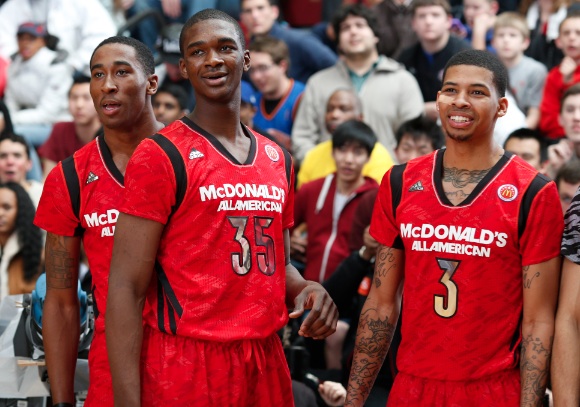 With final rankings released for all of the major recruiting services over the last month, the Recruiting Services Consensus Index (RSCI) was updated for last time for the 2013 class and four Indiana signees made the cut.
Noah Vonleh came in at No. 8 in the final RSCI update for 2013, making him the highest ranked recruit to-date in the Tom Crean era at Indiana.
Cody Zeller had previously held that distinction in the class of 2011, where he ranked No. 10.
Troy Williams was the second IU recruit on the list at No. 51, Stanford Robinson checked in at No. 61 and Luke Fischer was No. 71. Indiana is the only Big Ten school with four consensus top 100 recruits in the class of 2013.
Coleman leaving Cathedral
One of the top class of 2015 recruits in Indiana, Jalen Coleman, is leaving Cathedral and enrolling at La Lumiere in LaPorte.
Kyle Neddenriep of The Indianapolis Star was the first to report the transfer, which appears to be a result of the financial strain of attending Cathedral.
"Cathedral is an excellent school and Jalen got a lot out of it," Piankhi Lands, Coleman's father, told Neddenriep. "He really grew up there the last two years. But as a family, we're struggling a little bit financially, and Cathedral is a little bit out of our price range, especially if we had two kids going there. La Lumiere could offer a 100 percent scholarship."
Coleman's younger brother, Isaiah, is also expected to attend La Lumiere. Coleman is considering several schools, including Cincinnati, Clemson, Duke, Illinois, Indiana, Michigan, Michigan State, Notre Dame, Ohio State, Purdue and Providence.
Final regular season EYBL stats
With all four of the regular season Nike Elite Youth Basketball League (EYBL) sessions complete, the league moves on to a playoff format in July with the Peach Jam in North Augusta, South Carolina.
Here's a look at the final regular season EYBL stats for James Blackmon Jr. and several of the prospects being recruited by Indiana:
· Blackmon Jr., Spiece Indy Heat: 19.3 points (54.2 FG%), 3.9 rebounds, 2.4 assists in 27.9 minutes per game.
· Trevon Bluiett, Spiece Indy Heat: 18.5 points (49.8 FG%), 4.4 rebounds, 3.7 assists, 1.1 steals in 27.6 minutes per game.
· JaQuan Lyle, Spiece Indy Heat: 14.3 points (52.3 FG%), 5.9 rebounds, 4.3 assists, 1.6 steals in 27.5 minutes per game.
· Ahmed Hill, Southern Stampede (did not qualify for Peach Jam): 12.6 points (39.7 FG%), 3.7 rebounds, 1.7 assists in 26.8 minutes per game.
· Malachi Richardson, Team Final: 15.0 points (44.3 FG%), 3.7 rebounds, 2.0 assists in 25.0 minutes per game.
· Phil Booth, Team Takeover: 12.2 points (41.1 FG%), 4.4 rebounds, 2.8 assists, 1.2 steals in 22.5 minutes per game.
· Dion Wiley, Team Takeover: 14.1 points (45.9 FG%), 2.7 rebounds, 1.9 assists, 1.3 steals in 20.7 minutes per game.
· Marcus Derrickson, Team Takeover: 6.9 points (50.0 FG%), 4.0 rebounds in 14.5 minutes per game.
· Elijah Thomas, Team Texas Elite: 15.5 points (59.4 FG%), 6.8 rebounds, 1.8 blocks in 21.4 minutes per game.
· D'Angelo Russell, E1T1: 13.7 points (40.8 FG%), 5.2 rebounds, 3.5 assists, 1.4 steals in 26.2 minutes per game.
· Isaiah Briscoe, New Jersey Playaz (did not qualify for Peach Jam): 21.1 points (38.9 FG%), 2.9 rebounds, 2.8 assists, 1.2 steals in 28.0 minutes per game.
Filed to: Luke Fischer, Noah Vonleh, Stanford Robinson, Troy Williams