Crean not surprised by Austin Etherington's emergence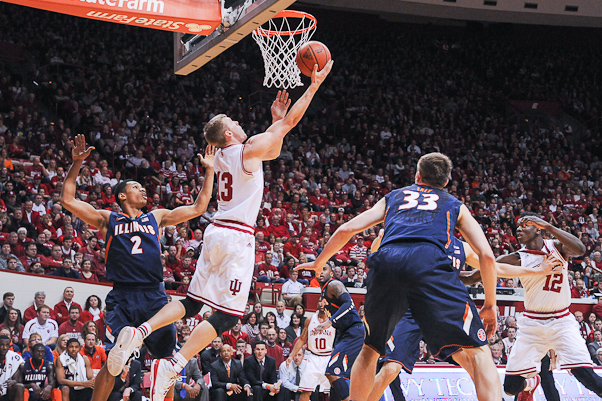 When Austin Etherington predominantly sat on the bench for most of the early portions this season, Indiana coach Tom Crean noticed something that he liked.
It wasn't from his on-court appearance in games, rather Etherington's day-to-day demeanor in practice stood out.
"I thought that he continued to practice and prepare and persevere throughout when he didn't get a lot of time and when he was playing sparingly," Crean said on Wednesday in his pregame teleconference before Thursday's game at Nebraska. "And he just continued to battle in practice. He didn't like it, but he battled."
After Etherington sat most of last season with a broken kneecap, he returned this season as one of Indiana's most-veteran players — even as a redshirt sophomore. But Crean admitted on Wednesday that he didn't put Etherington on the court much early this season because of his "lack of rebounding and lack of blocking out and keeping people off the glass." In Indiana's first 15 games this season, Etherington played a total of 89 minutes — an average of about six per game.
Crean noticed, however, that Etherington kept a high determination level in practice throughout and before Indiana's game at Penn State on Jan. 11, Crean approached him and told him his opportunity had arrived. Crean was benching sophomore starter Jeremy Hollowell, and Etherington would see increased minutes.
In that game, Etherington would play a then career-high 17 minutes. He would grab two defensive rebounds and record two steals. He also hit a 3-pointer with less than two minutes remaining — a shot that gave Indiana a lead it would never relinquish.
"I think the fact that he has worked so hard and when his name was called and prepared all week after the Michigan State game to go in and be ready in the next game, especially going into Penn State, the bottom line was it's working," Crean said. "And because he's continuing to do the little things that matter and all the big things, the block-outs, the getting to the boards, the running the court, the moving without the basketball, the making the simple plays."
Over Indiana's next four games, up through last Sunday's game against Illinois, Etherington has seen his minutes increase in each outing. He has played 94 minutes in his past five games — he played 213 in his entire college career before then — and in that span he is averaging 4.6 points and 3.4 rebounds per game.
He even made his first career start last Tuesday at Michigan State and scored a season-high seven points in his latest game against Illinois — even after Hollowell returned to the mix.
"I know that my role is to come in and try to bring as much energy to the game," Etherington said. "You know, sometimes right after the start of the game, it's like a slow game at some point. So I just come in and play my hardest and play with heart and try to feed some energy to these guys."
As Etherington's game has evolved, Crean has taken notice of Etherington's improvement in moving without the ball and most importantly, his rebounding. He's comfortable with Etherington taking the outside shot (as long as it's an open shot and its an inside-out type of situation). He's put Etherington into his regular rotation.
When asked if any of it was a surprise, though, as his third-year player has finally broken through, Crean knew his answer right away.
"I'm not surprised," he said. "It's fun watching his confidence grow."
Filed to: Austin Etherington