That's A Wrap: Hanner Mosquera-Perea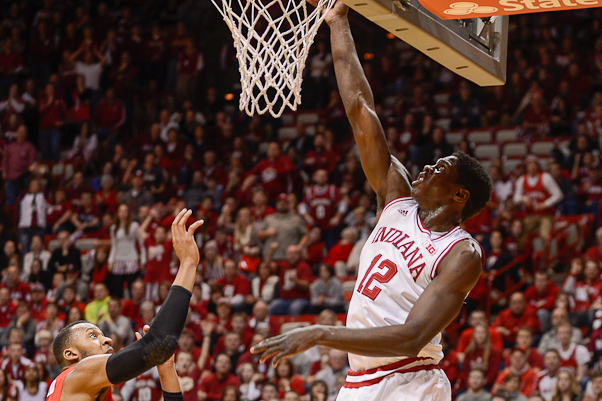 Welcome to "That's A Wrap," our player-by-player recap of the 2013-2014 Indiana Hoosiers. Today: Hanner Mosquera-Perea.
Mosquera-Perea (29 games): 2.8 points, 2.1 rebounds, 0.2 assists, 0.4 blocks, 57.5% FG, 72.3% FT in 7.7 minutes per game.
Hanner Mosquera-Perea came to Bloomington in the summer of 2012 with a serious wingspan and incredible highlights. But after serving a nine-game suspension handed out by the NCAA during the non-conference slate of his freshman season, he was a non-factor, averaging just 5.8 minutes per game. While Mosquera-Perea displayed athleticism, his lack of fundamentals and court awareness saw him as mostly an observer during 2012-13's Sweet 16 run.
With his sophomore season now in the books, Mosquera-Perea's time on the court improved by just 1.9 minutes per game, even with the departed Cody Zeller and Christian Watford leaving room in the frontcourt. Part of this was due to Noah Vonleh's presence on the team and the two big men never pairing together. The other part was this: Though improved, Mosquera-Perea's still has ground to make up before he's fully trusted for long stretches and crucial periods.
Start here: His turnover percentage of 25.7 was nearly worst on the team (Devin Devis: 25.8 percent). The Colombia native's hands made him susceptible to drops and any work with his back to the basket in the post could be an adventure. Still, it wasn't all bad. When he got to the line, he showed a smooth stroke. His percentage from the charity stripe (72.3 percent) was fifth best on the team. He led the team in block percentage (6.1), effective field goal percentage (57.5) and true shooting percentage (64.2). He was hyper-efficient at the rim, hitting 60.6 percent of his shots there. Only Will Sheehey (61.6 percent) bested that mark.
Simply put: When Mosquera-Perea was able to get looks near the rim — 65.0 percent of his makes were assisted there — he was pretty hard to stop.
In Indiana's win over Ohio State on March 2, this was on display. The big man scored on a couple nice pick-and-rolls plays with Yogi Ferrell and Evan Gordon en route to a season-high eight points. He also recorded three blocks on the other end of the court. But he failed to score against Nebraska a few days later, didn't even see the court on the road against Michigan and played just two minutes during Indiana's opening round loss to the Illini in the Big Ten Tournament.
Mosquera-Perea was also suspended for two games in February, a discipline rendered after he was arrested for driving while intoxicated.
Bottom Line: While Mosquera-Perea's fundamentals and basketball IQ are still a work in progress, it's clear he's improved upon them from his freshman campaign. Though his minutes were limited, his effort was always there. With Luke Fischer and Noah Vonleh gone, it's possible Mosquera-Perea will be a starter next season and relied upon much more heavily to contribute in the frontcourt. Whether or not he'll be able to be a net positive in such a role next season will depend upon how much he's able to improve in the offseason.
All statistical rankings in this piece excluded Luke Fischer.
Previously: Stanford Robinson, Troy Williams, Collin Hartman, Noah Vonleh, Devin Davis, Austin Etherington, Jeremy Hollowell
Filed to: Hanner Mosquera-Perea