That's A Wrap: Peter Jurkin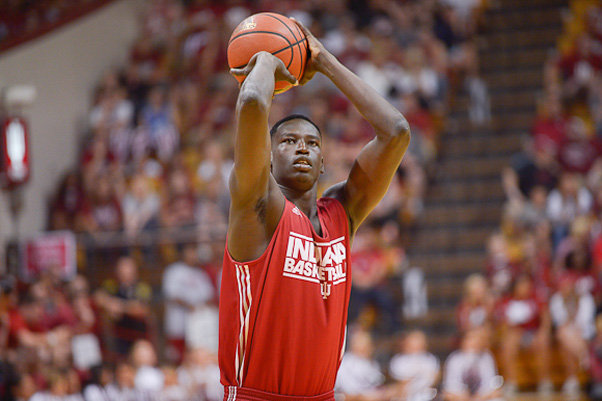 Welcome to "That's A Wrap," our player-by-player recap of the 2013-2014 Indiana Hoosiers. Today: Peter Jurkin.
Jurkin (3 games):  0.2 points, 0.5 rebounds, 0.2 blocks, 0.0% eFG, 40.0% FT in 1.4 minutes per game.
Tom Crean received a verbal commitment from Peter Jurkin in August of 2010 and the Sudan native became the first recruit of the 2012 class. Jurkin's pledge came at a time when the program was searching for bodies. The likes of McDonald's All-Americans like Cody Zeller, Yogi Ferrell and James Blackmon Jr. had yet to surface and usher in a more competitive era of basketball under Crean.
At the time, we noted that Jurkin showed promise as a rim protector, ran the floor well and needed to add some muscle to his frame. As we've come to find, a floor-running big can fit well in Crean's offense. But Jurkin remains just a deep reserve for the Hoosiers with his second season in Bloomington now in the books. The numbers are small: Only three appearances (including just one minute of play in the Big Ten during the blowout at Purdue) two total points, zero made field goals.
Jurkin missed much of his junior high school season and all of the following AAU season with a stress fracture in his right leg. Injuries have continued to hinder his progress at IU. A suspension and a foot malady slowed him during his freshman year, one in which he also saw extremely limited minutes (just seven).
This year, it appeared as if Jurkin continued to work through pain, as he was often spotted in an aircast. Basketball movements — cuts, jumps, slides and screens on hardwood — often do little favors to players who don't have the ideal body to handle it — especially 7-footers. Jurkin's pencil thin legs — like Maurice Creek's before him — have left him in a frustrating spot.
Bottom Line: Frontcourt depth has been a major topic of discussion so far this season with Noah Vonleh and Luke Fischer now gone, but Jurkin has yet to show he's capable of stepping up to fill the void. As of now, it's looking likely that Jurkin may continue to provide deeper frontcourt relief next season for the Hoosiers as he works towards his degree.
Previously: Stanford Robinson, Troy Williams, Collin Hartman, Noah Vonleh, Devin Davis, Austin Etherington, Jeremy Hollowell, Hanner Mosquera-Perea, Yogi Ferrell
Filed to: Peter Jurkin