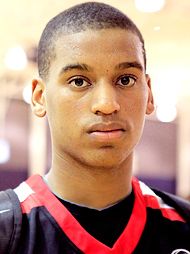 The list of schools interested in 2014 Park Tudor forward Trevon Bluiett continues to grow, but he is  getting close to narrowing his list.
At last weekend's Hensley Memorial Spiece Run-N-Slam Classic in Fort Wayne, Bluiett listed Butler, Michigan, Indiana, Purdue, Depaul and Cincinnati as the schools that he felt had made him a priority, in that order.
He wouldn't admit to listing any schools ahead of others, but his father believes he has some idea.
"I think he has an idea," said Reynardo Bluiett, who is also Trevon's AAU coach for Spiece Indy Heat. "I don't ask him because I'm not prepared to know. He's got an idea."
Indiana continues to recruit Bluiett hard, and the Hoosiers coaching staff seems to be doing plenty to make him feel like a priority. Associate head coach Tim Buckley regularly sends Bluiett handwritten letters.
"What he sends me is really just quotes, just encouraging quotes and stuff like that," said Bluiett, who is ranked 45th in the 2014 class, according to ESPN.com. "Sometimes he'll write me and say, 'Good game last week' or stuff like that. He and Butler are the only ones that hand write me. That means a lot because most people would type it up on the computer and switch the heading at the top."
Added Reynardo Bluiett: "That means a lot. As a kid, that's gotta have some push for you. And it's deep stuff. Buckley's a pretty deep guy. I get a joy out of reading his quotes and facts as well."
Bluiett said Indiana continues to contact him about twice a week, and he also regularly hears from former high school teammate Yogi Ferrell, who just finished his freshman year at Indiana.
"It helps a lot," Bluiett said of having Ferrell at Indiana. "It helps me mentally and physically. He tells me how the workouts are. I just prepare myself for that."
In-state school Butler remains a major player in Bluiett's recruitment, and he said that's because of head coach Brad Stevens. Bluiett called Stevens a "brilliant coach" and said Butler's recent move to the Big East makes it a more attractive destination.