What to watch for: July evaluation period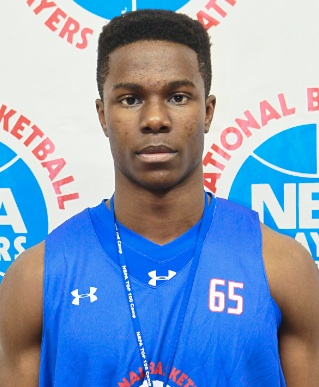 The first of three five-day July evaluation periods begins next Wednesday at 5 p.m. and Inside the Hall takes a look at what we'll be watching for as college coaches hit the trail to evaluate prospects:
· How will IU proceed with the 2013 class? With four verbal commitments already secured, Indiana is technically full on scholarships for the 2013-2014 season and that doesn't include Maurice Creek, who is entering his fourth season but will have eligibility beyond the upcoming season.
The IU staff, led by Tom Crean's relentless approach to never stop improving the program, continues to recruit for the class. BeeJay Anya, Semi Ojeleye (pictured) and Marcus Lee have all been heavily courted. With all three prospects — and 2014 commit Trey Lyles, 2014 target Trevon Bluiett, 2013 center Kennedy Meeks, 2014 point guard Tyus Jones and 2014 wing Theo Pinson — participating in the Nike Peach Jam during the second evaluation period, expect a heavy Indiana presence at the summer's final EYBL event in North Augusta, South Carolina.
· How will Hartman fare in July? Fair or not, 2013 commit Collin Hartman has been one of the hottest topics of discussion amongst Indiana fans since the end of the high school season. A lot of that chatter comes from Hartman's fall from the top 25 in ESPN's initial 2013 rankings to no ranking by any of the three major scouting services (ESPN, Rivals and Scout/Fox Sports Next).
Hartman has an opportunity to regain stature on a national level this month as the Eric Gordon Central Stars will play in the adidas Invitational in Indianapolis, the NY2LA Summer Jam in Milwaukee and the adidas Super 64 in Las Vegas. With the spring concussion that caused problems for the Cathedral senior out of the way, will July be his time to shine?
· Who will emerge as the top priorities for 2014? Our 2014 recruiting board is still fairly lengthy, but July should afford the opportunity for the Indiana staff to lay eyes on just about every recruit listed. Trevon Bluiett currently lays claim to the top spot on the board of the uncommitted prospects due to the strong interest from both sides. But not far behind is Phil Booth, a guard from the Baltimore area who is expected to take an unofficial visit to Bloomington after the July period wraps up.
The two highest listed prospects on the board without offers are Malek Harris and Shane Hall, who have both spoken very highly of Indiana. Perhaps a strong July could lead to further movement with Harris and Hall.
· How will trio of young guards progress after strong spring showings? Indiana has placed an emphasis on getting in on the best in-state prospects very early. With the 2014 class, it paid dividends when Trey Lyles and James Blackmon Jr. committing before ever playing a high school game.
The same strategy with the 2015 and 2016 classes seems to materializing as Indiana offered 2015 Cathedral guard Jalen Coleman last summer and 2015 East Chicago Central guard Hyron Edwards and 2016 North Central guard Eron Gordon this past spring. Coleman and Edwards are already tracking in the top 25 nationally in ESPN's first rankings and Gordon is in the top ten of the only 2016 rankings we've been able to find.
All three had strong springs and should use that momentum to play even better in July. Coleman should be more comfortable after playing with his Spiece Indy Heat-Lands team for the first time this spring, Edwards should continue to make strides as a better defender and Gordon's strength should continue to make him difficult to keep out of the lane.
Filed to: BeeJay Anya, Collin Hartman, Phil Booth, Trevon Bluiett