Notebook: Fischer, Blackmon recap Hoosier Hysteria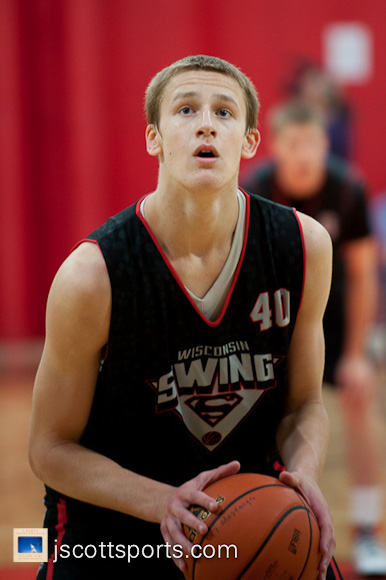 Like many of the recruits in attendance, 2013 commit Luke Fischer was blown away by the Hoosier Hysteria experience and his official visit to Bloomington.
"The whole thing was great. I loved all of it," he said. "I wish I didn't have to come back home."
Fischer knows all about the Indiana fan base and how supportive it can be. He's regularly approached by people who congratulate him on committing to play for the Hoosiers. So Fischer wasn't all that surprised when he heard people were lining up outside Assembly Hall more than 24 hours before Hoosier Hysteria.
"It kind of surprised me, but then again, it kind of didn't," Fischer said. "I know how much people love basketball there. I was surprised, but I wasn't shocked."
I also asked Fischer if he attempted to do any recruiting of guys like Beejay Anya and Troy Williams, who remain undecided in the 2013 class.
"A little bit," he said. "I think [2013 commit] Stan [Robinson] mostly did that type of stuff. He knows them better than me, Collin [Hartman] and Devin [Davis] do. But we still hung out with them and we still gave them hints every once in a while."
Blackmon Jr. feels the love
James Blackmon Jr., a commit from the 2014 class, was impressed by what he saw at his first Hoosier Hysteria. The 6-foot-2 guard from Fort Wayne thought he knew what to expect, but he was blown away when he actually stepped foot inside Assembly Hall.
"I was expecting it to be crazy, but once I was there it was a great feeling to see how the fans love me and stuff," Blackmon Jr. said. "It wasn't really unexpected because we heard it was going to be that way. But once you were there, it was just a different feeling than you would think it would be. It was a lot better than you would think it would be."
Blackmon Jr. said he did what he could to make recruiting pitches to some of the unsigned recruits in attendants, including 2013 targets Beejay Anya and Troy Williams.
"That was big," Blackmon Jr. said. "Some of those guys I have relationships with from playing with in the past and stuff. It was good to talk to them and see what they think about IU. Most of them said they like it a lot."
Fanbase stands out for Edwards
2015 East Chicago Central point guard Hyron Edwards got the chance to speak to assistant coaches Tim Buckley and Steve McClain before the festivities kicked off on Saturday night.
"They said they liked the change in me," Edwards, the No. 11 prospect nationally in his class according to ESPN.com, said. "They feel like I got stronger up in the weight room and seeing how I developed since the AAU season."
And the 17,000-plus inside Assembly Hall was music to Edwards' ears.
"What impressed me was the fanbase," Edwards said of his experience at Hoosier Hysteria. " … Any time (there's a game) home or away, the fanbase is going to be right with you, going crazy. That's what I like about IU."
Bluiett enjoys atmosphere, seeing Yogi 
Trevon Bluiett, a 2014 target and Park Tudor forward, was also in attendance for Hoosier Hysteria. He was thoroughly impressed by the event, but admitted it would not play much of a role in his decision-making process.
"I kind of went down there just to see [former teammate] Yogi [Ferrell] and have fun," Bluiett said. "I did like it a lot, but I didn't think it would have a big impact on my decision. I just went down there to be a watcher."
Bluiett, the 49th-ranked player in the 2014 class according to ESPN.com, also has offers from Butler, Florida, Michigan, Notre Dame, Purdue and Louisville, among others.
Even though Hoosier Hysteria likely won't move Indiana up or down on Bluiett's long list of suitors, he was impressed by the atmosphere at Assembly Hall on Saturday night.
"There wasn't anything that I didn't like," he said. "I didn't even know that it was gonna be like that [sold out]. It was pretty interesting to see that. That just shows that they're die-hard fans if they wait out there, especially since some people waited overnight. That just shows the dedication that they have for the program."
Inside the Hall editor Ryan Corazza also contributed to this story.
Filed to: Hyron Edwards, James Blackmon Jr., Luke Fischer, Trevon Bluiett