Notebook: Hensley Memorial Run-N-Slam Day 1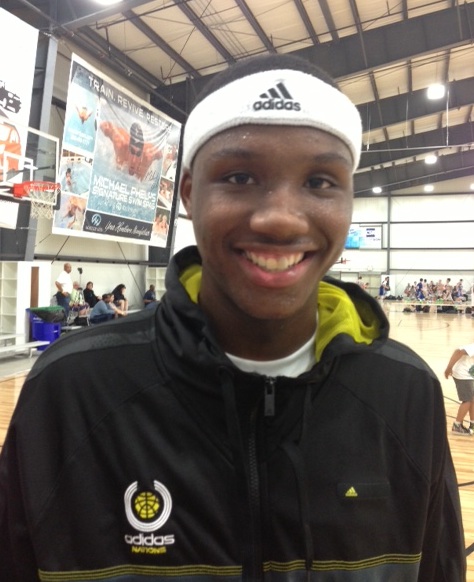 FORT WAYNE, Ind. — The 20th annual Bill Hensley Memorial Run-N-Slam Classic tipped off Friday night at Spiece Fieldhouse and Inside the Hall was there to get a look at several prospects, including 2014 commit James Blackmon Jr., Trevon Bluiett, JaQuan Lyle, Eron Gordon, Vijay Blackmon, Caleb Swanigan and Carlton Bragg.
Here are our notes and observations from the first night of Spiece:
Spiece Indy Heat 17's coast: Based on the teams this group has faced over the past two weekends in the Nike Elite Youth Basketball League, tonight's opener for Blackmon Jr., Lyle, Bluiett, Trey Lyles and company probably felt like a scrimmage.
Led by 20 points from Bluiett, Spiece crushed the Michigan Titans, 91-45. Lyle added 18 and Blackmon Jr., who looks noticeable stronger in his upper body and more explosive in transition, had 13.
Lyle said postgame that he plans to take all five official visits and make a decision this fall and Bluiett also mentioned the possibility of five officials, but also noted that he's been so busy, he hasn't had time to talk much about recruiting with his father and AAU coach, Reynardo.
With the return of Lyles, Spiece Indy Heat looks like a serious contender to win July's Peach Jam.
Bragg talks about Indiana offer: Cleveland Villa Angela St Joseph (Oh.) forward Carlton Bragg (pictured) received an Indiana offer on Thursday night and the No. 24 player in the 2015 class according to ESPN.com was productive on Friday, scoring 21 points in a comfortable win for the Ohio Basketball Club 16-and-under team.
Afterward, Bragg talked about his latest offer and what the IU staff likes about his game
"I was very excited," he said. "They like my style of play, how I run back on defense and my motor."
Bragg also has offers from Cincinnati, Illinois, Missouri, Ohio State, Texas and others. He said he's looking to show off his versatility this spring and summer, among other things.
"My shooting, dribbling, my defense and guarding guys that are smaller than me. Just playing defense, mostly."
2016 big man emerging: Caleb Swanigan, a 6-foot-8, 265-pound forward who played both basketball and football at Homestead in Fort Wayne, looks like a legitimate high major post prospect.
Swanigan played with both the 15-and-under and 17-and-under Spiece Indy Heat teams on Friday and was impressive with his ability to make tough catches around the rim and finish plays. Swanigan said the interest he's received thus far from Indiana has been in the form of questionnaires and also mentioned Purdue, Michigan State, Ohio State and Georgetown. He's also being recruited as a football prospect by Alabama, Auburn and LSU.
Ultimately, Swanigan hopes to play basketball in college.
"I'm supposed to keep growing," Swanigan told reporters. "The cutoff is 6-foot-8. If I get any taller, I'm not playing football my sophomore year, I'm just going to play basketball. I prefer basketball."
Younger Blackmon likes Indiana: With an older brother who is committed to Indiana, 2016 guard Vijay Blackmon has been to Bloomington plenty of times. The Hoosiers are the only school to offer the 6-foot-2 guard to this point.
"IU is very appealing. It's a good opportunity for me," he said. "If I get the opportunity to go there, I'd love it."
Gordon sees improvement with his jump shot: 2016 guard Eron Gordon put together an impressive freshman season at North Central and his stellar play has continued into the spring with the Eric Gordon All-Stars 17-and-under team.
The youngest brother of former IU star and current New Orleans Pelican Eric Gordon says the biggest area of improvement in his game recently has been his jump shot.
"I feel like it's gotten a lot better," he said on Friday. "Keeping my elbow in more and getting more lift on my shot. I feel comfortable with it."
Gordon had 19 points in a 54-35 pool play win over ABC Gold.
Filed to: Carlton Bragg, James Blackmon Jr., Trevon Bluiett