Recruiting Roundup: EYBL Hampton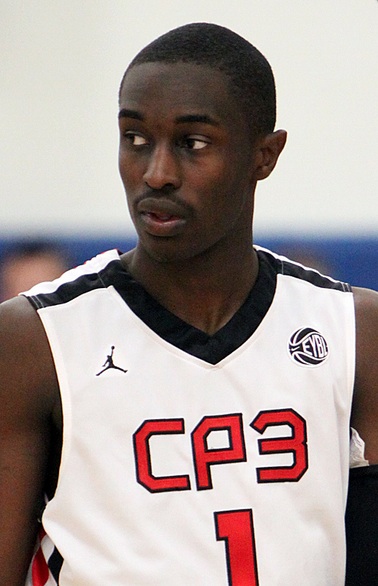 This weekend marked the second of two April evaluation periods, and the premier event was session two of the Nike Elite Youth Basketball League (EYBL) in Hampton at the Boo Williams Sportsplex.
Tom Crean, associate head coach Tim Buckley and assistant Kenny Johnson were on hand at different points throughout the weekend tracking James Blackmon Jr. and various prospects being recruited for 2014, 2015 and beyond.
Here's a rundown of how many of the names on the IU radar performed over the weekend:
· James Blackmon Jr., Spiece Indy Heat: If his efficiency numbers are any indication, Blackmon Jr. might be underrated nationally. Through nine EYBL contests, his effective field goal percentage is 60.2 and he's scored in double figures in every game. In Hampton, the future IU guard averaged 14.0 points and 2.6 rebounds as Spiece Indy Heat finished 4-1.
· Theo Pinson, CP3 All-Stars: One of IU's top recruiting targets in the 2014 class, Pinson continues to contribute in a variety of areas on the EYBL circuit. He shot 47.8 percent in Hampton and averaged 13.6 points, 4.6 rebounds, 2.8 assists, 2.8 steals and 1.6 blocks as CP3 All-Stars went 4-1. Pinson told reporters over the weekend that he'll trim his list next month and is considering North Carolina, Duke, Kentucky, Indiana, Georgetown, Louisville, Florida State, North Carolina State and Wake Forest.
· Trevon Bluiett, Spiece Indy Heat: After averaging 18.7 points in the first EYBL session, Bluiett filled it up even more in session two, averaging 21.4 points on 47.8 percent shooting. He didn't shoot it particularly well from three (38.2 percent), but hit close to 93 percent of his free throws and also averaged 4.0 rebounds and 2.8 assists.
· Ahmed Hill, Southern Stampede: Indiana remains active in Hill's recruitment, but his list is still lengthy at this point. Southern Stampede had a tough weekend, dropping all five contests. Hill averaged 14.8 points and 3.4 rebounds and mentioned the Hoosiers prominently in this update with 247 Sports:
It was rough sledding for the Southern Stampede over the weekend, but there is no denying the talent of Hill. An electric athlete, Hill also has great body control when attacking the rim.

Looking for a school where he has a great relationship with the head coach, Hill had the likes of Tom Crean, Billy Donovan, Leonard Hamilton and Mark Fox watch him play at various times over the weekend. Hill listed Indiana, Kansas, Connecticut, Florida, Florida State, Georgia, Georgia Tech, Texas and Marquette as the schools recruiting him the hardest.
· JaQuan Lyle, Spiece Indy Heat: Lyle hosted five of his final six schools for in-home visits last week and then went to Hampton and put together a fantastic weekend. The Evansville Bosse guard was a major reason Spiece Indy Heat finished the weekend 4-1 as he averaged 15.4 points, 6.8 rebounds, 3.4 assists and 1.2 steals. He also shot the ball much better than he did in session one (38.7), finishing the weekend 48.3 percent from the field. Lyle also discussed his plans with official visits this fall with CBS Sports:
"I'm going to use all five official visits," Lyle said. "I'm going to take official visits to five out of those six [finalists]."
· Elijah Thomas, Team Texas Elite: One of the nation's premier big men in the 2015 class, Thomas picked up an IU offer last week and continued his dominant ways at the Boo Williams Sportsplex. He was remarkably efficient, shooting 68.4 percent from the field and averaging 15.4 points, 8.2 rebounds and 2.8 blocks.
· Phil Booth, Team Takeover: Team Takeover is the lone unbeaten EYBL team after session two and Booth is a big part of the team's 9-0 record. In Hampton, he didn't shoot it particularly well (36.0 percent), but had solid all-around numbers: 12.2 points, 3.2 assists and 2.6 rebounds in 19.6 minutes per game.
· Marcus Derrickson, Team Takeover: Playing up on a loaded Takeover team, Derrickson isn't called on to score much, but he's rebounding well in limited minutes. After averaging four rebounds in session one in 13.8 minutes per game, Derrickson backed it up with 5.2 rebounds per game in Hampton in 13.6 minutes per contest. His play drew the eye of Rivals:
A four-star power forward from the 2015 class playing up, Derrickson, of Washington D.C.-based Team Takeover, was impressive in a win over the Alabama Challenge. While Takeover guards focused on doing everything imaginable to slow four-star Challenge guard Devin Booker, Derrickson handled the offensive load. The wide-bodied bruiser showed touch around the basket, chased down rebounds for second effort and attacked off the block and in face-up situations.
(Photo credit: 247Sports)
Filed to: James Blackmon Jr., Phil Booth, Theo Pinson, Trevon Bluiett