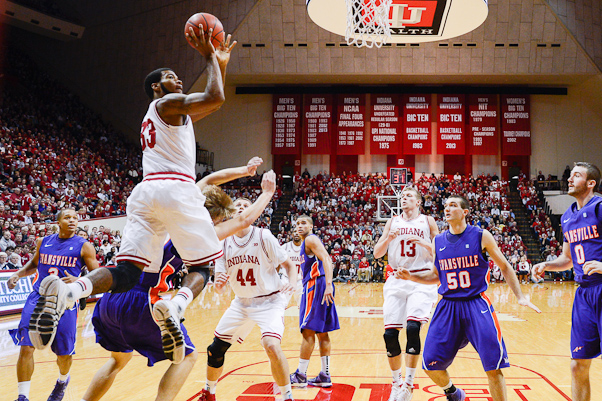 As the news circulated, Indiana fans were perplexed.
When Indiana's starting lineup was announced for its seventh game of the season on Tuesday night against Evansville, sophomore Jeremy Hollowell, who had started the Hoosiers' six prior games, was excluded. In his place, senior walk-on Jeff Howard — who had played only 85 minutes of college basketball in his career — would start.
The buzz generated on social media led to "Jeff Howard" trending nationally on Twitter during much of Indiana's 77-46 win against Evansville, as the Hoosiers advanced to 6-1 in the 2013-2014 season.
"Coach did what he did for his reasons," Howard said following the game, in which he scored two points, grabbed three rebounds and had one assist in 15 minutes of action. "I just came and brought to the team what I bring to the team."
Before Tuesday's game, Indiana coach Tom Crean told both Howard and Hollowell the news. His reasoning, Crean insisted, was that Howard "epitomized what we wanted out there in the form of energy, communication and intensity."
But Howard has played only eight minutes this entire season. There was no intention, Crean said, of trying to "light a fire" for Hollowell to perform better.