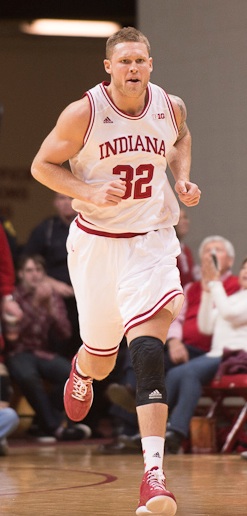 Senior forward Derek Elston played for the first time this season in No. 6 Indiana's 93-54 victory against Mount St. Mary's on Wednesday night, but freshmen Jeremy Hollowell and Peter Jurkin failed to get off the bench.
Hollowell had been part of the Hoosiers' regular rotation through the first 10 games, and he was in uniform and warmed up with the Hoosiers prior to the game against the Mountaineers. And Jurkin, who was suspended for the first nine games of the season and didn't get off the bench on Saturday against Butler, also didn't play on Wednesday despite the Hoosiers' large lead.
Afterward, Indiana coach Tom Crean didn't offer much in the way of a concrete explanation.
In his opening statement, Crean said: "We dealt with a multitude of situations with staff and players, whether it be an injury or a sickness."
He went on to mention that athletic trainer Tim Garl had been sick all day and some of the staff had been as well. But he never said definitively why Hollowell or Jurkin did not play despite repeated inquiries.
When asked if Hollowell was sick as well, Crean said:  "Yeah. We just had a multitude of things we dealt with and we played the guys that were there to play for us and help us."
And then when asked specifically about Jurkin, Crean continued to be vague: "I went with the guys that I played. That's who I went with."
Elston, meanwhile, returned to the floor ahead of schedule. The Tipton native had knee surgery prior to the start of the season, and the team had targeted a return shortly after Christmas.
But Elston worked hard in his rehabilitation, practiced lightly over the last few days, and got on the floor for nine minutes against Mount St. Mary's. Elston made his only field goal attempt, scoring two points and grabbing two rebounds to go along with a blocked shot.
Elston received a standing ovation from the Assembly Hall crowd when he entered the game in the first half.
"It felt great to get back out there again," Elston said. "You can only go through so many practices without it actually hitting you that you want to get out there, get in front of the crowd and see what you can do.
"The standing ovation, that just shows that these people really haven't forgotten about me. It shows that maybe I do [matter] to this program. Sometimes when you get hurt like that and you're out so long, you feel like people kind of forget about you. Sometimes, inside of any player, especially me, I feel like people just don't remember you. But when I go out there and I get that, that standing ovation, it makes me feel special."