Hoosiers working to incorporate Elston, Mosquera-Perea, Hollowell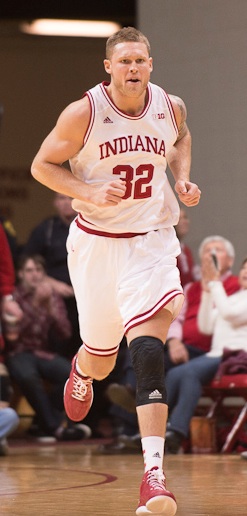 Much of the preseason talk about Indiana centered on the team's anticipated depth. The Hoosiers added a highly-touted freshman class to a roster full of returning veterans from last year's Sweet 16 team.
But so far this season, No. 5 Indiana really hasn't been that deep. Due to issues with the NCAA and an injury to senior Derek Elston, the Hoosiers are still in the process of trying to incorporate several players on their bench.
Freshman Hanner Mosquera-Perea was suspended for the first nine games, Elston missed the first 10 games after having knee surgery, and freshman Jeremy Hollowell was out for three games due to an NCAA investigation. Mosquerea-Perea and Elston have yet to get significant minutes or make major contributions through the first 14 games, and Hollowell's minutes and contributions have been inconsistent.
In Monday's game at Iowa, the trio combined to play only 14 minutes and none of the three scored a single point.
"We want to get this team to the point where Jeremy, Hanner, Peter [Jurkin] and Derek are a big part of that, where they get that experience [of a road win]," Indiana coach Tom Crean said Saturday. "We haven't had a lot of that yet. We were basically a team that was playing with seven guys in that game [against Iowa], and that's not what we wanna do moving forward."
Even though they haven't gotten significant time on the court, Crean said Mosquera-Perea, Hollowell and Elston have gained a good amount from the few minutes they have been out there. And with a full week in between the Big Ten opener at Iowa and Monday's game at Penn State, they've had some extra practice time to learn from the things they experienced at Carver-Hawkeye Arena.
"I don't anticipate, they will [play more]," Crean said. "There's no question about that."
Hollowell got off to a strong start to his freshman campaign by scoring in double figures in his first two collegiate games, but he hasn't been quite the same player since. He hasn't scored more than seven points in his last nine games, and he's shot better than 50 percent from the field in only one of those contests.
In his only game back after missing three games, Hollowell airballed his lone shot attempt, but did have two important blocked shots.
"When a freshman misses a day of practice or a game, it's like missing a week," Crean said. "When you take somebody out of three games, it makes it that much harder."
For Elston and Mosquera-Perea, the process has been a bit slower. Elston has struggled to find his jump shot in his return from injury, and it has impacted other parts of his game on the floor. He's just 1-of-8 from the field for four total points in four games this season. Elston has played a total of 35 minutes.
But Crean saw a lot of improvement from his senior forward in Saturday afternoon's practice.
"Today was very good, probably the best day he's had was today," Crean said. "Today he played like a guy who's played a lot of years and played a lot of games. He's gotta control what he can control, and the shot going in right now may not be it. But keeping his man in front, being a help defender, being a rebounder, those things are really important.
"He's just got to go out there and enjoy himself. He can't be a guy who's very vocal with his teammates when he's out and then be very quiet when he comes back."
Of the three players, Mosquera-Perea is likely the furthest from being a regular contributor. He's struggled in his five games since the suspension, looking more like a raw talent than a guy who can play a major role this season.
Mosquera-Perea has had his moments and has given Indiana fans glimpses of what he's capable of providing, but he's yet to put it together consistently. The Hoosiers hope he — along with Elston and Hollowell — can do it soon, and make Indiana as deep a team as many expected it to be in October.
"Even when he was out, we knew he wasn't gonna be in for awhile," Crean said. "You want to keep him ready for games, but he's not really preparing for games. As much as you try to have him prepare for games, he's not in the game. So now he's got that game experience, it's about totally unleashing that athleticism. All young guys think too much. You can tell that he thinks too much by the dunks that he's missing. Just go up and play. There's that comfort level that has to come. You can't force feed it."
Filed to: Derek Elston, Hanner Mosquera-Perea, Jeremy Hollowell, Tom Crean