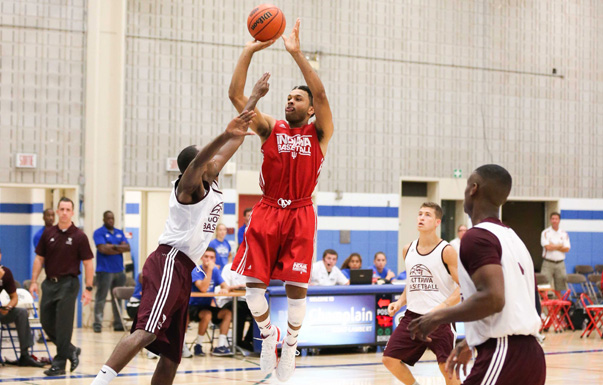 Welcome to "Montreal rewind," our player-by-player recap from Indiana's five-game tour of Canada. Today: James Blackmon Jr. Previously: Nick Zeisloft, Devin Davis, Troy Williams, Yogi Ferrell, Robert Johnson, Stanford Robinson.
A theme of our Montreal rewind series has been Indiana's retooled backcourt and the most important piece of it showed in Canada that he's ready to be a major contributor as a freshman.
James Blackmon Jr., who committed to Indiana before his freshman season of high school, later de-committed and then committed again last fall, stepped into a Hoosier uniform for the first time and immediately began doing what he does best: scoring.
Lauded as one of the top shooters in the country, Blackmon Jr. averaged a team-high 18.8 points in IU's five-game tour of Canada.
Efficiency was a big part of his game on the Nike Elite Youth Basketball League (EYBL) circuit and at Marion and his first performances as a college player were no different. The 6-foot-4 guard posted an effective field goal percentage of 65.3 and hit 13 of his 15 free throw attempts.
Most impressive about how Blackmon Jr. played on the trip was the variety of ways in which he scored and the fact that he didn't force many shots. He hit nine 3-pointers over the five games, showed a solid midrange game and floater and also got to the basket in the halfcourt and in transition.