Q & A: Catching up with former IU guard James Blackmon Jr.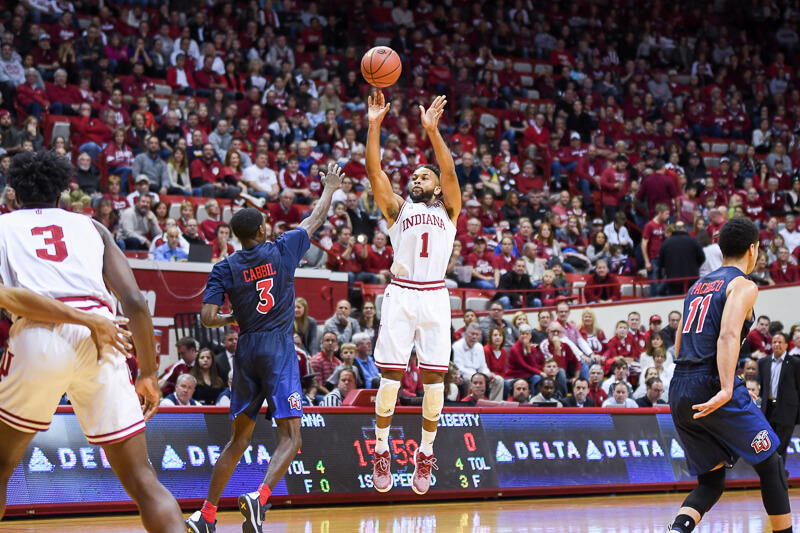 Former Indiana guard James Blackmon Jr. was enjoying a terrific professional season in Italy just a little over a month ago.
Blackmon Jr., a former five-star recruit who played for the Hoosiers from 2014-2017, was averaging 14 points, 3.2 rebounds and 1.8 assists in 25.2 minutes per game for Dolomiti Energia Trento in Italy-Serie A before the season stopped due to the COVID-19 pandemic. Blackmon Jr. was shooting a scorching 43.6 percent on 3s on 110 attempts.
On Tuesday, Inside the Hall spoke at length with Blackmon Jr. about his time in Italy, what it was like leaving the country during a global pandemic, his future in basketball and much more. Our complete Q & A is available below:
Inside the Hall: How was your season going over in Italy before play stopped?
James Blackmon Jr.: It was going great. As a team, we had started to put a lot of wins together. Individually, I started playing at a really high level and things were going great before all of this happened. That was the negative part to all of this. That's what I was upset about.
ITH: When did you get the sense that things were starting to change in Italy?
JBJ: The city I was in, Trento, it was like the last place to go on lockdown. We had actually been traveling. We played a game in Serbia and flew back and every where else was on lockdown, but our city was fine. Then a couple of days later, the GM of our team had told us that practices were canceled and we had to quarantine in our apartments and could only go to the grocery store. That's when it all started.
ITH: When things started to shut down, how long did you stay in Italy? What were you doing during that time?
JBJ: For me and the team that I was on, I wanted to listen to everything they were telling me because everything was great there. The money was always on time, they took care of anything that I needed and everything was paid for and they always looked out for me. I just followed what they were saying. I quarantined in the apartment for about eight days and was doing a lot of pushups inside and eventually I started to see a lot of other players going home from other teams. Our team was probably the last team that decided it was time to get back to the States because we saw that if you don't leave now, you might not be able to get back. That's when I had a conversation with the GM and told him that I love it here, but told him that basketball isn't the main priority right now and that I wanted to get home safe. They understood that.
ITH: How difficult was it to get back to the United States?
JBJ: As soon as I saw other players going home and I got a text from the GM stating that we could leave if we wanted to, I looked up flights for the next day. I packed up my stuff, had a conversation with the GM and he told me that he understood and that if the season is to resume, he wanted to fly me back over to Italy.
ITH: What were your conversations like with your parents during this time?
JBJ: It was tough because the way you see it on TV here (in the US), when I got back, I'm like "wow, this is crazy," but where I was (in Trento), I didn't feel that way. My dad was just telling me to listen what the team is saying because they were taking care of me over there.
ITH: What has it been like for you since arriving back here in the States?
JBJ: I usually get a lease wherever I want to work out for the summer, but I came straight back to Fort Wayne because I wanted to be with my family. We've just been at the house all together. My brothers and I have been working out and taking the time just to get good family time.
ITH: From a basketball perspective and the workouts you are doing now, has anything changed? Is there anything you can't do that you would normally be doing?
JBJ: I'm pretty much doing everything that I want to do. Since I don't really know what the next move is in terms of where I'll be playing next, I've just been trying to take care care of my body first and not overdo anything but still staying in the gym. (Note: The Blackmon's have a basketball court in their home.)
ITH: How's your younger brother Jalen doing?
JBJ: He's doing great actually. Vijay and I went through the same thing (with the knee), so we've been giving him workouts. He's already shooting, running, back peddling and things like that. We've been working with him.
ITH: You were back in Bloomington for a game this season. How was that experience?
JBJ: The love was amazing. That's part of the reason I wanted to go there was because it is for a lifetime. You can always go back and it is like a family environment. Even though the coach that I had isn't there anymore, it still feels like I was a part of something bigger than myself. I just loved being back there and the fans. I had fun with OG (Anunoby) and Juwan (Morgan), too.
ITH: Of the guys you played with, which guys do you stay in contact with?
JBJ: Pretty much everyone. When I was in Italy, I'd say me and OG probably talked the most. But I try to keep in contact with everyone I played with even if they were younger or older than me.
ITH: I know Vijay spent some time in the program under Archie Miller. From talking to him and watching IU play, what is your impression of Archie?
JBJ: I like Archie as a coach and it's the same with Vijay. Just seeing the recruits he's getting, I think he's definitely making a change there and I think they were definitely an NCAA tournament team this season and they are building. I like what he's doing and I like him as a coach.
ITH: In terms of the situation that we are all faced with right now, do you think good can eventually come from it?
JBJ: I think so. I'm optimistic about what is going on. This has never happened and I don't think anyone has seen anything like this. We just got to take the proper precautions and that's what we have been doing as a family here.
ITH: Do you still have the dream to play in the NBA? What are your goals for basketball?
JBJ: For me, what was tough was the season I was having. I felt like I was going to be recognized as one of the top players in the EuroCup and also in the Italian League. I had made a step up from the previous season. It is kind of an unknown right now when things are going to start up with the Summer League and when things are going to start up with the NBA and the overseas teams and their budgeting. I'm just trying to stay confident, continue to work and control what I can control.
ITH: Did you cross paths with many former Big Ten players overseas?
JBJ: I played against so many former NBA guys and former high level college players. My point guard on my team was Aaron Craft. There was always great competition over there. With the season I was having overseas and the efficiency, I was really happy with it.
ITH: What's next for Jalen?
JBJ: Since the AAU season is also postponed, all he really missed was the state tournament. He's got a positive mindset of how he's going to come back. He's gotten a lot bigger, he's a lot stronger and I think having that ACL injury forces you to get stronger. That's what happened with me and I see the same thing happening with him. He's just going to be ready when things start up again.
ITH: How's Vijay been doing?
JBJ: He's doing well. He's got a lot of school work because he's working on his degree, but at the same time, he's got goals for his team in St. Louis (Lindenwood University). He has one more year left. He's been challenging me a lot in one-on-one. I can't stop him from asking me to play every day. He's definitely working and I see the strides he's made.
ITH: What have you been doing to pass the time outside of basketball?
JBJ: I just watched All American on Netflix. The three of us, we play NBA2K a lot. We make fantasy drafts and all of that on 2K.
ITH: Who wins at 2K?
JBJ: I'm not going to lie. Jalen is the best. So Vijay and I, we try to set it up to where we can get wins against him. We make a tournament type style thing, but he's won the last three. Today or tomorrow, we're trying to figure out how we can get him.
Filed to: James Blackmon Jr.