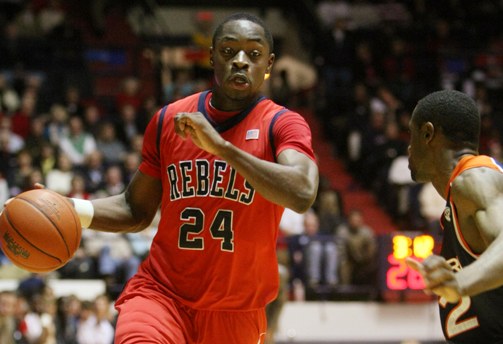 Two games into the 2009-2010 season, we've learned little about the Indiana team that should blossom into a respectable squad once conference play rolls around in late December. Sure, the Hoosiers have won two games comfortably, but it's hard to judge progress against the likes of Howard and USC Upstate. We know IU is better — but how much better? Our understanding of this question will come more into focus Thursday when IU takes the floor with Ole Miss in the O'Reilly Auto Parts Tip-Off Classic in Puerto Rico.
Plagued by an injury bug that claimed guards Chris Warren, Trevor Gaskins and Eniel Polynice for the season, Andy Kennedy's admirable coaching job in 2008-2009 led Ole Miss to seven conference wins and a 16-15 record. Warren and Polynice have both recovered from left knee injuries and are joined in the backcourt by sophomore guard Terrico White (pictured), who is projected as a fringe lottery pick in the 2010 NBA Draft.
White emerged as Kennedy's best player as a freshman and averaged 18.4 ppg in conference play on his way to being named the SEC freshman of the year. "Rico," as he's called by his coach and teammates, hit close to 50 percent of his two-point attempts as a freshman, but shot just 63 percent from the foul line. Expect Jeremiah Rivers to draw this assignment.