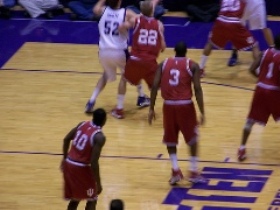 Should IU ever be happy about squeaking things out against Northwestern? Probably not. Given that the Hoosiers are 12-2 in the conference and the Wildcats are 0-14 (!), a sloppy, grind-it-out win in Evanston is probably not something anyone at IU should be too happy about under normal circumstances.
But these are not normal circumstances. The past two weeks have been strange, ridiculous, odd, crazy, emotional — they've veered into apathy, to anger, to resignation. A group of young men lost their father figure. Their father blew his shot at one of the best jobs in college basketball. And an assistant coach that looks a lot like a high school gym teacher — in a good way! — took over despite the threat of a boycott by his All-American center. These are not normal circumstances.
Those circumstances will linger for a while. They'll give things meaning that might not normally have them, like D.J.'s hug for Dan Dakich last night. Any other time, that's a hug merely of exhaustion. Last night, it was the ultimate sign of solidarity, acceptance, and a willingness to soldier on. That undercurrent will be there for a while, but if last night proved anything, it's that there's life after Kelvin Sampson. Basketball players play; coaches coach. That's all it is, really.
So last night's win was a relief. It was pure: basketball as it should be. Ball on court. Defense on offense. It was a shoddy defensive effort, a sloppy offensive one, and an all-around ugly game portending defensive weaknesses for IU. And I'm not even mad at all, because basketball is back.