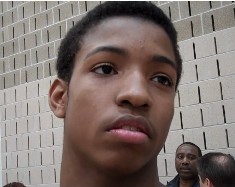 Joe Eberhardt is a high school sports blogger and writer in Indiana. He created Indy Hoops Blog and contributes to the Hoosier Hoops Report. You can follow him on twitter at @IndyHoopsBlog.
The 2013 class in Indiana isn't very big, but it's full of talented players. This particular class is loaded with guards and wings, but lacks an elite big man. There are at least seven sure fire high-major players in this class and potential for more to emerge. If you have any questions about the rankings, feel free to address them in the comments.
10. Brenton Scott 6'0 PG (Ft. Wayne Northrop) - He's not as highly regarded as his twin brother, but is still a good player and capable point guard. He's more of a distributor than Bryson, looking to set up teammates rather than score the ball. He's a solid 3-point shooter, and will fill it up if given the opportunity. He really gets after it on the defensive end and plays with a tough mentality.
9. Richard Freeman 6'7 PF (Lawrence Central) - Freeman is an athletic player with great length and bounce. He can shoot the mid-range with consistency, but I'd like to see him assert himself down low more. Added strength and aggressiveness down low would really benefit his game. His skill and production hasn't caught up with his upside, but he's got plenty of time to improve his game. He's one of the better long term prospects in this class depending on his improvement and development.
8. Demetrius Jackson 6'1 PG (Mishawaka) – Jackson is a quick and smart point guard who uses his athleticism to break down the defense. He looks to set up teammates early and often which is good, but he needs to look to assert himself as a scorer as well. His shooting form is solid, but consistency can be an issue for him. As he improves his skill and relies less and less on physical talent, he'll improve as a player.