Five takeaways from Indiana's non-conference season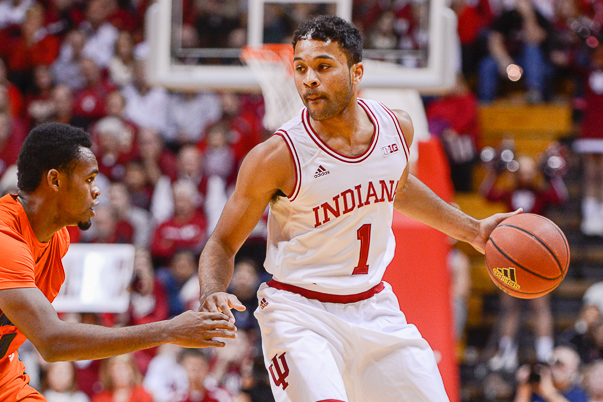 Indiana completed its non-conference season on Saturday with a 10-3 record. Here's a look at five takeaways from the first month and a half of the season:
· Indiana won't have a problem scoring: While last season's team struggled at multiple points during games to find points, this Hoosiers squad has had no such worries. The lowest points output Indiana has had this season has been 74 — and that was against the nation's No. 2 defense in Louisville. Only 64 teams in the NCAA are even averaging that many points.
Through their first 13 games, the Hoosiers rank No. 10 in the country in offensive efficiency, according to KenPom.com. They also are in the top 10, nationally, in effective field goal percentage and 3-point shooting, and are No. 47 in the country in turnover percentage (compared to No. 330 last season).
Whereas last season the Hoosiers had very limited shooting options, the Hoosiers have a variety of proven weapons this season — including Yogi Ferrell, James Blackmon Jr., Nick Zeisloft, Robert Johnson and Max Hoetzel. And Indiana's inside-out threat continues to grow, as well, with the continued development of Troy Williams and Hanner Mosquera-Perea.
· The lack of a big man can be problematic: While scoring won't be an issue, stopping physical big men will. The biggest warning signs came in the 88-86 loss to Eastern Washington, in which 6-foot-8 Venky Jois piled on 20 points and 14 rebounds against the Hoosiers.
Montrezl Harrell of Louisville and Joshua Smith of Georgetown had similar impacts on the game as big men who dominated Indiana.
The Hoosiers' lack of size this season is well-known, and they have made strides in rebounding – they have out-rebounded opponents in their past four games (including Butler and Georgetown). But the impact of bigger, physical opponents having success against Indiana does not need to show up in the rebounding battle for it to be significant.
Jois, Harrell and Smith all were able to get easy points and offensive boards for their teams. Indiana simply did not have answers for them. And moving forward, the Big Ten will feature several teams with similar threats. The Hoosiers will have to learn how to solve that problem quite quickly.
· Troy Williams is showing significant improvement: When you look at Williams' freshman stat line from last season, two of the numbers that stick out include 29 and 57. 29 assists. 57 turnovers.
A 6-foot-7 forward that has had plenty issues slowing down his game in his short college career, Williams is starting to do just that in the early phases of his sophomore year. And there have been results.
Through the first 13 games this season, Williams actually has more assists, 23, than he does turnovers, 20. His role has increased — he is playing more minutes, scoring more and rebounding more. Just in his past five games, including the Louisville, Butler and Georgetown battles, Williams is averaging 15.4 points, 6.8 rebounds, 3.0 assists and 1.2 steals per game.
And to top it off, in his last outing against the Hoyas, Williams recorded career highs in both minutes (33) and points (23).
· Yogi Ferrell is the team's clear-cut leader: This isn't much of a surprise, but Ferrell has solidified himself as the Hoosier's leader this season — both off and on the court.
Proof of that came in early November, when Ferrell was thrust in front of the media and apologized on behalf of the team after a turbulent start to the season that included Devin Davis being seriously injured in a car accident and Emmitt Holt, Stanford Robinson and Williams facing suspensions.
But Ferrell has continued to be the Hoosiers' go-to guy on the court, as well — even with the added scoring options. He is averaging 17.2 points per game, just 0.1 off last season's average, but he has also proven his worth late in games this season as well.
No two games have exemplified Ferrell's leadership more than his 20-point second half performance against Butler in the Crossroads Classic and his two last minute 3-pointers against Georgetown just last Saturday.
And on top of that, Ferrell now is the lone active Hoosier on the 1,000-point scoring list: His 1,047 points rank No. 45 in school history.
· The Hoosiers have a shot at the NCAA tournament: Of course non-conference season is not the determining factor on whether a team makes the NCAA tournament.
But through 13 games, the Hoosiers already have picked up multiple résumé-boosting wins in Butler, SMU and Pittsburgh that could help come March. The Eastern Washington loss is not great, however the Eagles are 9-4 and are projected to go undefeated in Big Sky action. The Louisville and Georgetown losses will not look bad, either.
Big Ten season always comes with chance to grab signature wins. And in a wide-open Big Ten, the Hoosiers have as good of a possibility as any team to capitalize on a potential top-five spot in the league.
After 13 games, however, it is clear much of the book on Indiana's 2014-2015 season has yet to be written. Plenty of opportunities lie ahead.
Filed to: James Blackmon Jr., Troy Williams, Yogi Ferrell