What to Expect: Georgetown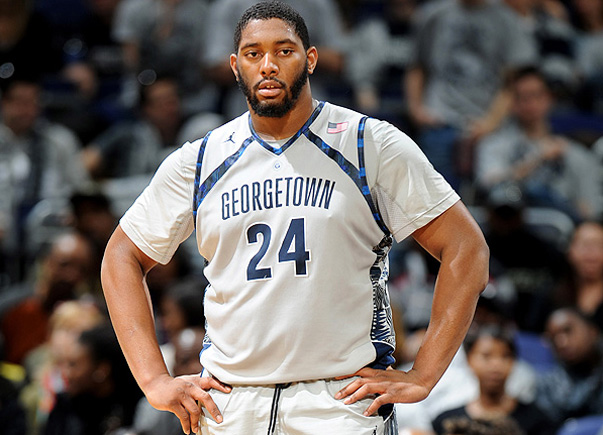 Indiana concludes the non-conference portion of its schedule on Saturday afternoon at Madison Square Garden as the Hoosiers take on Georgetown in the Indeed Invitational.
The game will be broadcast on ESPN2 at 12:00 p.m. with Bob Wischusen, Seth Greenberg and Jim Calhoun on the call:
A late addition to the 2014-15 schedule, Indiana's game tomorrow with Georgetown at Madison Square Garden bolstered the non-conference slate and added a solid opponent in place of what would have likely been a guarantee game at Assembly Hall.
And while the non-conference schedule does include five teams in the top 60 of Ken Pomeroy's ratings, it also includes six who are ranked No. 270 or worse, which makes this game a smart addition to help the strength of schedule.
As the rest of the Big Ten coasts into conference play, the Hoosiers will get one final test before heading on the road to Nebraska for New Year's Eve. Ultimately, the goal of any non-conference schedule is to pick up a few key wins and also prepare for what lies ahead in league play. This contest presents another opportunity for a solid win that could loom large come March and also pits the Hoosiers against size and physicality that is formidable.
MEET THE HOYAS
In his 11th season at the helm, John Thompson III brings a Georgetown team to MSG that has size, athleticism and an ability to relentlessly crash the offensive glass. Of IU's first 12 opponents, only SMU and Louisville have been bigger up front and the Cardinals are the only team comparable from an offensive rebounding perspective. That Louisville contest ended in a 20-point loss for IU as Rick Pitino's team rebounded 52 percent of its misses.
Thompson III has started the same lineup in each of Georgetown's 10 games with junior D'Vauntes Smith-Rivera manning the point alongside senior off guard Jabril Trawick. Up front, the Hoyas go with freshman L.J. Peak on a wing, senior Mikael Hopkins and the enormous Joshua Smith (pictured) in the middle. That adjective isn't used with any exaggeration in this instance as Smith checks in at 6-foot-10 and 350 pounds.
Smith-Rivera, who started his prep career at North Central in Indianapolis and finished up at Oak Hill Academy, is the team's leading scorer at 13.3 points per game. Smith-Rivera hasn't been particularly efficient this season as he's making just 27.3 percent of his 3s and 46.8 percent of his 2s. His perimeter shot has been most effective from the left wing, where he's making 50 percent of his 3s according to Shot Analytics.
Trawick is efficient, but isn't a high volume shooter. He's made 7 of his 13 attempts from distance and also 60 percent of his 2s, but is a poor free throw shooter (50 percent). Freshman point guard Tre Campbell isn't an offensive threat and is more of a space holder at this point while Smith-Rivera gets a breather.
The Hoyas have a solid group of players in the 6-foot-6 to 6-foot-9 range who are capable of filling a variety of roles. Peak is the team's third leading scorer (10.2 ppg) and does an excellent job of getting to the free throw line, where he's knocking down 72.2 percent of his attempts. Another freshman, 6-foot-8 Paul White, has to be accounted for on the perimeter as he's made 10 of his 19 3-pointers.
Two others from this group who belong on the scouting report: 6-foot-6 senior Aaron Bowen, who is making 65.2 percent of his 2s and 6-foot-9 freshman Isaac Copeland, who can make the occasional 3 (44.4 percent).
In the post, Hopkins isn't much of an offensive threat, but is in the top 50 nationally in block percentage and in the top 70 as an offensive rebounder. Smith's 12.7 points per game rank second on the team and he leads the team in rebounding with 6.5 per contest. However, he's only averaging 21.9 minutes per game and if IU can push pace, fatigue can become a major factor.
A TEMPO-FREE PREVIEW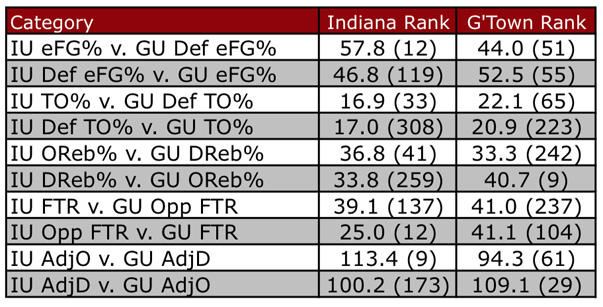 Georgetown has a significant advantage with its size and ability to crash the offensive glass, but the Hoyas also have their share of challenges, at least on paper. The Hoyas, like IU, have been a poor defensive rebounding team and if the Hoosiers are able to offensive rebound, it could keep the battle for second-chance points from becoming a major difference for Georgetown.
The Hoyas have also struggled to take care of the ball and while they've defended the 3 well (31.4 3PFG% defense), so did Louisville and Butler coming into their games against IU. The Hoosiers hit 8 of 20 from distance against Louisville and 8 of 17 against Butler.
Indiana has looked better the past two games on the defensive boards, but the Hoosiers cannot afford a performance like they had against Pittsburgh or Louisville and expect to win. Indiana also must figure out a way to keep Georgetown out of the paint as the Hoyas are making 52.8 percent of their 2s (38th nationally) compared to just 34.6 percent of their 3s (134th nationally).
WHAT IT COMES DOWN TO
This should be a fascinating game to watch as Georgetown attempts to slow down a high octane offense with shooters everywhere and Indiana attempts to hold its own against an opponent with superior size inside.
As was the case in the Butler game, the play of Hanner Mosquera-Perea and Troy Williams looms large for Indiana. The Hoosiers need both to rebound and in addition, create movement of Georgetown's bigs so they can't camp out inside and wait to block and alter shots.
Both Pomeroy (Georgetown by 2) and Sagarin (Indiana by 1) view this as a close game that should come down to late execution.
(Photo credit: Mitchell Layton/Getty)
Filed to: Georgetown Hoyas