Five takeaways from Indiana's loss to Georgetown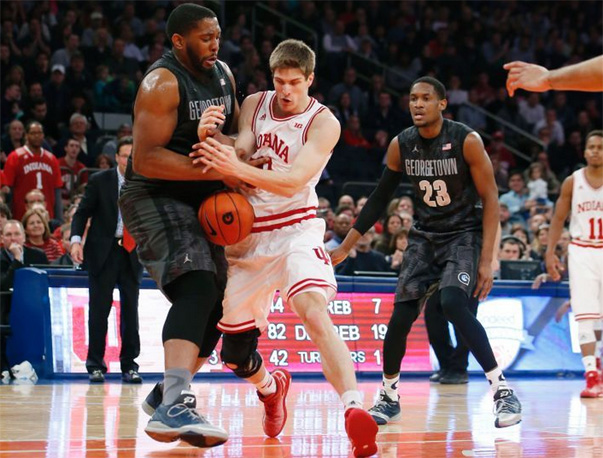 Indiana fell to 10-3 on Saturday with a 91-87 overtime loss to Georgetown in Madison Square Garden. Here's a look at five takeaways from the loss to the Hoyas:
· Hoosiers had no answer to Josh Smith: In their previous two losses this season, Indiana was dominated by physical big men: Venky Jois of Eastern Washington and Montrezl Harrell on Louisville.
On Saturday, Josh Smith of Georgetown had a similar effect.
The Hoosiers had no answer for the 6-foot-10, 350-pound senior, who freely attacked the basket without much contention.
Due to Indiana's lack of size — only Jeremiah April is taller than Smith, and April has played just 14 minutes this season — the Hoosiers had to double team Smith to be effective at all, Tom Crean said. Smith turned the ball over three times and had four fouls on the afternoon.
But Indiana did not nearly defend Smith to the level it hoped, and the big man found open looks because of his size and physicality in the paint. He finished with 14 points, six rebounds (five offensive rebounds), three assists and two steals in just 26 minutes of action.
· Turnovers make their return: Much like Indiana does to its opponents, Georgetown switched defenses on the Hoosiers often on Saturday.
But this time, Georgetown's physicality forced the Hoosiers into multiple shot clock violations, multiple rushed shots and multiple turnovers.
Indiana finished with 17 turnovers against the Hoyas for a turnover percentage of 21.8 — its third-worst effort this season. And despite playing the Hoyas close, it was that high turnover number that had a direct effect on the result of the game: Georgetown scored 20 points off Indiana turnovers on Saturday.
· Ferrell shows up in the big moment (again): Last weekend against Butler, junior Yogi Ferrell took over the game by scoring 20 points in the second half.
Against Georgetown, Ferrell once again had a similar effect — this time in the final minute. With the Hoosiers trailing, 76-71, and less than a minute remaining, the Indianapolis native came up big. He banked in a 3-pointer to cut the Hoyas lead to two with just 37 seconds left.
And after Jabril Trawick converted on only one of two free throws at the other end, Ferrell once again took matters into his own hands. He drained another 3-pointer with 11 seconds left to tie the game, thereby sending it into overtime.
Ferrell finished with 27 points in 41 minutes of action, although he did have four fouls and four turnovers, as well.
· Williams continuing to show improvement: After matching his career-high of 22 points last Saturday against Butler, sophomore Troy Williams one-upped his effort against Georgetown.
Williams finished with a career-high 23 points, but he also continued to show his improved influence in the game outside of scoring. The Virginia native loaded the stats sheet with an additional eight rebounds, four assists, two steals and one block in a career-high 33 minutes of action.
Still, Williams had three turnovers — a part of his game he has been trying to cut down on. And those turnovers all came in the second half and two were in the final 3:35 of regulation.
Just in his past five games, Williams' stat line speaks volumes to his improvement: 77 points, 34 rebounds, 15 assists and just 10 turnovers. Last season, for comparison, Williams had 29 total assists to 57 turnovers.
· The jury is still out on this team: As Alex pointed out in The Minute After, with the way the non-conference season has concluded, much of the book has still yet to be written on this year's Indiana team.
It has won big games against SMU, Pittsburgh and Butler — showing it can compete with physical teams — but also has losses to Eastern Washington, Louisville and Georgetown — teams that dominated the paint and could also shoot from outside it.
Indiana's NCAA tournament fate will be decided in its next 18 games of Big Ten action — not from its prior 13.
(Photo credit: Associated Press/Kathy Willens)
Filed to: Georgetown Hoyas