The Minute After: Georgetown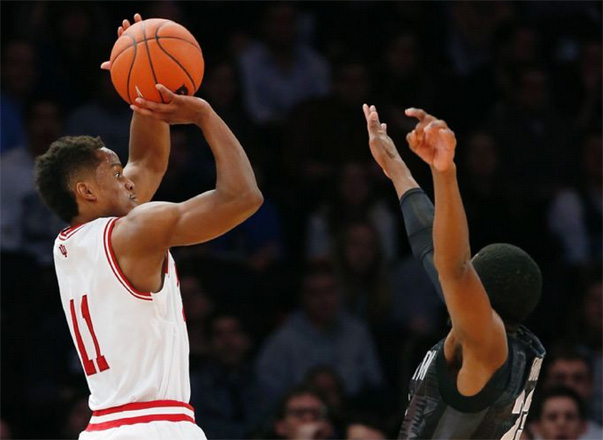 Thoughts on a 91-87 overtime loss to the Hoyas:
This one had a little bit of everything this afternoon in Madison Square Garden.
There was Indiana opening a comfortable 10-point halftime lead and even extending it a bit to start the second half. There was Georgetown, led by its upperclassmen, making its run in the second half and appearing to take hold of things in the final minutes. And then there were late heroics from Yogi Ferrell, who made a pair of 3-pointers in the final 39 seconds of regulation to send the game into overtime.
For late December, when most teams are filling up on cupcakes before the start of conference play, this was a high level contest that Indiana had a great chance to win. But it just didn't make enough plays when it mattered most.
So where do we start? With Indiana's defense, which allowed 61 points combined in the second half and overtime. On the afternoon, the Hoyas scored 1.17 points per possession with an effective field goal percentage of 56.6. Had Georgetown not left 12 points at the free throw line, this game may have ended in regulation. Those numbers would be tough for any team to overcome, but Indiana nearly did it thanks to a hot shooting game from the perimeter.
But even more crippling to IU was its failure to take care of the ball. The Hoosiers had 17 turnovers on the afternoon for a turnover percentage of 21.8, their third-worst performance of the season. Despite hitting 13 3-pointers and also winning the battle on the glass (34.3 OR% vs. 30 OR% for Georgetown), the turnovers ultimately crippled Indiana's chances to emerge victorious.
As for the positives in this one, there are plenty to point out. Start with the play of sophomore Troy Williams and junior Yogi Ferrell, who both came up with big plays down the stretch. Williams finished with a career-high 23 points and also added eight rebounds and four assists, but he had a few turnovers late that he'd like to have back. Tom Crean's move to put Williams as the primary ball handler against Georgetown's zone down the stretch helped the Hoosiers climb back after the offense went stale as the Hoyas went on a run.
And Ferrell continues to show why he's still Indiana's most important player in clutch situations. After the Hoosiers looked done at 74-69 with 1:27 to play, Ferrell ripped off eight straight points, including a contested 3-pointer with 12 seconds to play, to send the game into overtime. Ferrell finished the afternoon with a team-high 27 points.
James Blackmon Jr. also regained his shooting stroke and his first half performance (12 points and four 3-pointers) was a big reason Indiana enjoyed a 10-point halftime cushion.
Beyond that, the Hoosiers didn't have any other individual performances to draw positives from. Robert Johnson was the only other player in double figures, but he had four turnovers and Hanner Mosquera-Perea struggled and had just two points and six rebounds in 29 minutes.
As for the problems defensively, it wasn't just one matchup that Indiana struggled with. When he was in the game, the Hoosiers had no answer for the enormous Joshua Smith, who finished with 14 points and six rebounds in 26 minutes.
D'Vauntes Smith-Rivera, an Indianapolis native, also blew up in the second half as 24 of his game-high 29 points came after halftime. Afterward, he called the game "personal." IU also had no answer for senior Aaron Bowen, who made 10 of his 13 field goal attempts, most of them right around the rim.
So this is how the non-conference of IU's schedule ends, and the Hoosiers have little time to regroup before heading to Nebraska on Wednesday to open league play.
Wins over Pittsburgh, SMU and Butler and losses to Georgetown, Louisville and Eastern Washington won't decide IU's NCAA tournament fate one way or the other, but the 18 games that await over the next two plus months will. Ready or not, a wide open Big Ten awaits (outside of Wisconsin) and we'll learn soon enough if this Indiana team is ready to seize the opportunity.
(Photo credit: Associated Press/Kathy Willens)
Filed to: Georgetown Hoyas, James Blackmon Jr., Troy Williams, Yogi Ferrell