News and notes from Tom Crean's radio show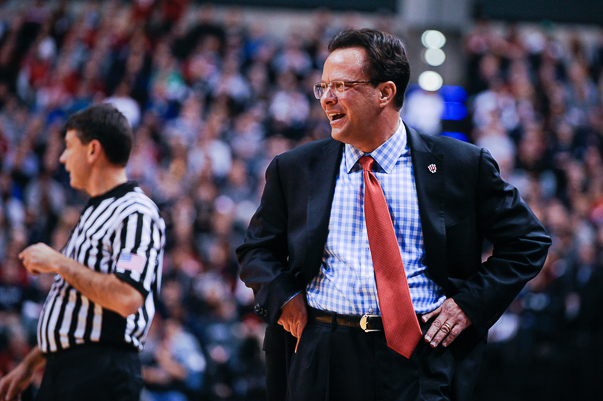 On Monday night, Indiana coach Tom Crean spoke on his weekly radio show with Don Fischer, as well as assistant coach Chuck Martin and guards Yogi Ferrell and James Blackmon Jr.
Here's a look at the news and notes of what Crean, Martin, Ferrell and Blackmon had to say:
· Crean first spoke about Saturday's game against Georgetown, in which the Hoosiers fell to the Hoyas by a 91-87 score in overtime. He noted that turnovers — Indiana had 17 of them — hurt the team in the sense of allowing "inopportune" Georgetown points, something that the Hoosiers had been working on limiting since the earlier loss to Louisville this month. That said, Crean complimented his team for getting the game "where it needed to be" at the end of regulation, even despite the overall result. "We have been learning from things all year," he said. "I like where we are heading."
· While discussing the Georgetown result, Crean also called out the performances of junior Hanner Mosquera-Perea and the Hoosiers' bench. "We can't play and have Hanner Mosquera-Perea not score until the second-to-last possession of the game," Crean said. "He has improved too much. He has to be more aggressive, be on the attack and demand the ball more." Crean mentioned the poor bench performance against the Hoyas — only two points were scored off the bench in a combined 54 minutes — and noted those players have to improve their efficiency for the Hoosiers to have a deeper bench going forward.
· Following the conclusion of the Georgetown game, Crean said he promptly returned to his hotel room in New York and began preparing for Wednesday's game against Nebraska. In fact, he watched tape on the Cornhuskers from 4 p.m. to 1:30 a.m., while the assistant coaches were watching tape in another room, as well. Crean pointed out that Nebraska has "tremendous talent" — he named Walter Pitchford "who plays like a 2-guard", Shavon Shields and Terran Petteway, in specific — and that the Cornhuskers cause matchup problems as well. "We have to be really locked into those things, but at the same time, we have to make the game go," Crean said.
· To prepare for the pressures of playing in an atmosphere like Pinnacle Bank Arena — a place where opponents have won only three times in the building's young history — Crean said he pumped in "heavy, heavy doses" of football crowd noise into the Hoosiers' practice on Monday. He plans on doing it again today, as well, and he will do it again before the Michigan State game on Jan. 5.
· Once Crean left the show to watch his son, Riley, play in Bloomington North's basketball game, Martin spoke about the opportunity he received at Indiana. At the time he was working in the scouting department of the front office for the Oklahoma City Thunder, and he said he and his wife were planning on staying in the NBA. He said he and his wife would only go back to the college level if it were at a "special place." And when Crean called within six months of that conversation with an assistant coach opening, Martin said there "immediately there was an excitement that took over." As Martin said, "Any time when Indiana calls, it's a different deal."
· Despite Indiana already over-signed by two for the 2015 recruiting class, it appears Crean and his staff are nowhere near declaring the class as finished. On the radio show Martin confirmed, "We're working an a number of different kids who are still available."
· Ferrell was asked about the impact of learning from older IU players during prior Big Ten seasons and how he can translate that to this year's younger players. He said guys like Victor Oladipo and Cody Zeller always encouraged him to move on to the next play, even after making mistakes. And Ferrell said he has made sure to let others know "the main thing is just getting on to the next play."
· When asked about Wednesday's game against Nebraska, Blackmon said any success in the game will have to start on defense — taking the crowd out of the game and sparking the offense through stops, as well. He noted the Huskers have had an up-and-down season — which includes a loss to Incarnate Word — but that they have shown "flashes of being great." Ferrell, meanwhile, echoed Crean. "We have to be at our best," he said.
Filed to: Chuck Martin, James Blackmon Jr., Tom Crean, Yogi Ferrell