The Minute After: Nebraska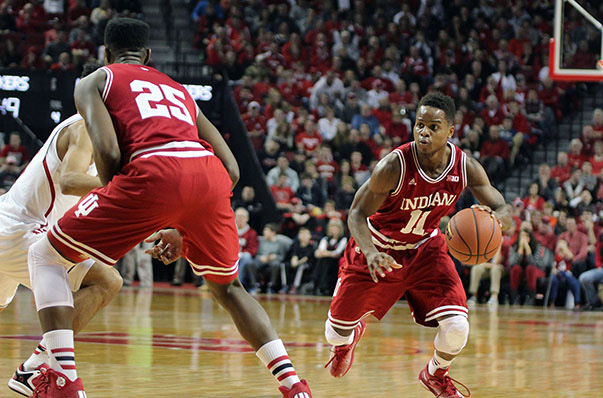 Thoughts on a 70-65 win over the Cornhuskers:
The pendulum took big swings in this one, as two Hoosiers double-digits leads (16 in first half, 13 in second) slipped away and Indiana came face-to-face with its past outings in Lincoln. Tim Miles and Tom Crean got into it on the sidelines, were brought to halfcourt by the officials where Miles blew up, screaming back at Crean while IU's head coach stood stonefaced, staring right back at him, letting him do his dance.
By the time the dust finally settled, the Hoosiers walked out of Lincoln with a five-point victory. Welcome to the wild, unpredictable Big Ten where the fireworks may only burn brighter from here.
Yogi Ferrell scored just five points (2-of-7) tonight. But as he mentioned postgame, he knew he'd have to play the role of facilitator in this one. Nebraska hedged on screens, sending their big men at him. This set up a couple of lobs for Hanner Mosquera-Perea in the second half and he made the Cornhuskers pay for not showing him as much attention. Ferrell found other teammates as well on his way to eight assists and just one turnover in 35 minutes of action. He also made an incredible play late to help Indiana seal it, knocking a Terran Petteway rebound out of his hands and off his knee for the Hoosiers to retain possession off a missed one-and-one opportunity by James Blackmon Jr. It allowed the Hoosiers to retain possession. Collin Hartman would get fouled on the ensuing inbounds and made one of two free throws to put Indiana up by the final tally of 70-65.
Mosquera-Perea was saddled with early foul trouble in the first half. Emmitt Holt came in with great energy, blocking shots on one end, getting offensive boards on the other and running the floor for a bucket as well. It looked like this might be a night where the Hoosiers would see the Pittsburgh version of Holt, the night he scored 15 points. But Mosquera-Perea made his presence felt in a big way in the second half. Nebraska's defense dictated that Mosquera-Perea would get touches and he made the most of his opportunities.
Besides the aforementioned alley-oops, the junior at one point hit a one-hander in the lane as the shot block expired. Later, he made one of his moves off the corner where you can't believe he gets to the basket with just a stride or two to score which put the Hoosiers up 13.  Mosquera-Perea also grabbed a key defensive rebound late, soaring high for the board above all others. He finished with 12 points and 10 rebounds, just about the mark Indiana fans are hoping he can provide this Big Ten season.
It wasn't a good shooting night from 3-point range for the Hoosiers. They hit just 7-of-24 (29.2 percent) and took too many from several feet behind the line. Though Robert Johnson (3-of-6 from 3-point range) shot it well on his way to a team-high 14 points. But the Hoosiers outrebounded the Cornhuskers (33.3  vs. 17.9 OR%), did good enough with the ball despite a few bad turnovers (16.3 TO%) and scored at a better clip (1.04 points per possession) than they gave up (.96 points per possession). Troy Williams again used his length and athleticism to make moves to the hole for scores and followed right behind Johnson with 13.
It was all just enough to squeak out the victory in Lincoln. This game was there for Indiana against a reeling Nebraska squad and IU took it. It's just a start to the Big Ten season, but the win is one the Hoosiers and their fans should be happy with as they ring in the New Year.
Filed to: Nebraska Cornhuskers