Notebook: Ferrell-Smith-Rivera battle highlights loss to Georgetown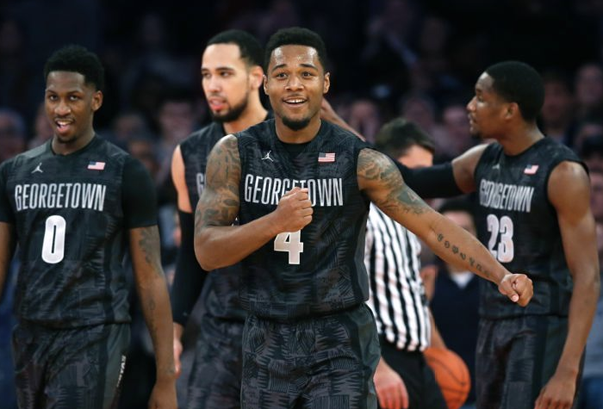 NEW YORK — With the Hoosiers trailing by five against Georgetown on Saturday with just 37 ticks left, Yogi Ferrell (27 points) rose from the top of the key and banked in a three to pull Indiana within two points. On the ensuing Hoosier possession, the junior swished another 3-pointer from near the same area, a tough shot over an outstretched Aaron Bowen with 11 seconds remaining to tie the contest and send it into overtime.
"Yogi's a big shot-maker," said Indiana coach Tom Crean after the contest.
But as the game shifted into overtime, it was long-time friend and fellow Indianapolis native D'Vauntes Smith-Rivera sealing the game for the Hoyas. The fellow junior, who hit three 3-pointers to start the second half, poured in a clutch pull-up jumper with 23 seconds left over Ferrell to put the Hoyas up five at 90-85. Ferrell missed a desperation 3-pointer on the ensuing Indiana possession as the Hoosiers went on to lose 91-87.
"Nobody feels worse about this game than (Yogi) does because in his matchup his guy got some buckets," Crean said.
Smith-Rivera had 24 of his 29 points in the second half and overtime, and it appears he had this game marked on his calendar.
"My freshman year we lost to them," Smith-Rivera said after the game, referring to Georgetown's overtime loss to Indiana at the Barclays Center in 2012-2013. "Me and coach talked about that all week coming into the game so it's personal for me … I've grown up with Yogi since kindergarten, I've known him forever and we've always been great friends. There's always been a rivalry but I'm winning right now."
Ferrell, when told Smith-Rivera called the matchup "personal," was short in his answer on if there was any added motivation.
"Just going up against another Indiana guy, that's it really," the junior said as he was whisked away to the team bus.
THE SMITH EFFECT
Despite picking up three fouls in the first half and not starting the second half because of them, Georgetown center Joshua Smith made his presence felt in the Hoyas' victory. Smith avoided his fourth foul until the beginning of overtime and it allowed him to stay in the game and hit a number of key buckets as Georgetown came back and eventually overtook the lead in the second half. Smith scored 12 of his 14 points in the second half and overtime as the Hoosiers sent double and even triple teams to try and get the ball out of his hands.
"He can't be stopped down there, except when he stops himself," Georgetown coach John Thompson III said after the game. "… He's a weapon that you have to pay attention to, one man can't guard him."
Crean said after the game that Indiana's game plan was to try and keep him away from his strengths.
"When we doubled correctly we turned him over some," Crean said. "You just can't let him get to his strengths. He's very left shoulder centered with what he does to get to his right hand. We let him have too much space … letting him get to that left shoulder, he's unbelievably hard to guard. He's pushing 300 pounds there I would think."
CALHOUN AND THE GARDEN
Former UConn coach Jim Calhoun was on today's ESPN2 broadcast and also spoke to the Hoosiers at Friday's practice.
"Jim Calhoun, who's had 39 pros, had 33 guys that played at least five years in the NBA, they made over a billion dollars — the whole deal — and he knew exactly how many games he coached in The Garden," Crean said. "He coached 82 times in The Garden. That's one of the great coaches of all-time … He knew exactly how many times he coached in the Garden … When you're in a place like this you know it and I think that puts it into perspective."
Crean also said the Hoosiers were honored to be asked to play in this game by Executive Vice President of MSG Sports Joel Fisher and that the East Coast is a "huge part" for Indiana in terms of alumni.
"The New York metropolitan area is second behind the Chicago area when you remove Indiana from the alumni base," Crean said. "It's an honor to be here."
(Photo credit: Associated Press/Kathy Willens)
Filed to: D'Vauntes Smith-Rivera, Georgetown Hoyas, Yogi Ferrell