Hornets assign Noah Vonleh to NBA D-League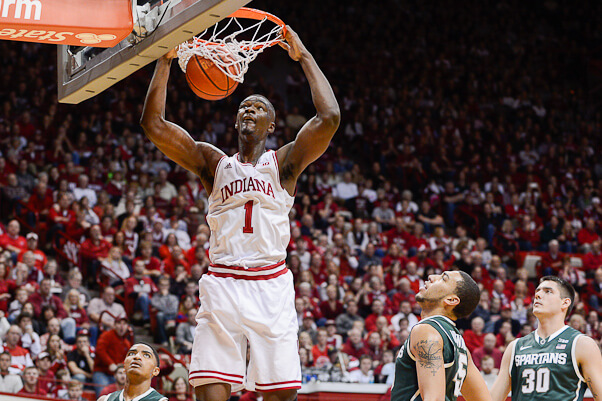 Charlotte Hornets rookie Noah Vonleh, the Big Ten's freshman of the year last season at Indiana, has been assigned to the Fort Wayne Mad Ants of the NBA Development League.
Vonleh, the ninth pick in the 2014 NBA Draft, has played in just four games this season for Charlotte. He's averaging 2.5 points and 2.8 rebounds in those contests.
"We believe Noah would benefit greatly from additional game experience," Rich Cho, the Hornets General Manager, said in a release. "He will be able to get that playing time through this D-League assignment."
As a freshman at Indiana, Vonleh led the Big Ten in rebounding and his size and wingspan propelled his draft stock into the lottery. But his transition to the NBA got off to a rocky start as he suffered a sports hernia over the summer and missed training camp.
The Hornets, viewed as one of the NBA's major disappointments this season, are just 10-21 and are four games out of the final playoff spot in the Eastern Conference.
Steve Clifford, in his second season as Charlotte's coach, recently said that the preseason setbacks put Vonleh in catch-up mode to begin his pro career.
"It's the speed of the game: To play consistent, regular minutes you have to have a comfort level with how the NBA game is played," Clifford told The Charlotte Observer. "Unfortunately once the season starts you only have certain stretches of the year where you can practice a lot.
"He's a 19-year-old who missed all of September, when the foundation was put in, and all of October and is now playing catch-up. The thing that gives him a chance is he's very gifted and a great worker. But it would be tough for anybody to catch up quickly after missing his rookie preseason."
Filed to: Noah Vonleh