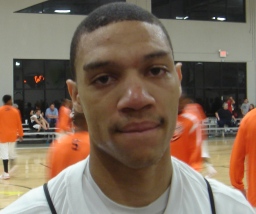 Throughout the season, Inside the Hall will keep you posted on how 2010 signees Victor Oladipo and Will Sheehey and 2011 commitments Austin Etherington and Matt Carlino, as well as other notable prospects being recruited by Indiana, are performing at their respective schools. (Note: This is not intended to be a complete list of players Indiana is recruiting. Only players with published stats are listed.)

You can send us stats or results for this report at tips@insidethehall.com. Here's our latest update:
2010 SIGNEES
+ Victor Oladipo – DeMatha (MD): Six points in a 84-72 win over Paul VI Catholic on February 16. Eight points in a 71-61 win over McNamara on February 17. Five points in a 62-53 win over O'Connell on February 19.
+ Will Sheehey – Sagemont (FL): Nine points and five assists in 67-39 win over Christian on February 18.
2011 COMMITMENTS
+ Austin Etherington – Hamilton Heights (IN): The Huskies beat Northwestern, 60-56, on February 17, but no individual stats were reported. No individual stats were available for a 52-49 loss to Maconaquah on February 19. Through 16 games, Etherington was averaging 22.9 ppg.
+ Matt Carlino – Bloomington South (IN): 15 points in a 75-59 win over Perry Meridian on February 19 and four points in a 70-51 win over Evansville Harrison on February 20. Bloomington South's win streak sits at 45, tied for second best all-time in Indiana.