Notes, quotes from Tom Crean on Big Ten teleconference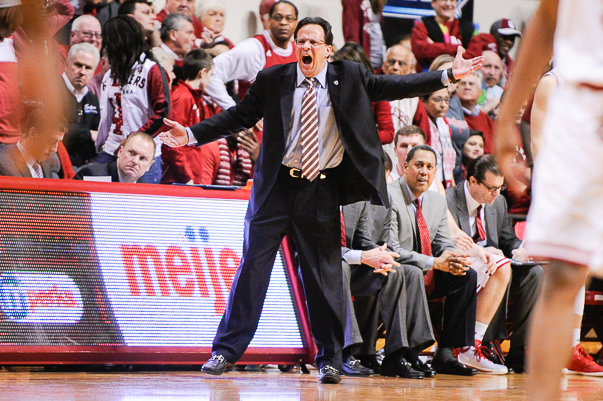 The Big Ten held its weekly coaches teleconference on Monday morning to review the third week of conference play. Here are some notes and quotes from Tom Crean's appearance:
· Opening statement: "Well we're extremely excited to get a win like we had yesterday with Illinois. It was a great game if you were watching it from an entertainment perspective and if you were watching it as a fan of the game. They did some really good things, I thought we did some really good things. There's a lot of learning for both teams. And really at the end of the day we were able to just make one more run. Our guys showed poise, I liked our leadership on the floor and in the huddles with our team. The fact that we continued to execute, there were a couple different times in the game where we could have gotten down and given in and we didn't do that and that's a sign of the maturity, I think, that we're gaining which is really important. We're looking forward to this week."
· On IU's versatility right now with a smaller frontcourt: "It's a spacing aspect of it right now on offense and certainly, we can't give up things defensively with what we don't have in maybe height and length, so that's where our movement has got to be good and where we play people. Our coverages have got to change a little bit and we have to be even a stronger defensive rebounding team with our guards. But offensively, we can do more things as far as where they're at on the court, especially when the ball gets moving. I think that's what we tried to work on a little bit the last few days, that's what we've done with Collin (Hartman) before, but now we're trying to do it a little bit more. And we'll see how it goes.
"But the bottom line is, you've got to be able to defend, you've got to be able to rebound and when those things are happening, then the offensive part is secondary. But if the defense and rebounding are sound, then you can be a little bit more creative on the offensive side."
· On Emmitt Holt's comfort level in terms of driving the ball: "I think he will be. We see it in practice, there's no doubt about that. He's getting better with it all of the time. And again, it becomes him just moving against a moving defense and not necessarily a set defense where they would see it coming. So we've been able to do that with all of our forwards over time. Cody (Zeller) became an excellent driver, certainly Noah (Vonleh) got better with it. Christian (Watford) became an outstanding driver. It's just all a part of what we're trying to do with developing them in practice and the stuff that we do as far as drills and expectations and target areas that we're trying to hit in practice of what they're able to do from week to week. And then it just becomes a matter of, 'are they comfortable doing it in games?' And we're getting there."
· On Maryland and what's allowed them to build an impressive start to the season: "I don't know Mark (Turgeon) very well, but I have a lot of respect for him. But I've had enough conversations with him to know that he was really excited about his team in the offseason. And I think that's playing out. What they have is tremendous versatility, they have a lot of matchup issues all over the court. They're getting outstanding guard play from not only (Melo) Trimble, who is playing incredibly well, but the freshman guards and (Richaud) Pack is playing well and certainly (Jared) Nickens and (Dion) Wiley can shoot the ball. But what you have with (Jake) Layman, (Dez) Wells and (Evan) Smotrycz, their inside people, there's a lot of versatility. I think what I see when I watch them is an incredibly good screening team, almost everybody on the court can shoot the ball, but they can handle the ball so they get a lot of good driving, they get a lot of good isolations. And they've got an incredibly hard matchup in Dez Wells because of not only the way he can drive it, shoot it and score it, but because of the ways that he can pass it, especially from the low post. So the versatility on offense and defense, they've got really good length. They don't take a lot of chances defensively, those type of things are making them really good.
"And I think if there's one stat that is glaring, it's how many free throws they're getting attempted and how many they're making. They're doing a great job in this league of getting to the line and capitalizing on it."
· On whether he's addressing expectations with his team given the strong start in league play: "We just practice and we go in every day. There's no talk of any of that. The focus will be so much on how much better we can get this week and how much better we'll have to get to play Maryland and then have to turn around and go to Ohio State on Sunday. We're truly in no position where we're getting ahead of ourselves in any stretch and we haven't all year and we're certainly not going to start now."
· On the adversity in the offseason and whether it brought the team closer together and helped get through adversity on the court this season: "Well I'm sure it has, I don't think there's any question about that. I don't think you can have some of the things that we've had to deal with this year and not go one of two ways. I think this team has continued to bond and grow up. We have a lot of young guys on our team. I think there's only ten teams, according to the KenPom ratings, that have less experience than us in all of Division I so you really have no choice other than to grow up and get better. I think that's what we're constantly striving for every day and making sure that we're maxing the day out the best way that we can, not getting ahead of ourselves and are learning from the last game, getting ready for the next game by what we do in that practice and taking everything very serious on a day-to-day basis."
· On the progression of Melo Trimble as a freshman compared to Yogi Ferrell as a freshman: "Yogi did an awful lot for us as freshman and was playing on the No. 1 team in the country with some veterans that made the game easier for him, but he made the game easier for them as well with the way that he moved the ball, the way that he could make open shots, the way that he defended.
"I would say that Trimble is doing all of that and the Maryland team is one that has a lot of moving parts on it offensively and defensively. There's a lot of creativity that Mark has with the way that they're guarding, the way that they're playing offense and I think he flourishes in that because he can score at the basket, he can score in the middle of the lane, he can shoot 3s obviously, he gets other people shots, he changes speeds and direction extremely well. And those are all things that I think Yogi did pretty well at the same point."
Filed to: Tom Crean