News and notes from Tom Crean's weekly radio show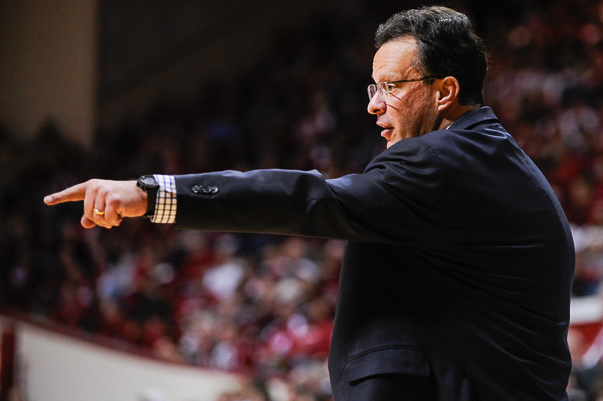 On Monday evening, Indiana coach Tom Crean spoke at his weekly radio show hosted by Don Fischer and recapped the Hoosiers' win on Sunday against Illinois, while also looking ahead to the Maryland game on Thursday.
Below are news and notes from what the Hoosiers' coach had to say:
– Crean first mentioned the team's successes thus far this season and how he is noticing his players are having higher expectations between themselves. Because of that, the team's on-court communication is improving, Crean said, which has played a big part in the team's hot start to the Big Ten season. He mentioned later in the show how he is "really excited" that he can make an adjustment during timeouts and has noticed his players hold each other accountable to that on the court, as well.
– How did the recent stretch of success start? In the Hoosiers' 70-50 loss at Michigan State, Crean said. As he had noted before, "one more pass here or there" could have been the difference between allowing the Hoosiers back into the game. Of course, that didn't happen. But Crean's — and the Hoosiers' — takeaway was that opportunities will be there throughout the game. 40 minutes is a long time, Crean said and added that the MSU loss taught them a lot.
– Fischer inquired about Sunday's game at Illinois, specifically at how the game was "hanging in the balance" midway through the second half as the Fighting Illini were on a 21-2 run and had taken a 61-52 lead. Crean said there was no trepidation or panic on his side. He knew they had to be resilient and stay focused on what matters most. And they found a way to win. "They're learning to shake themselves out of it," Crean said regarding lulls in the Hoosiers' games.
– There were plenty of adjustments needed during Sunday's game, though, Crean said. He noted how strong the Illini were on help defense and said the Hoosiers needed good weak-side movement to create more space for guards to attack off the dribble. And when the Illini started to comfortably handle the Hoosiers' ball screens — which occurred in the midst of the 21-2 run — the Hoosiers adjusted to additional movement and screens they had used in other instances this season. That proved to be a difference late in the game, Crean said.
– Crean complimented freshman James Blackmon Jr., who the Hoosiers' coach said has looked much better in their past three games. Sunday's game was the second in a row he has looked much better in all aspects of it, Crean said. He was happy with Blackmon's 21 points, but the "bottom line is 11 deflections and 7 rebounds."
– A caller from Jasper asked Crean about double-digit leads the Hoosiers have had and their struggles to keep the "pedal to the metal." Crean's response was that the Hoosiers have needed to get more defensive stops and agreed they have sometimes missed opportunities when trying to put games away — including the Penn State and Ohio State wins. He said the Hoosiers have to have more defensive urgency late in games — not just in the final possessions after teams have cut the Hoosiers' leads into single possession games.
– Another caller asked Crean about how the Hoosiers match up with No. 13 Maryland, who comes to Assembly Hall on Thursday. Crean said the Hoosiers don't match up size-wise "very well at all" with the Terrapins, but that's not what Crean's concern is. He said he hopes that the Hoosiers can rather focus on what strengths his team can take away from the Terrapins on a player-by-player basis. Crean also compared the Terrapins to last year's national champion UConn, saying the only difference he sees between the two sides is that Maryland's bigs can score.
– Indiana on Monday earned its first top 25 ranking this season, coming in at No. 23 in both the Associated Press and Coaches polls. Crean reacted by referring to the start of the season, saying, "I don't think any of our guys were overly consumed early on with doubts or lack of expectations or negativity, and they don't need to be consumed with praise right now." He said the Hoosiers have to stay on track with what's most important — building on mistakes and improving constantly. That his players are required every day to be better and do everything asked of them.
– Finally, as far as what the critical factors are against Maryland, Crean said the Assembly Hall crowd is the biggest — that the Hoosiers will need energy all night. He said he knows the Hoosiers will have a lull and Maryland will go on a run at some point — it's just a matter of getting out of it. He also said the Hoosiers need great transition defense, 3-point defense (the Terrapins are shooting 35.5 percent behind the arc in conference play) and be able to handle the unique match-ups Maryland poses. He also said the rebounding and free throw lines will play important factors in deciding the result of the game.
Filed to: Tom Crean