The Minute After: Illinois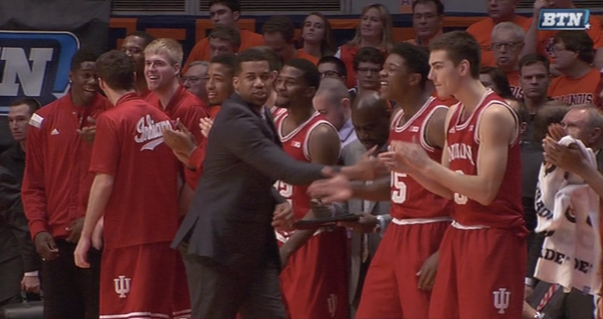 Thoughts on an 80-74 win against the Illini:
Ranked No. 1, they couldn't do it. Last season in overtime, they didn't come through. 11 out of their last 12 tries, it didn't happen.
But on this Sunday afternoon inside the State Farm Center in front of a record crowd of 17,085, the Hoosiers got it done and head back to Bloomington with the W. That's two road wins in three tries to start the Big Ten season. It's their third conference win coming into the game as the underdog. Size be damned, these Hoosiers show no panic or fear. They are a confident bunch of kids.
There were wild swings in this one. Indiana fell behind 14-3 as the Illini started hot from the perimeter. But the Hoosiers would bounce back. Illinois allowed dribbled penetration. IU's guards took it into the paint for scores and kickouts to its 3-point shooters. Some of it came so easy it felt like a non-conference affair. What was once an 11-point deficit became an 11-point lead at 34-23 after a Collin Hartman score. At one point during this run, the Hoosiers stopped the Illini on seven straight possessions. But there came 11 straight points from Illinois toward the end of the half and they tied the ballgame at 34-all. Four points from the Hoosiers to close out the half had them up 38-34 at the break.
Troy Williams and James Blackmon Jr. led the charge in the second half. Williams got a post-up look to go early and did his usual work off the baseline. Blackmon Jr. (21 points) started to heat up from 3-point range. All of a sudden, the Hoosiers were up 10 at 50-40. But the Illini came charging back in a big way. Kendrick Nunn (24 points) and Ahmad Starks (19 points) kept hitting from deep. The Illini tightened up on defense and things weren't coming as easy for Indiana as the crowd roared. Illinois ripped off a 21-2 run during this stretch and held a 61-52 lead with 10:54 to go after a Malcolm Hill layup in transition.
But 10:54 is an eternity in college basketball. The Hoosiers knew this. They kept an even keel and never hung their heads. Indiana chipped into the lead over the next 10 minutes of play and finally broke through for the lead with just over a minute to go. Yogi Ferrell (nine assists, seven points, one turnover) missed a layup, but Williams (21 points) was there to out-athlete the Illini and tip-in the rebound like few others in America can. Ferrell stole the ball on the next possession and assisted to Blackmon Jr. in transition to put Indiana up three points. Williams hit four free throws to close this one out. Nick Zeisloft, who hit some big threes earlier, hit 1-of-2 to keep the Illini from coming back as well.
This ended as almost a dead even offensive game. Indiana scored 1.20 points per possession to Illinois' 1.11. The Illini shot it a touch better (58.2 vs. 58.0 eFG%). Indiana did a little better taking care of the ball (13.5 vs 15.0 TO%). But the Hoosiers took advantage of the late double-bonus (35.7 vs. 21.8 FTA/FGA) and the offensive glass (27.6 vs. 14.8 OR%). Those stats showed up in winning time. The late free throws. The Williams putback.
A ranked, first place Maryland comes to Bloomington on Thursday. It gets no easier and there's little reason to linger with this W for too long. But if just for the tiniest of moments, the Hoosiers deserve to bask in this one.
Filed to: Illinois Fighting Illini