Five takeaways from Indiana's win over Illinois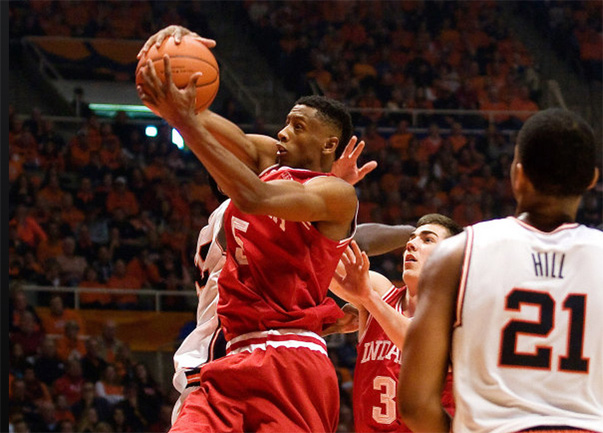 CHAMPAIGN, Ill. – Indiana moved to 14-4 overall and 4-1 in Big Ten play on Sunday afternoon with an 80-74 win over Illinois at the State Farm Center.
Here's a look at five takeaways from the win over the Fighting Illini:
· Indiana made the most important run of the afternoon: On an afternoon where there were numerous runs, the Hoosiers made the final one and as a result, won the game. After Illinois ripped off a 21-2 run to claim a 9-point lead midway through the second half, things stabilized as both teams traded baskets for roughly a seven-minute stretch.
Illinois looked to have control of things after a Kendrick Nunn 3-pointer pushed the lead to 72-67 with 3:20 to play, but from there it was all Indiana. The Hoosiers closed the game on a 13-2 run to claim their second Big Ten road win in three tries.
Tom Crean said Indiana never got down despite Illinois runs of 14-3, 11-0 and 21-2 throughout the afternoon.
"There were a lot of different things going on in the game," Crean said. "So once they adjusted to something, you've got to be able to go to something else. And because the ball was moving, the screens were good, the cutting was good, the spacing was good, we were able to do that."
· James Blackmon Jr. had his best Big Ten game: IU's star freshman had struggled with his shooting through the first four Big Ten contests, but he reversed the trend in a hostile environment. Blackmon Jr. came into Sunday shooting just 23.4 percent on 3s in league play, but he hit four of his six attempts from distance on his way to 21 points.
But perhaps more importantly, Blackmon Jr. also had seven rebounds and played solid defense down the stretch.
"Really it was just the same as every game," Blackmon Jr. explained. "I just wanted to stay confident in my shot because every time I miss, I need to keep my composure because the next one is going to go in. That's my mindset."
· Illinois had no answer for Troy Williams: We've seen the great version of Troy Williams in several games this season and we've also seen the not so great version, most recently in IU's loss at Michigan State.
Sunday's performance from the sophomore wing belongs in the great category because he impacted the game in a variety of ways. He was efficient from the field (8-of-10) and the foul line (5-of-6) and very good on the glass with nine rebounds, including three on the offensive end. His offensive rebound off a Yogi Ferrell miss and putback with 1:24 to play gave the Hoosiers the lead for good.
"That was just a reaction," Williams said of the putback. "All athleticism and a reaction. It just happened to go in for me."
· Zeisloft shines in his home state: Redshirt junior Nick Zeisloft started the season in the starting lineup but has carved out a role as a capable shooter and a leader off of the bench.
After eight points in a win over Ohio State, Zeisloft was scoreless in nine minutes against Penn State. But that didn't deter Crean from calling Zeisloft's number early in the first half on Sunday and his second three gave Indiana a 17-16 lead at the 11:33 mark.
The Illinois State transfer and La Grange, Ill., native was also crucial late as he answered Nunn's 3-pointer that put Illinois up five with a triple of his own to trim the lead back to two at 72-70.
"Certainly if there was one guy who wanted to come play well at Illinois, it was Nick Zeisloft," Crean said.
· Don't forget about the other guys: Although both Blackmon Jr. and Williams combined for more than half of Indiana's 80 points, there were plenty of other standout performances that may not have stood out so much on the stat sheet.
Start with Ferrell, who hit just one of his nine shot attempts but had nine assists and just one turnover in a team-high 38 minutes. Through five Big Ten games, Ferrell now has 28 assists and just nine turnovers.
Collin Hartman started at the five and guarded 6-foot-11 Nnanna Egwu for much of the afternoon. Egwu went scoreless and fouled out in 27 minutes.
And freshman Max Hoetzel provided a first half offensive boost with six points in five minutes. Hoetzel continues to exhibit confidence off the bench despite playing limited minutes thus far in league play.
(Photo credit: Mike Granse-USA TODAY Sports)
Filed to: James Blackmon Jr., Troy Williams