2023-24 Indiana basketball player profile: Xavier Johnson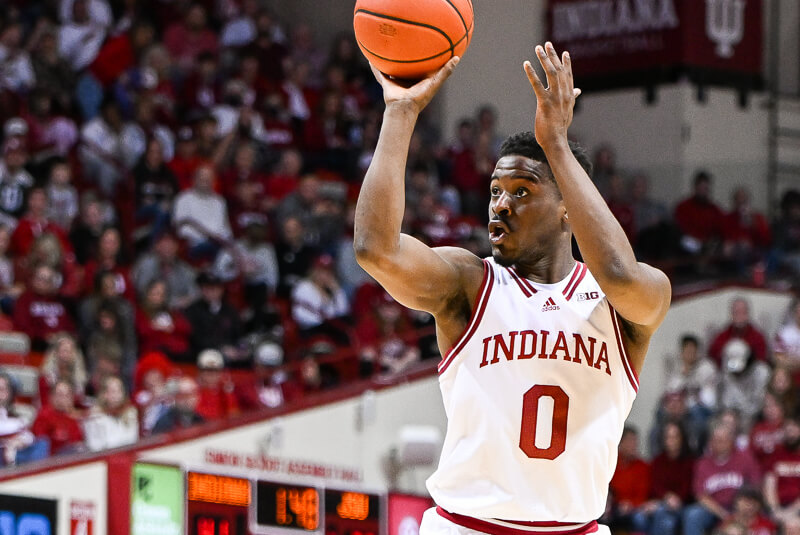 With the start of college basketball season on the horizon, we've transitioned from our look at other Big Ten programs to our player-by-player previews of the 2023-24 Indiana roster.
Today, our player profiles conclude with a look at graduate student Xavier Johnson.
Previously: Jakai Newton, Mackenzie Mgbako, Gabe Cupps, Kel'el Ware, Malik Reneau, Kaleb Banks, CJ Gunn, Payton Sparks, Anthony Leal, Trey Galloway, Anthony Walker
The 2022-23 season was expected to be the last for Xavier Johnson in an IU uniform.
Johnson, a 6-foot-3 point guard from Woodbridge, Virginia, was paired with highly touted freshman Jalen Hood-Schifino to form one of the nation's most dynamic backcourt combos.
But Johnson, incredibly durable during his career at Pittsburgh and Indiana, suffered a foot injury after logging nine minutes in a loss at Kansas on Dec. 17.
The diagnosis was a broken foot, which required surgery and sidelined the energetic guard indefinitely. The hope was for Johnson to make a late-season return just in time for Indiana's postseason run.
That return never materialized and Johnson announced March 4 that he was shutting things down for the season.
"After consulting with my family, coaches and medical staff, I've decided to rest for the remainder of the season and will not be returning to competition," he said in a release. "After healing my foot, my focus will be to pursue a medical hardship waiver and return to playing for the Hoosiers next season."
Without guarantee of the waiver being granted, it was a risk for Johnson. But the alternative of returning before he was 100 percent healthy and eliminating the possibility of another season was also a risk.
In late April, Indiana confirmed Johnson had been granted the medical hardship waiver, clearing the path for him to return for a sixth college season.
"We are very happy for Xavier and his family and can't wait to have him be a key member of our program, next season," Woodson said of Johnson's return. "I know this year was challenging for him, but he brought a positive attitude every day and I believe he will bring a great deal to our team next season because of the adversity he has faced."
Now fully healthy and the most experienced player on the 2023-24 roster, Johnson is one of, if not the most, essential players for Woodson this season.
Talent has never been questioned with Johnson, who made the All-ACC freshman team in his first season at Pitt. The other members of that team? Zion Williamson, Coby White, Tre Jones and RJ Barrett, all current NBA players.
Consistency, however, has been an issue for Johnson. In his first season at Indiana, his poor performance against Wisconsin at the Kohl Center was a major reason the Hoosiers could not hold onto a 22-point lead.
But later that season, Johnson's incredible play in the Big Ten tournament was a major reason the Hoosiers overcame a 17-point second-half deficit against Michigan and beat top-seeded Illinois to punch a ticket to the NCAA tournament.
Johnson, a team captain, is one of the Big Ten's best perimeter defenders and distributors.
He ranked fourth in the conference in assist rate (36.8 percent) in the 2021-22 season, his first in Bloomington. His defense on opposing guards was pivotal in IU finishing with the league's best defensive efficiency in Woodson's first season. Without Johnson for 18 of 20 conference games last season, Indiana ranked just ninth in defensive efficiency.
While not known for his perimeter shooting at Pittsburgh, he's worked hard on that aspect of his game as a Hoosier. In 45 games at Indiana, Johnson is 46-for-121 (38 percent) from beyond the 3-point guard. His ability in ball screen situations and transition makes him one of the toughest covers in the conference.
"This year, X has played more basketball games in college than anybody on our ballclub," Woodson said. "So I expect him to lead, be a point guard and be a leader on and off the floor and put us in position to win basketball games. That's what it's all about."
Bottom Line: Indiana needs a standout season from Johnson to reach its ceiling as a team. He's an incredibly energetic player who competes hard, defends and is dangerous in transition and ball screens. As Indiana's most experienced player, the coaching staff will lean heavily on Johnson to lead on and off the floor. He'll also be competing with a chip on his shoulder this season as most of the preseason projections have him behind players like Boo Buie, Jahmir Young, AJ Hoggard, Tyson Walker and Ace Baldwin in the pecking order of Big Ten guards.
Quotable: "They get on me a lot about talking. I'm not the loudest guy, but I like to set everything by example. I like to lead by example. One thing I am one of the most experienced guys on the team this year, so they're expecting me to lead by example and by my voice, honestly." – Johnson at Indiana's media day in September.
Filed to: 2023-24 season preview, Xavier Johnson